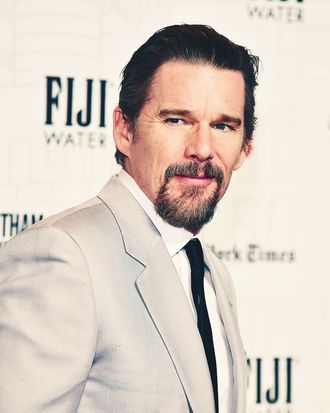 He's kissed.
Photo: Theo Wargo/Getty Images
Ethan Hawke is having a bit of a renaissance lately. I support it because, not only is he a talented actor who excels at delivering complex and nuanced performances, his face looks like it's been meticulously hewn out of driftwood and I enjoy looking at it.
As part of the Hawkaissance press tour, he was featured in W magazine for his most notable role last year — the tormented Reverend Ernst Toller in First Reformed. The film was exceptionally devastating, far and away the best movie I saw last year, and Hawke played Toller with pitch-perfect anguish. But we aren't here to talk about First Reformed, even though I want to tell you all about the multi-week emotional spiral I had about climate change after watching it. We're here to talk about Ethan Hawke's first kiss, the story of which he shared in this interview.
Please enjoy:
The Hamilton Roller Rink, in New Jersey. Her name was Cindy, and she was wearing a Black Sabbath T-shirt. It was a slow skate, and she was smoking hot. We skated around, and she said to me, "Do you like Jack Daniel's?" And I said, "Yeah. Too bad he's dead." She said, "Is he dead?" I thought she meant Jimi Hendrix. Then she said, "Have you ever French kissed?" And I said, "Yeah, man." But I actually hadn't. So we snuck off behind the Coke machines and kissed.
A roller rink in New Jersey! Asking point-blank "have you ever French kissed?"! Confusing Jack Daniel's and Jimi Hendrix because you're flustered and hormonal! This is all the correct energy for 2019.