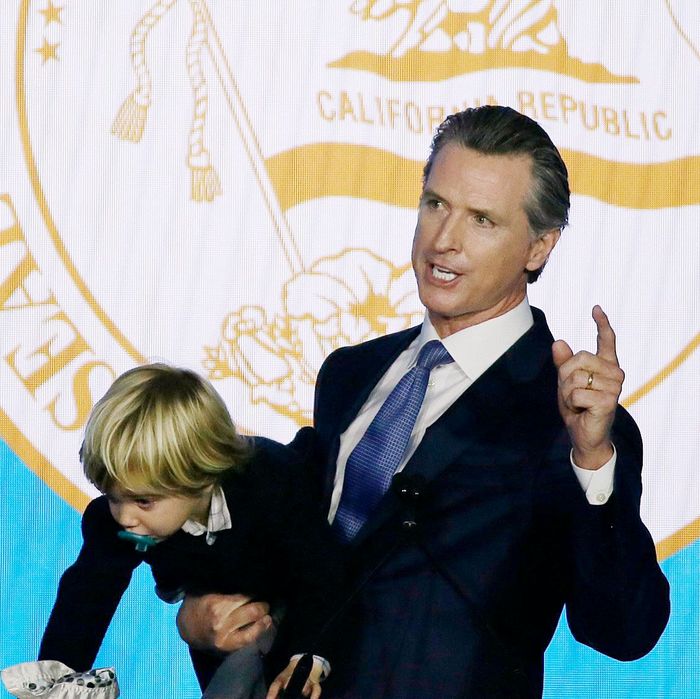 Governor Gavin Newsom and his son, Dutch.
Photo: Eric Risberg/AP/REX/Shutterstock
After Gavin Newsom was sworn in as California's 40th governor on Monday, the Democrat proceeded to give his first inaugural address — only to be taught an important lesson: There is nothing as entertaining as an interrupting toddler.
As seen in video shared by NBC Bay Area, the former San Francisco mayor's 2-year-old son Dutch wandered around on stage and (adorably) took all the attention away from his dad's speech:
Per The Guardian, Newsom scooped the boy up and joked, "this is exactly how this was scripted," before proceeding to read off the teleprompter. Then, Newsom made the mistake of putting the toddler down, assuming he'd leave the stage of his own volition. Oh, how wrong he was.
Instead, the boy walked around and checked out the scene, then hid behind his dad's podium. He lurked there for a bit and peeked out at the crowd, before wandering around some more. And as Dutch's mom, Jennifer Siebel Newsom, attempted to get him off stage, the boy ran from her. Newsom coped by telling the crowd, "We will support parents," and, "They need support, believe me." And eventually, the boy joined his brother and mother.
Here are some perfect images to savor from the ordeal:
This is merely the latest example of an adorable toddler, rightfully, not giving a crap that their parent is in the midst of an extremely important professional moment. Of course, you're all thinking what I'm thinking: Remember that time the cute kid Marion burst into the room during her dad, Robert Kelly's, BBC interview? And then her little brother James, a baby, rolled into the room as well, and then the video went viral? Excuse me, I'm crying out of joy just remembering the most perfect video of all time.
Ah, the humbling power of kids.