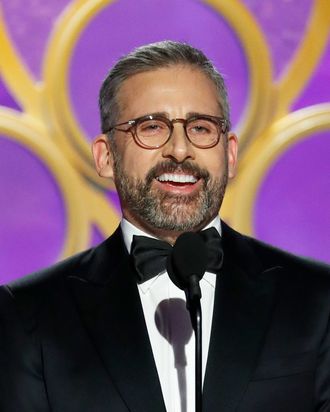 Steve Carrell.
Photo: Handout/NBCUniversal via Getty Images
Over the past few years, Steve Carell has undergone a major transformation — not just from TV to film star, but, more significantly, from dweeby dad to someone about whom people tweet, "Steve Carell you may choke me."
During Sunday night's Golden Globe awards, Carell presented the first ever Carol Burnett Award for outstanding achievement in television to, appropriately, Carol Burnett, and the denizens of Twitter dot com lapped him up with the unquenchable thirst of people who had been wandering, lost in the arid desert of Old, Dorky Steve.
The former Office actor, who starred in three films in 2018 — Vice, Beautiful Boy, and Welcome to Marwen — inspired similar displays of unbridled horniness back in October, when he was photographed for Esquire looking like your hot creative writing professor.
Inspiring.