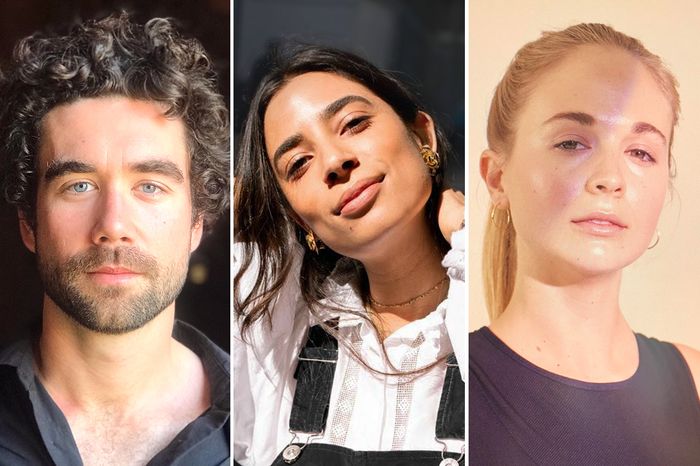 Photo: Courtesy of talent
In a lot of ways, living a "healthy" lifestyle is far too complicated now, and too public. Over the past few years, we as a society have decided that anyone who eats processed food or consumes cow's milk should be Insta-tarred and feathered. But Daily Harvest can help with restoring the balance. They provide healthy food that's ready in about five minutes, and that you know is good for you. Because real food is no fad.
By making easy, tasty, and fun-to-eat healthy, Daily Harvest helps you spend the time you would've used on making nutritious food to do amazing things. Because as Homer wrote in The Odyssey, "balance is best in all things." Or, "in all things balance is better," depending on which translation or search engine you're using to fact-check your pedantic references. And nobody knows that better than the health and wellness professionals we spoke with, to get their tips on how to make moderation your New(ish) Year's revelation.
Gabe Kennedy
Kennedy has an impressive résumé that includes being a private chef for a former presidential power couple, but maybe the best thing about him is his dedication to making luxurious, healthful, plant-based food. (As he once clarified, he's not vegan, he just loves veg a lot). He develops menus for The Little Beet restaurant and co-founded a CBD-product company, Plant People. He is one of them, after all. This year, he's prioritizing self-care.
What do you want to do more of in 2019?
As my professional life has grown, it's easy to lose sight of remaining balanced and investing in my own health. My resolutions are around ensuring that I stay in touch with myself and well-being. The simple answer is making sure that I do the things that I know feed my soul everyday: a 20-minute morning meditation, 45 minutes of movement (working out or even dancing), sitting down and enjoying some healthful food, enjoying music, and getting some sunshine.
What are some of your favorite ways to eat healthy?
I'm a diehard soup fan. I will eat soup any day, anytime, anywhere. But building flavor with soup takes time and sometimes I don't have that luxury. That's where Daily Harvest comes in — it's great that their soups are ready in 5 minutes and not 5 hours. But I'm really not fussy — I enjoy vegetables in any style of preparation, as long as they aren't overcooked. Salad, steamed, roasted, grilled — anything.
How do you benefit from a healthy delivery service like Daily Harvest?
I love that Daily Harvest is already at my home. After a long day of work, all I have do is heat it up. It's loaded with fruits and vegetables, and I don't have to worry about choosing what to eat, ordering online, or waiting for delivery. Plus there's no hassle with cooking and cleaning. I really enjoy the Lentil + Mesquite Chili, especially while it's so cold right now. It's comforting, filling, and delicious.
Bianca Valle
It would be too difficult to narrow down Valle's interests into a clean descriptor like "influencer" or "creative." She's an artist, model, writer, and photographer currently pursuing a certification as a holistic nutrition practitioner. She also has a favorite six-mile running circuit in Manhattan, the most envy-inducing mane of waist-length wavy hair, and a host of health tricks — including drinking her veggies and "less skincare."
What do you want to do more of in 2019?
I don't believe in New Year's resolutions, but I do believe in always having goals to work toward. I am constantly working on being a more forgiving person, and focusing on sustainable habits when it comes to happiness.
Do sustainable habits translate to simplifying your routine this year?
I think less is more. Less skincare, less caffeine, less intense workouts, less snacking, less worrying. I feel we tend to be too extreme with some of these things, which adds unnecessary complexity to our lives.
How is Daily Harvest useful to you?
Convenience is a major facilitator of healthy eating and living. People tend to make poor choices when a healthy choice requires too much prep, so having a healthy meal ready to grab sets one up for success. I love steamed veggies and covering them with high-quality olive oil. And fermented foods are important to incorporate in our daily diets, which is why I love Daily Harvest's Cauliflower Rice + Kimchi Harvest Bowl. As far as a quick snack, their Apple + Greens Smoothie is my first choice — drinking your greens is a great way to increase your daily vegetable intake with minimal effort.
Krissy Jones
Jones co-founded one of the hottest fitness studios in New York, Sky Ting Yoga, back in 2016 after 20 years of studying yoga, dance, and anatomy. She's a fitness guru for fitness gurus for the digital age and has many an influencer swearing by her joyful style of yoga sessions — now offered at locations in Chinatown, Tribeca, and Williamsburg. For her, this year is all about optimizing her time, ie., doing more with it.
What do you want to do more of in 2019?
My personal development resolutions are to spend more time in nature, learn a new skill or language, and limit social media. I want to be more present and enjoy my life as much as possible and do more of the things I love, like traveling, creating, and learning. As I get older, I realize more and more how valuable time is. This year I want to use time to my advantage and make sure I'm able to accomplish the things I'm called to do!
How do you use Daily Harvest?
I love conserving time. I personally hate going to the grocery store because there isn't one close enough to my house. I'm into the idea of a home delivery system as long as the product is recyclable! Anything to maximize my free time to do the things that I love. The Blackberry + Majik Chia Bowl is insane. I rarely have time to make breakfast in the morning since I have early classes, so having something healthy and delicious already made in the a.m. is right up my alley.
This is paid content produced for an advertiser by New York Stories. The editorial staff of The Cut did not play a role in its creation.