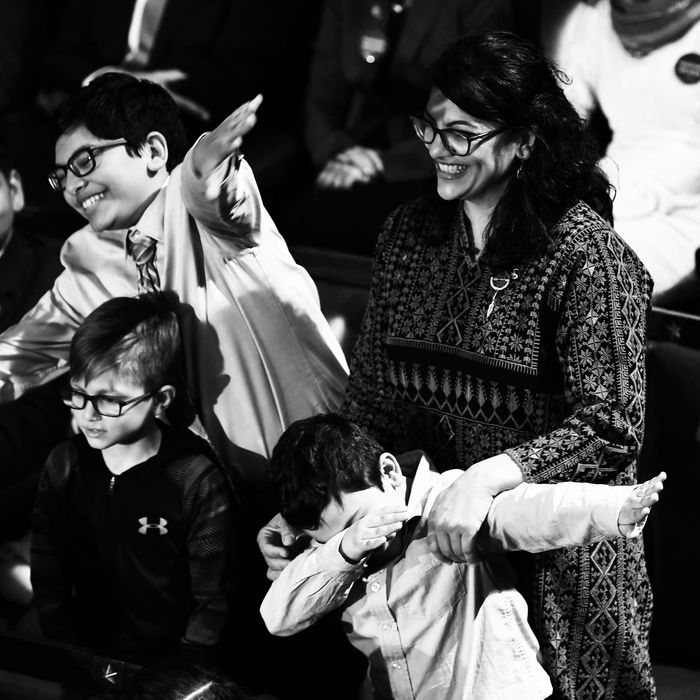 Congresswoman Rashida Tlaib.
Photo: Brendan Smialowski/AFP/Getty Images
When Congresswoman Rashida Tlaib was sworn in as the representative for Michigan's 13th congressional district, she officially became the first Palestinian-American woman to serve in the House of Representatives. As one of the first two Muslim women elected to the House, she was sworn in on a Quran. The Democratic Socialist was also wearing a thobe, a traditional garment with variations and meanings in a number of Middle Eastern countries and regions, to the ceremony.
Tlaib first revealed the thobe on Instagram in December 2018. "Sneak peek: This is what I am wearing when I am sworn into Congress. #PalestinianThobe #ForMyYama," she wrote. Yama is Arabic for mother; Tlaib later told CNN that the decision "means the world" to hers. (Tlaib is the oldest of 14 children; her mother emigrated to the United States when she was 20 years old.)
Tlaib added that, for immigrant parents, "their biggest hope is that they want us to succeed, but they also don't want us to lose a part of who we are." By wearing the thobe, she later wrote in an essay for Elle, she is honoring that part of herself: "This is what I want to bring to the United States Congress, an unapologetic display of the fabric of the people in this country."
Tlaib's thobe is burgundy, with red embroidery throughout. The designs on thobes vary by region; the Congresswoman's features the eight-pointed star of Bethlehem. When she first posted the gown to Instagram, it sparked a number of comments, including from one person who wrote, "It's beautiful. Thank you for representing what this country should be."
The decision also inspired the #TweetYourThobe hashtag, which was started by writer Susan Muaddi Darraj. "I was raised in a Palestinian-American family that celebrated the strength of women," Darraj told the Institute for Middle East Understanding. "Seeing Rashida Tlaib wear her thobe today is a powerful affirmation of that strength. I started #TweetYourThobe to celebrate her achievement and educate my fellow Americans about our culture."