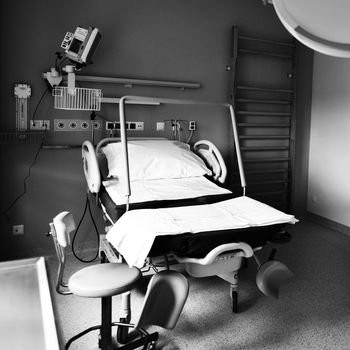 A patient in a Phoenix nursing facility gave birth last week, despite being in a vegetative state for decades.
Photo: Artur Widak/NurPhoto via Getty Images
On December 29, a woman who had been in a vegetative state for over two decades gave birth in an Arizona nursing facility, prompting authorities to investigate what looks like a case of sexual assault.
Days later, the CEO of the corporation that runs the nursing home resigned. Family members of the woman, who has not been named, have retained an attorney, who told Fox10 they're "outraged, traumatized, and in shock by the abuse and neglect of their daughter," but not emotionally ready to make a public statement. Here's what we know about the case so far.
The woman has reportedly been a patient at the nursing home for over 27 years.
Though it was previously reported that the woman had been a patient at Hacienda HealthCare for about 14 years, new records obtained by People found that she had been at the facility since she was between the ages of 2 and 3. The records also indicated that she has quadriplegia and a seizure disorder, along with recurrent pneumonia.
On December 29, she gave birth to a baby boy who seems to be alive and well, per an anonymous source for KPHO-TV, a Phoenix CBS subsidiary that originally reported the story. Although caretakers reportedly monitored the woman 24/7, they seem not to have noticed anything out of the ordinary before she went into labor: "None of the staff were aware that she was pregnant until she was pretty much giving birth," the source said. "From what I've been told she was moaning. And they didn't know what was wrong with her."
A nurse was apparently on hand to deliver the baby, but the alleged months-long oversight does suggest negligence. KPHO's source stated that, given the high level of care the patient's condition requires, a lot of people had access to her room. When asked if the patient would have had any "way to defend herself," the source responded: "No. None whatsoever. Not even able to communicate the fact that she was pregnant."
Without spelling out exactly how they came to possess this information, KPHO say they "know that at some point last spring or summer, someone sexually assaulted a woman who was in a persistent vegetative state, and she became pregnant." Authorities have reportedly remained tight-lipped about the case, but given the circumstances, sexual abuse would seem to be the most logical conclusion.
Over a week after she gave birth, the woman was identified as a member of the San Carlos Apache Tribe in Arizona. According to tribe officials, she is 29 years old.
San Carlos Apache Tribe chairman Terry Rambler told Fox 10 he was "deeply shocked and horrified" at the treatment of one of the tribe's members.
Authorities are still investigating the situation.
Adult Protective Services reportedly undertook an immediate well-being check on the facility's other patients. Hacienda HealthCare did not immediately respond to the Cut's request for comment, but in a statement to KPHO, said it could not comment on an ongoing investigation. Still, Hacienda touted its "outstanding reputation providing high-quality specialized care" and emphasized its commitment to cooperating with police.
The Arizona Department of Health said it was working with law-enforcement agencies, and had launched an "on-site complaint investigation" while ensuring that the facility heightened security. According to KPHO's source, "As of now, if a male staff needs to enter a female room, they need to bring in a female employee with them."
According to the Washington Post, police have reportedly obtained a search warrant for DNA samples from male staff members at Hacienda HealthCare, though it's unclear whether any employees have responded to the request.
The CEO of the nursing home has resigned.
Days after the news was released, Bill Timmons, the CEO of Hacienda HealthCare, resigned.
The company will "accept nothing less than a full accounting of this absolutely horrifying situation," Gary Orman, the executive vice president of the company's board, said in a statement to the New York Times, calling the violation "an unprecedented case that has devastated everyone involved, from the victim and her family to Hacienda staff at every level of our organization."
"I want to assure our patients, their loved ones, our community partners, the agencies we do business with, Governor Ducey, and the residents of Arizona, we will continue to cooperate with Phoenix police and the investigating agencies at all levels in every way possible," Orman's statement said. "And we will do everything in our power to ensure the safety of every single one of our patients and our employees."
The woman's family will care for the child.
The woman's family's attorney, John Michaels, said that the woman's family will take care of the baby.
This post has been updated throughout.