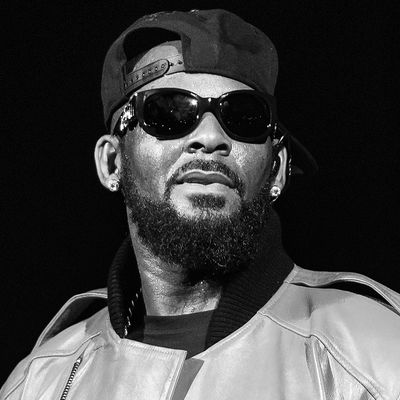 Photo: Mike Pont/Getty Images
Allegations of sexual assault and abuse have surrounded R. Kelly for years, but his career has continued to thrive; he remains one of the most successful R&B artists in history. Recently, though, the new Lifetime documentary Surviving R. Kelly has brought renewed interest and attention onto claims that Kelly has abused women and girls and is holding some of them against their will, leaving many wondering whether this will finally be enough to end his career.
Since the six-part docuseries began airing last week, investigations have been opened against the singer in Georgia, artists have apologized for working with him, and more survivors have come forward with accusations. Here's a timeline of everything that's happened since the documentary started airing on January 3.
January 4
R. Kelly's music sees an increase in Spotify streams.
A Spotify representative confirmed to The Blast that R. Kelly's music saw a 16 percent jump in streams since part one of Surviving R. Kelly aired.
Last May, Spotify removed Kelly's music from all official playlists and recommendations, only to backtrack after criticism that the company was regulating only some artists and not others.
January 7
Facebook removes a group dedicated to discrediting R. Kelly's accusers.
The page, which was called "Surviving Lies," attempted to discredit the singer's accusers as well as expose their personal information. According to TMZ, the page was created by Kelly's own camp.
January 8
A criminal investigation opens against R. Kelly in Georgia.
The investigation was reportedly opened because of the interviews in Surviving R. Kelly. According to TMZ sources, the Fulton County District Attorney's Office has reached out to women who dated R. Kelly and shared their stories on the show, with claims ranging from sexual harassment to sexual abuse.
January 9
More survivors come forward.
The Chicago Sun-Times reported on Wednesday evening that two women in Chicago have contacted the Cook County State's Attorney's Office on Wednesday afternoon with claims of inappropriate conduct against R. Kelly.
The reports come after Cook County State's Attorney Kim Foxx made a public plea for survivors to come forward to aid in investigations.
According to the Sun-Times, neither woman lives in Chicago, but both said they experienced inappropriate conduct by Kelly while in the city — one in her grandmother's home on the South Side in the mid-1980s, and the other at Kelly's warehouse and studio space in the city in 2002.
Tandra Simonton, a spokeswoman for the state's attorney's office, confirmed that the office is in the process of reviewing calls related to Kelly. Foxx said on Tuesday that her office has been in touch with two Chicago-area families who have lost touch with relatives — both women over 18 — who the families claim were coerced by Kelly into staying with him.
Lady Gaga apologizes for working with him.
On Wednesday night, Lady Gaga issued a statement in support of R. Kelly's survivors, apologizing for collaborating with him in the past on the 2013 single, "Do What U Want (With My Body)," and announcing that she would be working to remove the single from all streaming platforms.
"I stand behind these women 1000%, believe them, know they are suffering and in pain, and feel strongly that their voices should be heard and taken seriously," she said.
Her statement came days after Chance the Rapper issued a statement apologizing to survivors for working with Kelly. "[T]he truth is any of us who ever ignored the R. Kelly stories, or ever believed he was being setup/attacked by the system (as black men often are) were doing so at the detriment of black women and girls," he wrote. "I apologize to all of his survivors for working with him and for taking this long to speak out."
"Do What U Want" was removed from streaming services roughly 18 hours after Lady Gaga's statement.
Protesters gathered for #MuteRKelly protests; meanwhile, R. Kelly appears at a club in Chicago.
That same night, protesters gathered for a #MuteRKelly protest outside of his studio in Chicago, calling for a boycott of Kelly's music as well as a prosecution of sexual assault.
"We support the victims and we just want him to have his day in court," demonstrator Paris Robinson told ABC7 Chicago. "We demand he be brought to justice."
As protesters stood outside his studio, R. Kelly was spotted at a club in Chicago. CNN reports that video surfaced of a man who appears to be Kelly, singing "Bump and Grind."
In the video, he can be heard telling the cheering crowd that it's his birthday, and "I don't give a fuck what's going on tonight."
Kelly's lawyer, Brian Nix, has threatened to sue Lifetime over the documentary, though no lawsuit has officially been filed as of yet.
January 10
R. Kelly's daughter speaks out against him.
In a statement shared to her Instagram Story, R. Kelly's estranged daughter, Buku Abi, called her father a "monster."
"To the people who feel that I should be speaking up / against everything is going on right now," she wrote, "I just want you all to understand that devastated is an understatement for what I feel currently. I do apologize if my silence to all that is happening comes off as careless."
She also added that she and her mother and siblings haven't seen or spoken to Kelly in years.
"The same monster you all confronting me about is my father," she continued. "I am well aware of who and what he is. I grew up in that house."
Another survivor comes forward.
Danielle Williams, 36, told WGN9 in Chicago that she had a relationship with Kelly for six years when she was 16, after she was given Kelly's business card by his manager at a downtown Chicago restaurant in 1998.
She said she had skipped school to audition at his studio.
"He just told me to take off my clothes and we would proceed from there," she said. "When I got in the cab, I got an envelope with $1,000. I had never seen that amount of money in my life. I had no concept of getting paid for sexual acts. I didn't think it applied to me, only for adults."
She also said that Kelly always wanted her to talk like a baby, once locked her in a hotel room for three days, and lost interest in her as she grew older, leading her to believe that he is a pedophile.
"I know that he's a pedophile," she told WGN9. "I think that he should go to jail and the victims should get some type of restitution. Because the trajectory of my life changed at that moment. Nothing has ever been the same."
January 12
Police confront R. Kelly in Chicago.
After receiving an anonymous tip that Kelly was holding two women against their will, Cook County police officers visited him at his Trump Tower Chicago residence.
Kelly reportedly let the group of five officers into the apartment and left to allow them to question the women — whom TMZ identified as Joycelyn Savage and Azriel Clary. Savage and Cleary reportedly said multiple times that they were there of their own free will, and after the questioning, officers left without further confrontation.
Savage and Clary are both spoken about in Surviving R. Kelly. Savage's parents believe she's been brainwashed and held against her will for years, while Clary's sister says she witnessed Kelly kidnapping her.
January 13
Illinois officials deny permit for R. Kelly–hosted concert.
The organizers of the Spring Break Jam concert, set to take place in April with Kelly as host, had their permit denied by state officials due to security concerns.
Illinois Department of Agriculture spokeswoman Denise Albert told the Chicago Tribune that the denial wasn't because of Surviving R. Kelly, but due to security concerns spurred by #MuteRKelly protests.
January 14
R. Kelly's record label reportedly blocks his new music.
TMZ reports that Kelly's label, RCA, is refusing to finance, produce, market, or release any new music from Kelly as investigations into his alleged sex crimes continue. He is, however, still signed onto a contract with the label.
Celine Dion pulls her song with R. Kelly from streaming services.
Celine Dion is reportedly working to pull her 1998 collaboration with Kelly off streaming services. According to TMZ, the song "I'm Your Angel," which appeared on her holiday album, These Are Special Times, is in the process of being taken down by Dion's team.
One of R. Kelly's accusers and her daughter speak publicly.
Lisa Van Allen and her teenage daughter Akeyla appeared on an episode of Jada Pinkett Smith's Facebook series to discuss their experience watching Surviving R. Kelly.
In the second part of the interview, which aired Monday, Van Allen, who began a relationship with Kelly when she was 17, said she felt "blessed" by the reaction to the documentary and the support she's received since coming forward.
"I had to do it for me, for other young girls," she said. "Someone has to have that conversation that nobody wants to have."
Another accuser speaks out.
Faith Rodgers, who accused Kelly of sexual assault, spoke at a news conference in New York on Monday, telling reporters that Kelly threatened her over her participation in Surviving R. Kelly, and in response to a civil lawsuit she filed against him.
She says he sent a letter to her lawyer, warning that "details of her sex life" would come out in court if the suit were to proceed.
Kelly's attorney told CBS News that the letter is "a fake," saying "R. Kelly can't read, write or type. He didn't send any letter."
Pussycat Dolls pull their song with R. Kelly from streaming services.
According to TMZ, the Pussycat Dolls are working with their label, Interscope, to pull their collaboration with Kelly from streaming services. The song, "Out of This Club," was released in 2008.
January 17
Authorities inspect R. Kelly's Chicago studio.
During an hour-long inspection, city officials found that R. Kelly violated zoning codes by using his Chicago studio as a residence.
Though the inspection was not directly related to the ongoing investigation into Kelly's alleged sex crimes, the studio has been a source of controversy, it was depicted in Surviving R. Kelly as a place where Kelly might have held women against their will.
January 18
A former intern comes forward with sexual-abuse allegations.
Tracy Sampson, a woman who interned at Epic Records as a teenager, says R. Kelly sexually abused her when she was 16.
In an interview with NBC's Dateline, Sampson said she met Kelly in the summer of 1999, and that he had forcibly kissed her, and initiated a sexual relationship with her while she was underage.
She said he had asked her, "'Can I kiss you?' and I was like, 'No,'" to which he responded, "'Well, give me a hug.' And then, like, when I gave him a hug he just started kissing me."
"I was in love with him," she said. "I just didn't know what to do. Like, I didn't know if this was normal. I didn't know if this is how adults acted."
She said that after she turned 18 and ended the relationship, she filed a lawsuit claiming he sexually abused her. In 2002, she settled the lawsuit for $250,000.
Sony Music dissolves Kelly's recording contract.
According to TMZ, both Sony Music and Kelly "agreed on a split" sometime this week. Variety confirmed the news, but noted that Sony and its subsidiary label, RCA, will retain the back catalogue of Kelly's work. The artist was signed to RCA in 2012.
The news comes following protests outside Sony's New York City offices on Wednesday, January 16. According to HuffPost, organizers behind the groups #MuteRKelly, Black Women's Blueprint, Care2, Color of Change, Credo Action, Girls for Gender Equity, NOW-NYC, and UltraViolet came together to demand the company officially drop Kelly from its roster.
This post has been updated throughout.