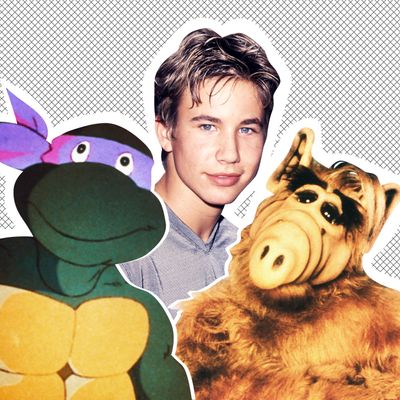 L to R: Donatello the Teenage Mutant Ninja Turtle, Johnathan Taylor Thomas, ALF.
Photo: Getty Images, Everett Collection
Your first crush, no matter how innocent, sets you up on a lifetime journey on the road of horniness. I had my first crush when I was 3. I went to a combination preschool-kindergarten in my dad's home country of Italy, and I remember exactly two things about my early childhood education experience: that the bathroom stalls didn't have doors — which feels way too on the nose when it comes to European stereotypes — and my crush on this kid. I never spoke to him or learned his name, but admired him from afar, perhaps sometimes even from the inside of a doorless bathroom. He was in kindergarten, and I thought of him as "so grown-up," which, in retrospect, went on to become an alarming pattern for the rest of my adult dating life. Ah, amore!
For Valentine's Day, the Cut asked 12 women to reach into the depths of their memory and tell us about their own first crushes — whether they were on real or fictional people, or even people at all. Please enjoy.
The Teenage Mutant Ninja Turtles
My first crush was technically four crushes. They were a group of absolutely jacked New York City dudes with artsy names who were into martial arts and pizza. They were always joking around and getting into dangerous scrapes, and they were animated, and also they were the Teenage Mutant Ninja Turtles. My fondness for them blossomed when I was about 4, before I had any real concept of what "sex" or "bestiality" was, but I distinctly remember watching them fight crime in the city's sewage pipes, and yearning for them to all hug me at once, super tight, their shells and rippling biceps pressing into me from all sides. By the time I reached first grade, I was almost exclusively into guys who were "not animated" and "human" and now, the idea of getting quadruple-teamed by a bunch of katana enthusiasts dries me up into a raisin. Still, those turtles were pretty shredded. —Madeleine Aggeler
Jonathan Taylor Thomas
My first crush was on Jonathan Taylor Thomas, or as he is more commonly known in the crush world: JTT. He entranced me as Randy Taylor on Home Improvement; he delighted me as the voice of Simba in the Lion King; he was in the movie Tom and Huck, which I saw because he was in it. He was, oh my God, just so cute. I believe what attracted me to JTT was his raggedy blond hair, boyish face, and squeaky voice. The only unfortunate part about my JTT crush was that everyone else also had a crush on him. I distinctly remember fighting with a friend in my third-grade classroom over which of us was allowed to have the crush on JTT. She claimed it was her. I claimed otherwise.
During this period, I badly wanted a copy of Tiger Beat to obtain a poster of JTT to put on my wall. The problem was I was too embarrassed to ask my parents to buy it for me, as it was just a magazine full of photos and posters of cute celebrity boys. This all changed when, one night before going to a drive-in movie, my dad bought the family magazines because we were going to get to the movie very early. I guess we wanted a good spot. He bought me — oh my God — a copy of Tiger Beat. Oh my God. It was one of the most beautiful gifts I'd ever received. Included inside, indeed, was a poster of JTT. My beautiful boy. —Kelly Conaboy
Dougie
Though a late bloomer in most regards, when I was in kindergarten, I experienced a triple crown of firsts: first male friend, first boyfriend, and first crush, all rolled into one fine specimen. I just didn't have the words for it at the time, unspeakably shy cherub that I was. A little boy named Dougie would come over to my house most days after school to play Memory Cards with me. You remember Memory Cards? If you don't, how ironic! (It was the game where you tried to flip over and match corresponding pairs of cards, and whoever got the most pairs won.) We never really even spoke, just silently committed to our own version of kiddie poker night. We then did all the things 5-year-old couples do: I went to his co-ed birthday party, he got me a Valentine's Day card that was an elephant squashing a monkey flat that said "I been crushin' on you," which my elderly 7-year-old sister had to explain to me, and by spring, we completely forgot about each other. Ah, disgustingly young love, the matching pair that eludes us all! —Aparna Nancherla
ALF
My first crush looked like a three-foot turd with hair on it. He had a nose shaped like a dick with two holes on the tip. He was 285 years old and I was 8. His name was ALF. I remember watching the first episode of ALF while lying in bed with mom and dad and being terrified. The pilot began with his spaceship crashing onto the roof of the Tanner's garage. When the family realized he was an ALF (Alien Life Form) they wrapped him in a sheet and placed him on their coffee table while they discussed what to do with him. "Can I make a suggestion," he said in a deep, manly voice as he regained consciousness, "how about you fix my spaceship?" My fear quickly turned into pure infatuation. ALF was titillating. I wanted him to be my boyfriend. From then on, I remember praying before bed every night so that God would have that thicc, confident, and sarcastic beast crash into my bedroom roof. —Tamara Yajia
A Printout of a Naked Lady Riding a Horse
Though I've had at least three crushes at all times since the age of 4, I didn't actually know the first person who sparked in me all the psychological and physiological responses to liking someone. At age 7, while sending messages on AIM chat and perusing the old Whitehouse.com (RIP) on my family desktop, I came across Naked Horse Lady: A photo of a nude woman riding a horse, which I found so sexy, I printed it out. While I was unable to kiss her so forcefully that I gave her an asthma attack, like I did with a boy named Clay, or collect multiple photos of her, like I did with the Victoria's Secret models in my mom's catalogues, my Naked Horse Lady was who I looked at every single night before going to bed — that is, before I suspected that my parents knew of her existence, compelling me to throw away my tattered printout of her. I have no idea who she was, nor where she is, but I hope she's well. —Amanda Arnold
A Three-Way Tie
ALF
The darkness inside this puppet represents the roiling sexual underbelly of suburban America, which is where I live! His beauty mark protrudes into my consciousness. Whose hand is up him??? God willing, mine.
The Predator
He's a huge fucking frog with dreads. The mucus on his face … is a sexual mucus. Heat seeking, and you know what that means (I do not know what that means). Rip my skull out, big guy, I'm 5 and I already want it.
Ewoks
The Ewok's body is really sturdy and I love the way it eats that cracker. Bear? Bear from space. I want to bounce myself off its stomach. Is it pregnant? Can it be pregnant? Can it be pregnant with my little baby?
My Optician
I was a cross-eyed 4-year-old when my mother brought me to an optician named Miss Delap, my first crush. I don't even remember what she looked like apart from "a grown up" but I recall she had a soft voice and always smelled so nice when she got up close, which opticians have to do. I was always so giddy to see her and did whatever eye tests she wanted, even if they were scary. She made getting and wearing glasses such a treat. I still get tingles when any medical professional focuses on me, with their big brains and concerned faces. Like, I totally understand Munchausen Syndrome because all that attention is intoxicating! Eventually I got LASIK which I kind of regret because (a) I can no longer cross my eyes and that's actually my favorite expression to make, and (b) what if, by eliminating the need for an optician, I'm missing out on another crush, perhaps my last and best crush? —Maeve Higgins
Greg Ford
I can't find any of my old crushes online. Either they don't have a web presence or their names are too common. I guess that's my type; my husband shares his name with 2,625 other Americans. My first crush was a boy in my third-grade class who moved away. When he did, I felt that vague yearning for closure that today would send me down a Facebook rabbit hole, but at the time, all I could do with that feeling was write him a letter. I made no mention of my feelings until the P.S., because I'm a master of appearing nonchalant. There I wrote, "I think you're really cool." When my best friend broke her pinky swear to keep the note secret, I was taunted for writing a "love letter." I was embarrassed, but that term "love letter" felt so mature. Was I an adult now? My first act as a grown-up was to enforce the terms of the pinky swear, which was to bend the offender's pinky back all the way. Greg Ford, there are 481 of you in the U.S., but only one who inspired me to calculated violence. Did you get my letter? Do you think I'm cool? —Emily Heller
Dr. Ian Malcolm
The year was 1993. I was 10, going on 11. Sure, I'd had crushes by this point, mostly on celebrities. There was R&B baby Usher. The musical trio Immature (look 'em up). There was Jonathan Taylor Thomas, the one true Tool Man. But something was about to change. I was in a movie theater, excited to dig into a scary movie called Jurassic Park. As I watched, I found myself feeling more than just fear. An actor by the name of Jeff Goldblum graced the screen as Dr. Ian Malcolm, and I would soon learn what true love was. Sure, Ian was a Lothario ("always looking for the next Mrs. Malcolm," he said). He was a know-it-all who kinda had a point when it came to making dinosaurs willy-nilly. He also had a penchant for dressing like a broke-ass Mick Jagger when he was one of the world's finest scientific minds. But. He. Had. Swagger. He had full pouty lips and talked about chaos theory as though it was part of the Red Shoe Diaries. He had the good sense to lie down with an open shirt while injured by a dinosaur's blow. (Yes, I follow the original Zaddy JG on Instagram, and yes, I consider it a form of self-care.) —Naomi Ekperigin
Anonymous Fifth-Grader
Thankfully I haven't fully erased the trauma of my first big crush from my memory, but as I sift through the details, I wish I knew nothing of that Mariah. It was around the fifth grade when a young boy moved to St. Louis from the New England area, and upon seeing him I instantly fell in love. We truly had nothing in common: He was a fan of the Patriots, and I came to school dressed like the members of Eden's Crush and showing off my engraved Bible like it was a medal of honor. I did try hard to make something work, pretending I knew about football and New England in general, but that was unsuccessful because I truly thought New England was in the U.K. and that by "football" he actually meant "soccer," because that's how things worked over there. Obviously, our love never blossomed and ended in a prepubescent Mariah sobbing softly to 'N Sync's "Gone," for approximately three hours. —Mariah Smith
"AJ"
Thinking back on my first real crush makes me want to never have children and also makes me want to lock my 5-year-old niece in a cage until she is 22. We'll call the object of said crush "AJ." It was seventh grade. I had already been horny for years, but this was the first crush that overtook me and my attention span completely. He had braces, and had recently transferred to my private day school from public school. We became friends, and would talk on the phone every evening after school; the most skin-crawling memory I have of that time is one evening, at dusk, being in my parents' basement and hearing him say the words, in a braces-lisped voice, "I wanna lick your pussy." The next year, at the house party of a rich girl whose parents owned a chain of roast beef restaurants, he fingered me in the hot tub. I was wearing an orange Abercrombie bikini, and I felt like an adult, and it was completely disgusting. —Marian Bull
KB
In seventh grade, I shared a crush on a boy who went by "KB" with my two best friends. Sharing a crush with friends rules. It ruled then, and it rules now. Why do you think so many people are in group chats about Timothée Chalamet? Anyway, KB — not only were there multiple Kevins in our grade, but also another kid at our school with the exact damn name — was an easy crush to split because we each shared part of our lives with him. He and I did band; he and my other friend were the two smartest kids; and our third friend was, well, definitely the coolest of the three of us. (KB, like any kid who goes by their initials, was cool.) We spent long afternoons fawning over his blond hair, his American Eagle T-shirts, his burgeoning biceps. Eventually, our crushes faded, and then, too, our friendship. We grew up, we moved on. But when I think about that year, I don't think about KB at all. I think about my two buddies, the frantic way we'd get each other's attention early in the morning if KB wore navy (it matched his eyes!) or who we thought would actually marry him (spoiler alert: none of us!), and how much affection I feel for them. —Fran Hoepfner