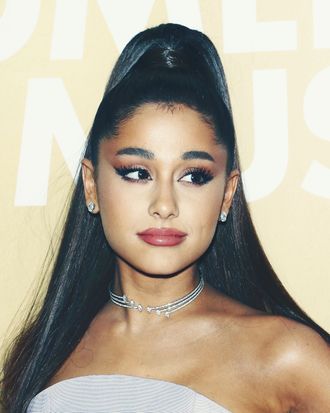 Ariana Grande.
Photo: Jim Spellman/WireImage
Long before Ariana Grande became a Grammy-award winner, the "Break Up With Your Girlfriend, I'm Bored" singer was just your typical young girl — who, we now know thanks to a recently unearthed article, happened to be a massive hockey fan (and bafflingly, was hit by two pucks by the age of 5).
In a 1998 South Florida Sun Sentinel article that's now going viral — after being shared by hockey writer Mike Commito over the weekend — a 5-year-old girl is pictured with a wide smile and a red hockey jersey, waving at the crowd as she sits on top of a Zamboni at a Florida Panthers game. The headline? "Boca kid gets a puck and ice," with the subheader, "5-year-old fine after being struck 2nd time." And the kid in question? Why, none other than Ariana Grande-Butera (the singer's full name).
The Sun Sentinel wrote up the article in a new post on Monday, saying that the singer's mother, Joan Grande-Butera, told the paper in 1998, "She's such a great fan that we bought her the ride at an auction." (It cost $200.) On top of that, at the age of 5, the Boca Raton youngster had attended nearly every one of the team's home games since she was 2 years old. That's how she ended up getting hit by two different hockey pucks, her mom explained back in 1998. Per the Sun Sentinel:
On that Friday night back in 1998, as the future Grammy-award nominee's mother recounted a game back in January when her daughter was hit in the wrist with a hockey puck, it happened again. Last time, it was her right wrist. This time, her left. "What are the odds of this happening," wondered dad, graphic designer Ed Grande-Butera, visibly shaken.
Luckily, young Ariana was fine and just needed some ice packs to help with the bruising. And thanks to the puck accidents, Ariana forever went down in history as the first hockey fan to get hit by a puck at the team's newest arena (in 1998). Over the weekend, the singer confirmed the story on Twitter:
Unfortunately, however, that wasn't the only time Ariana got hit with something unexpected: In 2014, she also got smacked by a Victoria's Secret Angel wing. Watch out, Ari!