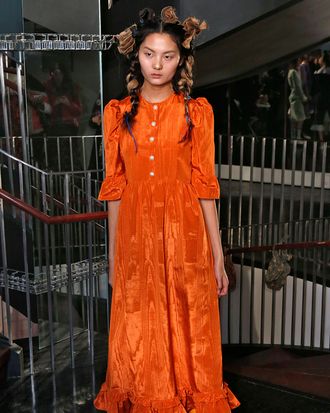 A model at Batsheva.
Photo: Victor Virgile/Gamma-Rapho/Getty Images
When Batsheva Hay's floral, high-necked prairie dresses first hit Fashion Week, they were heralded as being radical by being simply so sweet. Cloyingly sweet. "Sit down while I bake you a pie, honey" sweet. But that was the old Batsheva. She's dead. The new Batsheva will drink your blood while reciting couplets from old Courtney Love songs. At least, that's the vibe I got while watching Batsheva's fall 2019 presentation. Opening the show? Christina Ricci, a doll-like actress with a knack for playing spooky women like Wednesday Addams and Lizzie Borden.
The scene was a gutted shoe store on West Broadway, right next to Cipriani. To open the show, Ricci walked up to a mic and recited a few lines from the Hole song "Doll Parts." Courtney Love, who collaborated with Hay on the music for the show, was at the foot of that staircase, smiling. She was the only seated guest. The models, each in Hay's distinctive dresses or equally ruffly pedal pushers and blouses, recited some lyrics, descended the staircase, and lined up next to women working on sewing machines.
The clothes were the same as Hay's last presentation, more or less, but the mood was drastically different. For the traditional wedding dress at the end of the show, the bride broke out into "Miss World" and sung it while descending the staircase, dramatically throwing herself around. She was wearing chunky Fila sneakers and the dress had words scrawled in lipstick across it. The crowd of models joined in for one chorus. And the show was over.
I walked away feeling like I'd been run over by a covered wagon, then spat on by Cat Marnell. The message was clear: Prairie dresses are not here to make nice. They know what you've been saying about them, and they will not be underestimated.