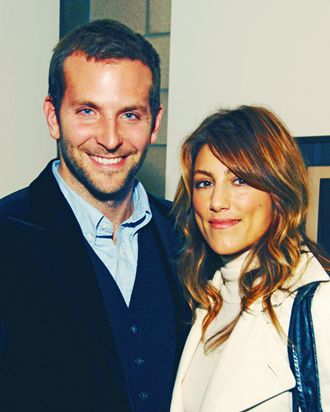 Photo: Mark Sullivan/WireImage
After months of profusely complimenting each other on the press tour for A Star Is Born, Bradley Cooper and Lady Gaga gave an intensely intimate performance of the movie's central song, "Shallow," at the Oscars — and almost everyone has something to say about it, including Bradley Cooper's ex-wife.
Jennifer Esposito, who was married to Cooper for four months between 2006 and 2007, weighed in on her ex-husband's chemistry with Lady Gaga via Instagram comment, on a post made by — stay with me — David Spade.
Spade, who posted a photo from the performance, summed up a lot of people's thoughts in his caption: "Is there any chance these 2 aren't fucking?"
To which Esposito replied, "Ha."
Esposito later clarified her comment in an IGTV post, explaining that the "ha" was directed more at Spade's caption than it was at her ex.
"It was towards David Spade's very outward statement about something about an ex, and I literally laughed at him because he was so bold in what he was saying and I thought it was funny," she said. "I'm allowed to think something is funny."
Cooper's current girlfriend, Irina Shayk, has not, as far as we can tell, made any public comments about the performance (on Instagram or otherwise) — though former Spice Girl Mel B has spoken up on her behalf.
"See, I felt so uncomfortable for Bradley's girlfriend, oh my gosh," she said in Good Morning Britain footage captured by The Sun. "But I would like to think it was part of the whole performance, because there's a women's code and hopefully that's not … hopefully it's only professional."
Speculation aside, it seems like Cooper and Gaga's working relationship is, for now, coming to an end, though not before he gave her a confounding bit of pre-Oscars advice to "drop a little bit of joy" into their song.
Maybe we can ask 100 people in a room what they thought about that performance.
This post has been updated with a comment from Esposito.