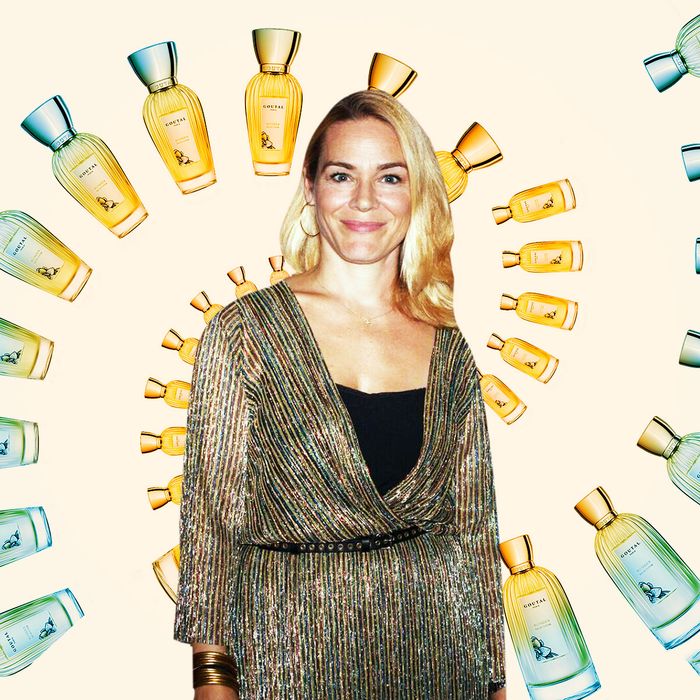 Photo: Courtesy of Camille Goutal
Call it the Proust effect: Memories are often triggered by smells. Scientific studies confirm that out of all the senses, smell offers the best recall. In Scent Memories, the Cut asks people about the scents they associate with different times in their lives. Next up is Camille Goutal, noted chic Frenchwoman and the daughter of famed perfumer Annick Goutal. Goutal recently revamped her mother's namesake line with new modern packaging, and alcohol-free versions of her mother's best-selling fragrances. The Cut caught up with Goutal to talk coconuts, Thai soup, and a very specific flower.
My first scent memory is:
Coffee and toasted bread on Sunday morning with my mother. We would have breakfast in bed on Sundays and I remember I'd always be awakened by the scent of those two things.
Happiness smells like:
Tahitian scents like Tiaré flower and Monoi oil, and the scent of my daughter's skin.
Love smells like:
My boyfriend's skin, of course [Laughs].
Heartbreak or loss smells like:
Dust, dirt, and the ground. I like earthy scents, but they do always make me think about loss.
Friendship smells like:
A good meal at Septime, which is a restaurant that I love. The chef is amazing and he cooks with a lot of aromatic herbs and creates these incredible associations through food. It's a place I love to go to share a meal with my friends.
Vacation smells like:
Coconut body lotion. It's not a very original answer, but each time I smell it — even if it's the dead of winter — it instantly makes me feel like I'm on holiday.
The worst smell is:
Pollution. It's horrid for me. Not only is the smell terrible, but it's very depressing to see where things are going. Also, even though I eat meat, the smell of the butcher I cannot stand. I can't even buy food there, I have to send my boyfriend to do it.
Success smells like:
The scent of our shops and stores. All those scents combined reminds of all of the work we've done and how far we've come.
Sunday morning smells like:
A market where you can buy fruits, vegetables, and flowers. It smells like coming back home with basil and mint in your bag.
Monday morning smells like:
Pollution. Specifically New York City or Paris pollution.
My home smells like:
Wood. The floors are made of wood and I like to light candles that smell like wood as well.
A pleasant surprise smells like:
The sea, the sun, and a ticket to Polynesia! A single, one-way ticket.
My favorite food smells like:
So many things. But I love spices, aromatic plants, and coconuts, so I'd say a good Thai tom kha gai soup. That scent is amazing.
If I could have one smell on my hands forever, it would be:
Again, the scent of my daughter's skin. I lost my mother pretty young, so the scent of my friends and family is something that's very important to me. But that's a bit sad in way, so I'd also consider the Tiaré flower that grows in Polynesia. It's a bit of an obsession of mine — I try to have it in all my fragrances whether it's hidden or in the light.
I smell like:
Songes, if I'm wearing fragrance, which isn't that often. I can't work with a fragrance on so most of the time I smell like nothing at all.
If you buy something through our links, New York may earn an affiliate commission.