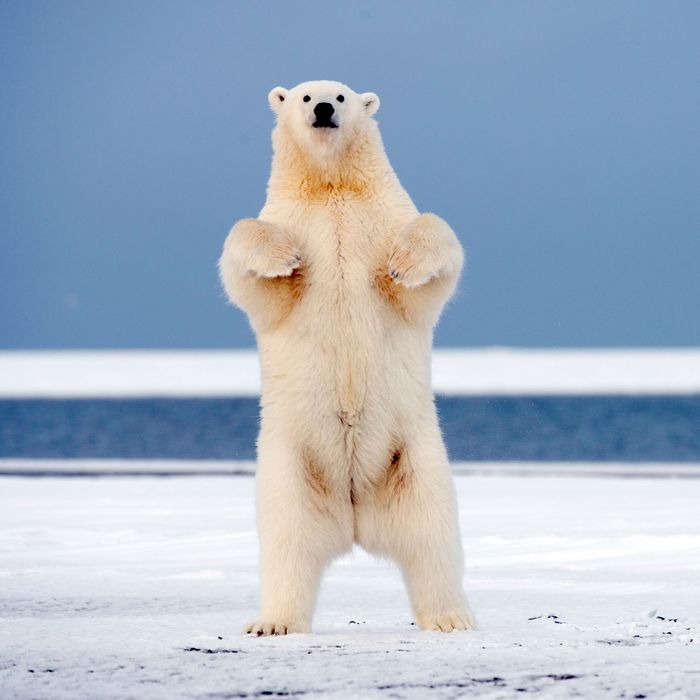 A bear, but not
the
snow bear.
Photo: Steven Kazlowski/Barcroft Media via Getty Images
This past Wednesday morning, Montrealers awoke to a massive piece of snow art that would go on to spark a media investigation and captivate all of Canada: a drawing of a bear with a puzzling belly button.
Following the the bear's appearance atop Montreal's frozen-over Lachine Canal, CBC encouraged its readers to "help solve a mystery": How did the creator — or creators — manage to make the perfect little belly button in the middle of the drawing, with no traceable footprints from there to the bear's exterior? Per CBC, the belly button was a full six feet away from the drawing's sides.
Hundreds of enthralled Canadians were quick to make their best guesses in the comments section and on social media, many of which journalist Kate McKenna judged based on credibility. A popular theory was that the creator made a very long leap, which McKenna thought was unlikely, as few "would be able to execute a jump so flawlessly without leaving any other marks in the snow." Others guessed that the snow artist used a tool to make the indent — snowballs, a hockey stick, a broom, a drone, a fishing pole — though those hypotheses had their faults, too. One person even used some sort of weird computer app to prove their theory that a bird had made the belly button, which is my personal favorite, despite being completely bonkers.
A full day after the original report, the CBC had inched no closer to any sort of conclusion, though did publish an update with a fascinating piece of evidence: a photo of the bear creators that a neighborhood resident had taken, and later decided to send to CBC. In the documentation, there are two people — not that surprising — but notably, no tool.
And then, what we had all been waiting for: an answer. On late Friday afternoon, McKenna went live on CBC's Facebook to reveal how the artist made the belly button — a method that I, personally, found shocking. (Hint: No birds were involved.) The snow artist created the indent using…
…
…..
…….
………
………..
………….
…………….
……………….
………………….
……………….
…………….
………….
………..
………
…….
…..
…
Snowballs. Five of them! Clearly this bear was created by a basketball player or something. Who the hell has that good aim?
This post has been updated.