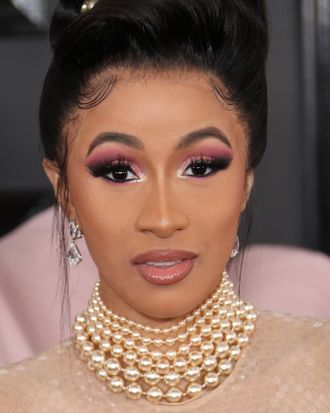 Cardi B.
Photo: Dan MacMedan/Getty Images
Cardi B's Instagram is now gone. The singer deactivated her account following a video she posted in which she defended herself against an onslaught of criticism following her history-making Grammys win for Best Rap Album.
In the now-deleted video, Cardi began by addressed her feud with Nicki Minaj, and how BET had been stoking the drama between the two rappers (the network had posted a link to a news piece praising Cardi's Grammys win on Twitter, adding, "Meanwhile, Nicki Minaj is being dragged by her lacefront.") The two famously feuded last year and Cardi reportedly threw a shoe at Nicki during last year's Harper's Bazaar ICONS party, but Cardi said that she does not condone BET pitting them against each other.
"It's not my style for people to put other people down to uplift somebody else. That's not my style and that's not what I'm with, I don't support that." she said in the Instagram video. "However, I've been taking a lot of shit today. I'm seeing a lot of bullshit today and I saw a lot of shit last night, and I'm sick of this shit. I work hard for my motherfucking album."
"I remember last year when I didn't win for 'Bodak Yellow' and everybody was like, 'Cardi got snubbed,'" she continued. "Now this year's a fucking problem?!"
On Sunday night, Cardi became the first solo woman to win a Best Rap Album Grammy for Invasion of Privacy. After Ariana Grande called out the Grammys for snubbing Mac Miller, who was nominated for a posthumous Best Rap Album award for Swimming, Cardi B partly dedicated her win to Miller, writing on Instagram that she "read an article that Mac Miller's family said that if he don't win, they want me to win, so I'm sharing this Grammy with you."
In another post to her Instagram on Monday night, captured by People, she shared a screenshot of Chance the Rapper's congratulatory post about her Grammy, and reflected on how much work the album took.
"Slept in the studio on leather sofas for 3 months straight, migraines, in Atlanta in Miami away from my family," she wrote, adding that she had gotten sick while recording, and struggled with the speculations over her pregnancy.
This isn't the first time Cardi has deleted her Instagram (she also deactivated it following a fight with Azealia Banks), so hopefully we won't have to wait too long for more of her thoughts on the government shutdown.