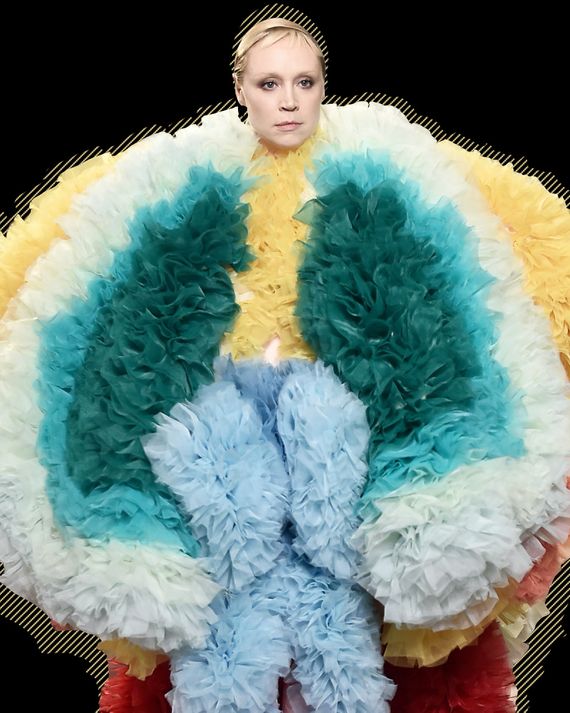 Gwendoline Christie in Tomo Koizumi
Photo: Imaxtree. Illustration: Lauren Tamaki
The designer Thierry Mugler always liked the image of women, very glamorous women, emerging from something — and there last night, on the Grammys red carpet, was Cardi B emerging from Mugler's 1995 flower-petal dress, a camp goddess in glistening net and pearls.
Mugler was a showman, and this morning, as I made coffee and sat down to write, I was reminded that today is the ninth anniversary of the death of Alexander McQueen, one of the few contemporaries who matched Mugler's sense of bigness.
McQueen and Mugler were fortunate that they lived and worked at a time when fashion was unquestionably king, when bold ideas were not just the norm but expected, and designers had a long time to develop their style, in part because they had the support of department stores and savvy independent merchants and, as well, editors who loved big talent.
That essential framework is crumbling. We are likely to see one or two department-store chains drastically retrench or close altogether in the next five years. Traditional fashion publications are on the ropes or are playing catch-up as their audience shifts to Instagram and other mediums. Meanwhile, more and more brands are developing their ecommerce and digital marketing channels. Last night, before her fine show of minimalist knits and silk separates, including a new men's line, Ryan Roche said she's been doing just that. I heard similar plans from other designers and chief executives.
But the rapid changes, and the crumbling of a structure that's basically been in place for well over a century, account, I think, for a lack of conviction that's evident at the New York shows. I don't know how else to explain the dearth of truly interesting or relevant collections on the runway. Late last week, people got excited about a show by a Japanese designer, Tomo Koizumi, at Marc Jacobs's store on Madison Avenue. Koizumi creates giant body sculptures out of multicolored pleated tulle — shower scrubs amplified — that appear on his Instagram page. To be sure, a lot of the excitement around his wacky designs stemmed from old-fashioned bonhomie: Jacobs loaned the space, and the stylist Katie Grand was involved, as were the star makeup artist Pat McGrath, the hairstylist Guido Palau, and the actress Gwendoline Christie, who modeled with some supers. But be honest: those backstage pros could make a paper bag look hot. And it should be said that there's a long history of such sculptural transformations, in similar materials, most famously the so-called topiary dresses of Hussein Chalayan in the early aughts.
So I suspect the industry, especially in New York, will go on fumbling about, grasping at things that seem new or bold but which in reality are not, and repeating styles in the guise of change — a different palette, some fresh trimmings — without really evolving.
Repetition is a big problem here. For the label Sies Marjan, Sander Lak offered some slim-fitting dresses (or separates) that drizzled over the body in combinations of lace and silk, and were finished in a twist of fabric at the front. That was an effective design, but while Lak's colors were typically rich — citrus, gem and sari shades — I still felt that he was basically rearranging or fluffing the drapes.
Brandon Maxwell's clothes are always well-made, and he showed some striking day looks based on anoraks and military styles, as well as a crisp, white funnel-neck top that could be worn with pants or an evening skirt, but in general his ideas need to evolve.
Prabal Gurung seemed to be making an appeal to dressers of all nations, instead of putting a distinct stamp on his clothes. I find it hard to pick out a signature in his work these days. His collection jumped around from bulky, quilted jackets in kiddie shades of turquoise, yellow, and pink (made bulkier by wide lapels), to pieces done in a melange of tiny, interesting prints (perhaps from Gurung's native Nepal), to glitzy cocktail dresses and the sort of tasteful outfits in black checks and lace that used to be plentiful on Seventh Avenue.
Tory Burch said Black Mountain College, the experimental center for education and the arts in North Carolina whose students and faculty included everyone from Buckminster Fuller to Willem de Kooning, inspired her. It felt like an unnecessary reference, partly because the relevance wasn't clear, and also because the clothes really stood on their own. There were some terrific coats in gray (or loden green with navy and burnt yellow) with silver turn-lock closures, and lovely, flouncy print dresses and easy tops with hems and belled sleeves finished with black velvet.
Given the dramatic shifts, the New York label Deveaux might qualify as a safe port in a storm — with its relaxed suits and friendly, prep-inspired sportswear shown with penny loafers. But without a strong design sense, it still feels like a retreat.