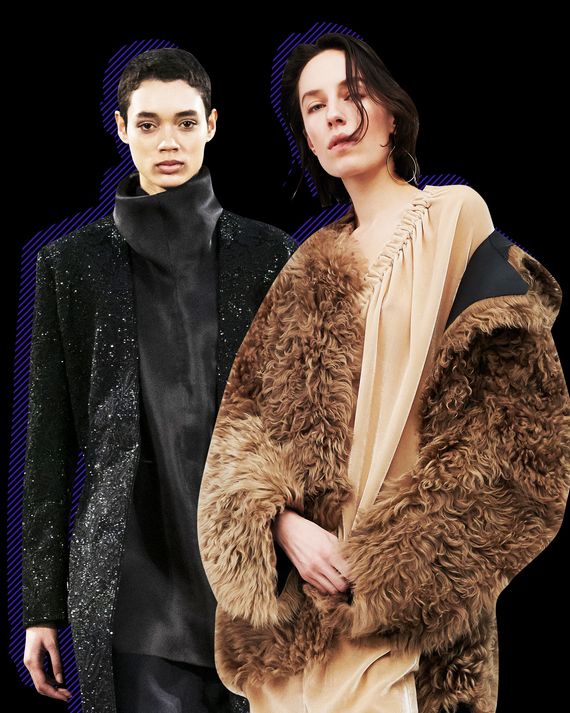 From left: The Row, Zero + Maria Cornejo
Photo: Imaxtree. Illustration: Lauren Tamaki
It's true that nothing in fashion is original, but people certainly do leave their imprints. Phoebe Philo loved a slouchy pantsuit with a boxy jacket; not a schlump-y boyfriend style but a trimmer, more feminine cut. She wore one several years ago to pick up an award from the Council of American Fashion Designers. Clearly it left an impression, because variations on the slouchy pantsuit surfaced yesterday at The Row and Proenza Schouler; over the weekend, Deveaux showed one, too.
Of course, there are small differences. For The Row, Ashley and Mary-Kate Olsen offered a lapel-less jacket over a white funnel-neck shirt that came up to the chin and sometimes trailed below the hem; trousers were either wide-leg or slim-cut. For Proenza, Jack McCollough and Lazaro Hernandez showed a more generous cut, in classic English wools, with a long black scarf that functioned as both a decorative detail and a dickie. But both made a statement: The pantsuit is a great way to dress for fall, as another champion of the look, Tom Ford, emphasized earlier in the week with his deep-red velvet blazer over a filmy turtleneck with wide-leg satin trousers.
It's important to acknowledge that the field for this kind of relaxed tailoring has been left wide open by the departure of Philo from Celine (it has never been the style of her successor, Hedi Slimane) and by the direction that Raf Simons took at Calvin Klein, which was generally away from the brand's legacy of minimalism. Jil Sander, Zoran, and Martin Margiela have left the field, too. Today, almost by default, this corner of fashion belongs to the Olsens. They have demonstrated a natural affinity for the style — going back to their first tentative collections, with long sack dresses — and, to their credit, they have continually refined their aesthetic.
They did several things this season that are noteworthy. They gave a few suit jackets and coats a more defined waist, resulting in a soft hourglass silhouette. In a knee-length dark wool coat with matching trousers, it was an elegant look. The funnel collars also served as a softening agent, and the use of a white lace-cut fabric (for a plain evening skirt) and a cream-colored material with tiny eyelash-fringe embroidery (for a scoop-neck evening dress) balanced out the sober pantsuits and the black combat and Wellington-style boots.
The designers also showed the nearest thing to a no-shoe shoe: a Toms-style flat in a white opaque material. Sort of a like a spa footie — and rather perfect with a long lace skirt and a cotton funnel-neck shirt, or their version of a chill, blanketlike cocoon.
Proenza Schouler could never be called minimalist, but since last season, McCollough and Hernandez have tried to clarify their aesthetic, largely by avoiding "crazy fabrics" and providing more design continuity. They studiously avoided external references for this collection: "We just wanted to do our version of the New York woman, the one we know and respect," said Hernandez after the show, in an unfinished floor of a Hudson Yards skyscraper.
His partner added, "No inspiration, really, just working on clothes."
In addition to the pantsuits, the key thing about this collection was its long, fluid line — achieved mainly by a belted sleeveless dress or fresh-looking, lightweight knits layered over a pleated skirt or a pair of trousers (which split open over snub-nose boots). The pieces were often asymmetrical, and nicely created intersecting planes of color — black, cream, taupe, ochre, orange. It made for a distinctive look. The designers' idea of taking the front portion of a washed jean jacket or a distressed perfecto and layering the stripped-down garment on a trench coat produced an interesting effect — the denim or leather bit seemed to float on the surface of the coat — but the "double" coat requires a very enthusiastic wearer.
For all the appeal of The Row and Proenza — and, as well, the juicy colors and youthful, unstructured dresses that Wes Gordon showed at Carolina Herrera — many of the clothes feel overly studied. With the exception perhaps of Cristóbal Balenciaga or Charles James, no one ever spent more time working out a new design than Azzedine Alaïa. Yet the brainwork never showed. The clothes looked truly effortless, and the customer usually felt confident or sexy in them.
One designer who certainly has that skill is Maria Cornejo. She presented perhaps a dozen looks yesterday in a room at the Standard Hotel, her models making quick changes into a long tabard in navy suede with a black cashmere turtleneck, or a light beige alpaca coat tossed over a blush pink silk tunic and skirt, or a simple black top with a puckered neckline worn with a rust-colored jersey skirt slit at the side for dancerlike movement.
Everything looked smart and mysteriously inviting, the way well-designed clothes usually do. And I had to laugh a little when the model changed into a jacket and matching below-the-knee skirt in navy wide-wale corduroy, her hands thrust into the skirt's pockets, the outfit already looking comfortable and worn-in. The suit was all modern ease and no attitude.