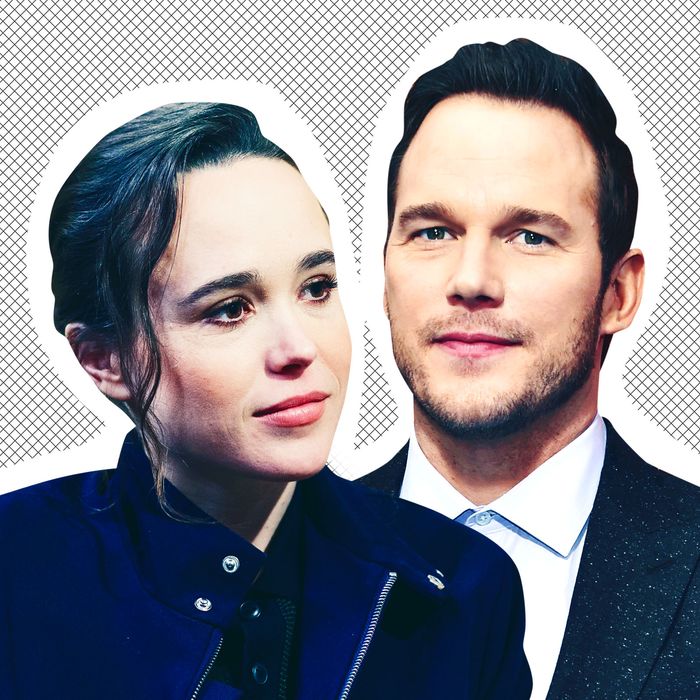 Ellen Page, Chris Pratt.
Photo: Getty Images
On Thursday, February 7, Chris Pratt appeared on The Late Show to promote his new movie, The Lego Movie 2: The Second Part. While there, he chatted with Stephen Colbert about his spirituality, namely the 21-day "Daniel Fast" he recently completed on the advice of his pastor.
Pratt is deeply religious; his first Instagram post of his fiancée, Katherine Schwarzenegger, was a collage that featured, among other snapshots, a photo of her holding a Jesus plaque. But many people take particular issue with where the actor chooses to attend services: Like a host of other Hollywood types, he has been seen at Hillsong, whose founder, Carl Lentz, believes that LGBTQ+ people are sinners.
Colbert did not ask Pratt about his church's beliefs, so Ellen Page decided to jog everyone's memory. The actor, who also recently appeared on The Late Show and discussed Vice President Mike Pence's anti-LGBTQ+ beliefs and legislation, tweeted a Hollywood Reporter write-up of Pratt's appearance with a simple reminder about Hillsong's homophobia.
As IndieWire reports, Hillsong global pastor Brian Houston issued a statement via the church's website in 2015 that he "[holds] to traditional Christian thought on gay lifestyles and gay marriage. I do believe God's word is clear that marriage is between a man and a woman. The writings of the apostle Paul in scripture on the subject of homosexuality are also clear, as I have mentioned in previous public statements."
He added, "Hillsong Church welcomes ALL people but does not affirm all lifestyles. Put clearly, we do not affirm a gay lifestyle and because of this we do not knowingly have actively gay people in positions of leadership, either paid or unpaid." Though he says that LGBTQ+ people are welcome to attend services at Hillsong and claims the congregation is a "gay welcoming church," he underscored that "we are not a church that affirms a gay lifestyle."
Page later elaborated in two tweets in which she stood her ground. "If you are a famous actor and you belong to an organization that hates a certain group of people, don't be surprised if someone simply wonders why it's not addressed," she wrote. "If LGBTQ+ people are expressing their pain, their trauma, their experiences… maybe just try and listen?"
Pratt issued a response via Instagram Stories on Monday, February 11. Over a photo of a sheep, he wrote, "It has recently been suggested that I belong to a church which 'hates a certain group of people' and is 'infamously anti-LGBTQ.' Nothing could be further from the truth. I go to a church that opens its doors to absolutely everyone."
He also claimed that the Hillsong community accepted him through his divorce from actor Anna Faris, "despite what the Bible says … It is what I have seen them do for others on countless occasions regardless of sexual orientation, race or gender." He also added that "I am not a spokesman for any church or any group of people," and "everyone is entitled to love who they want free from the judgment of their fellow man." He did not explicitly address Hillsong's stance on LGBTQ+ rights, or Houston's prior comments.
Historically, the founders and pastors of the spiderweb of Evangelical Christian churches are pretty cagey about their beliefs; few celebrities who attend the churches go on record about it, either. In his cover interview with Vogue, Hillsong mainstay Justin Bieber hinted at issues surrounding the church's teachings: "I get sensitive when religion comes up because it's been so hurtful to a lot of people. I don't want to be thought of as someone who stands for any of the injustice that religion has done and does do."
This story has been updated throughout.