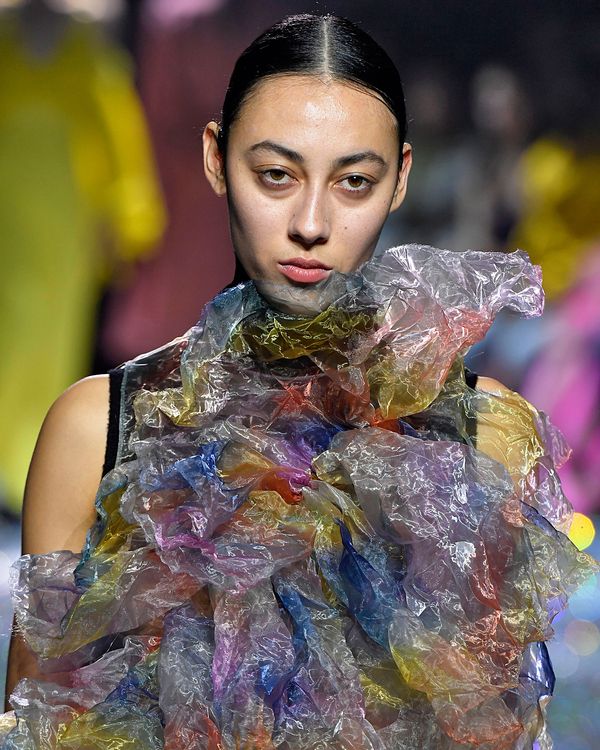 Sies Marjan Fall 2019.
Photo: Victor Virgile/Gamma-Rapho via Getty Images
This New York Fashion Week, the Cut is trying something: responses to the runway, in the form of a poem.
It was someone's job to pour what appeared to be glitter
onto the runway at Sies Marjan
(Was Sies Marjan the mystery buyer behind the great glitter riddle of 2018?)
But it was actually three million Swarovski crystals.
This particular model captures my own personal approach to this February Monday:
She's seen some stuff, and she's here to work.
Crunching on crystals, wearing something strange and pretty.
Are those plastic bags? I thought, but I'm told it's probably organza. Looking as if soap bubbles were captured and turned into a dress.
One person asked Sies Marjan on Instagram if the glitter was biodegradable.
Not to worry, the crystals will apparently be recycled.
Re: biodegradable glitter, though — some people are making it
from Eucalyptus trees. (Regular glitter takes about 1,000 years
to disappear.)
Anyway, I'd like to believe I look like this when I walk into work, or to the coffee shop:
Beautiful and severe, wearing something enchanting, mind elsewhere.