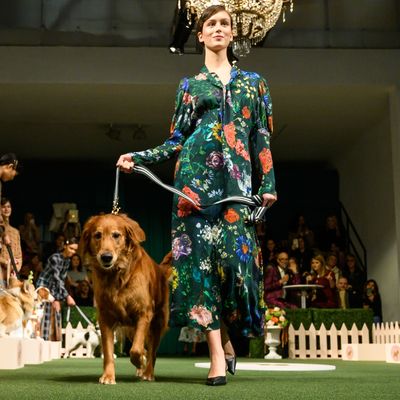 Lela Rose fall 2019.
Photo: Peter White/WireImage
This New York Fashion Week, the Cut is trying something: responses to the runway, in the form of a poem.
The models were walking dogs yesterday at Lela Rose, and the pictures were
A true pleasure to browse.
It was Westminster meets Fashion Week (the "Roseminster Dog Show"), complete with artificial grass and smartly outfitted male pooper scoopers.
The Cut's Diana Tsui reports: "Could not tell you what the clothes looked like because I spent all show staring at the corgi butt lol."
Indeed, it was the corgi who won best in show. Her name
is Maxine the Fluffy Corgi, and she has 130,000 followers.
Full of dog spirit, Lela Rose is now giving away
a grosgrain leash, collar, and blanket set, which includes a $50 donation to the ASPCA.
My personal favorite-in-show was the sweet, floppy basset hound, walked
by model Kenzie Spooner.
I also love the long, flowered green dress on the model accompanying that beautiful, lively retriever (?), pictured.
I showed the photo to my own best dog-friend, Darby, who's on the couch beside me. "Is this a golden retriever?" I asked, but she's sleeping.
(She is herself some kind of basset hound/pitbull/black lab mix.)
Her thoughts on fashion, however, have historically been more clear-cut: She's not usually into it, but she seems to like bandannas, and she withstands her little winter jacket.
It makes me wonder what the dogs at Lela Rose think. Do they have winter jackets?
Maxine the corgi appears to endorse bandannas and occasionally sports a professorial look.
Of the other dogs who walked, Riley Bean the Brittany also seems to
like bandannas and has been known to wear a Pilgrim outfit.
The Jersey Shih Tzus, meanwhile, have been spotted wearing pink tutus, as well as lumberjack, Yoda, banana split, and caterpillar costumes.
It all makes me want to dig out Darby's pink bandanna, which I knit her a couple years ago. Other dogs kept using it to pull her down when they'd play, though, and eventually it seemed like a hindrance.