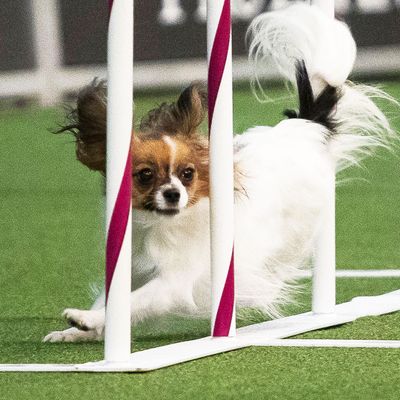 Our agile queen.
Photo: Xinhua News Agency/Xinhua News Agency/Getty Images
The hubris of mankind knows no bounds. Every year at this time, we believe that we can simply crown the "best" dog. It's arrogant and wrong-headed, a fool's attempt at exercising an undeserved dominion over nature. All that being said, I very much love this video of an extremely small dog running extremely fast during the Westminster Kennel Club Dog Show Masters Agility Championship.
The dog, Gabby, is a 3-year-old Papillon from Westbury, New York. Her task? Complete the 8" division course in under 43.2 seconds. She, in no uncertain terms, crushes it. She jumps over tiny poles. She whizzes through a tunnel that's been helpfully equipped with an interior video camera. She zig-zags in between poles at frightening speeds, which we somehow taught domesticated wolves to do.
It's not just what she does, but how she does it. Gabby has the energy of an NYU freshman trying cocaine for the first time. The easeful and radiant charm of someone whom everyone loves. The determination of a young woman trying to break the glass ceiling even though she has no idea what a ceiling is. And above all, as witnessed when she clocks in a time of 39.31, she knows she's a champion.
The entire thing makes me feel like I've just taken a cold Red Bull and vodka shower:
Though Gabby triumphed in her division, she lost the Grand Champion title to a border collie named Verb. Still, she remains the winner in my rapidly beating heart.