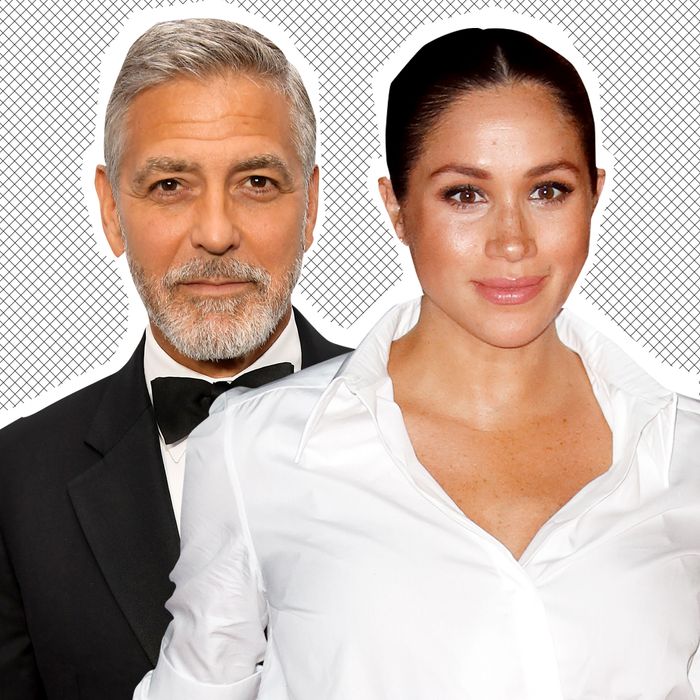 George Clooney and Meghan Markle.
Photo: Getty
Time to add George Clooney to the list of people speaking out in defense of Meghan Markle as the Duchess of Sussex faces nonstop negative rumors and harassment. At a recent press conference, the Oscar winner and Casamigos tycoon told reporters that Meghan is being "pursued and vilified" — and that it reminds him of what happened with Princess Diana.
According to Australia's Who magazine, Clooney addressed what's going on with Meghan while speaking with reporters to promote his new Hulu show Catch-22. He joked about the speculation that he'll be named the godfather to Meghan and Prince Harry's upcoming royal baby ("No!" he said. "I'm the father of twins, I have enough shit to deal with — literally"). But then, things got more serious. "I do want to say, they're just chasing Meghan Markle everywhere, she's been pursued and vilified," he said, before touching on her recent public betrayal by her father, Thomas Markle Sr. Per Who:
He continued, "She's a woman who is seven months pregnant and she has been pursued and vilified and chased in the same way that Diana was and its [sic] history repeating itself.




"We've seen how that ends. I can't tell you how frustrating that is, just seeing them broadcast a letter from a daughter to a father, she's getting a raw deal there and I think it's irresponsible and I'm surprised by that."
It's widely known that Clooney and his international human rights attorney wife, Amal, are close with Meghan and Prince Harry. They were among the many celebrity guests who attended the royal wedding in May, and it's been reported that the two couples spent time in Italy together last year. Clooney also spoke out against the paparazzi and tabloids in 1997 after Princess Diana was killed in a car crash in Paris, which occurred as photographers chased her. So it's not entirely surprising, or out of character, for Clooney to publicly come to Meghan's defense in this instance — and we're sure he won't be the last of her friends to do so.