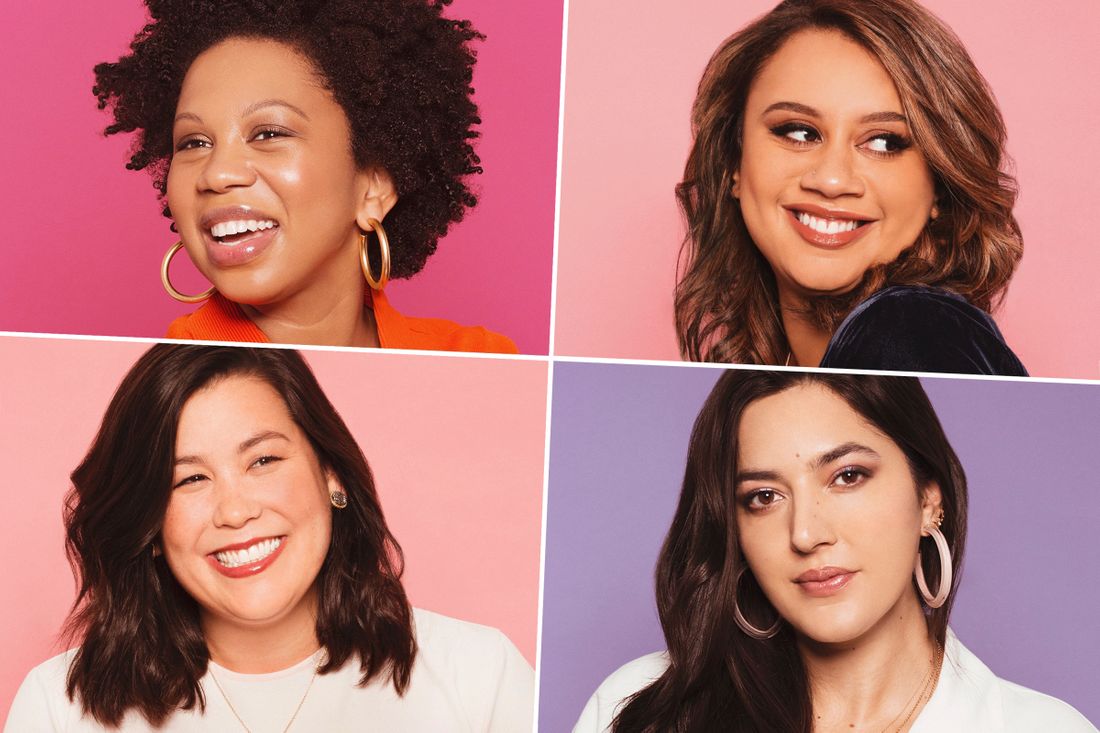 The ways we "dress up" with makeup change depending on the setting: dinner with friends? Drinks with a coworker? A big work meeting? We play up our beauty routines (or not) depending on what the day holds, and as we all know, however we choose to look can affect how we view the day's possibilities. Below, four successful entrepreneurs share how they do their skincare, hair, and makeup to feel their best during their most important moments — with products supplied here by Ulta Beauty.
Glory Edim
Glory is the founder of Well-Read Black Girl, a Brooklyn-based book club and online community of more than 180,000 followers, celebrating black literature. She started Well-Read Black Girl in 2015 as a side project and has since ambitiously expanded the brand to include an annual literary festival, which she hosts, and a book featuring a collection of essays by black women writers, which she edited and published last year. Here, she shares the author who has inspired her look.
Zora Neale Hurston's writing and commanding presence influences my personal style. My favorite quote of hers is "I love myself when I am laughing … and then again when I am looking mean and impressive." I remember the first time I saw a portrait of her. She was striking, impressive — staring at the camera with a stunning red lip. Without question, she was proud of her beauty and expressed that pride in her writing. Her best-known work tells the life story of "a woman with her finger on the trigger of her own destiny." So I love Zora Neale Hurston's boldness. She reminds me that makeup is a part of self-expression, another way to tell your story to the world.
I like to wear colors that enhance my natural features — most days, minimal mascara, blush, and a touch of lip gloss. If I'm looking to be a bit more dramatic, I'll try a red lip and add a soft contour. In all scenarios, my eyebrows need to defined. I have no qualms about doing my makeup in the back of a cab or on a flight. Whether I'm hosting a book club meeting or attending a gala, I always give my complexion a finishing touch, sweeping on a highlighter or a bronzer. It's a quick, foolproof confidence booster. And I love to wear my naturally curly hair. My hair routine is simple: I moisturize my curls with a leave-in conditioner and shine pomade.
Marah Lidey and Naomi Hirabayashi
Marah and Naomi are the co-founders and co-CEOs of Shine, a free self-care app that sends daily motivational messages and audio tracks to more than 3 million subscribers every morning in more than 189 countries. The app's most popular "Daily Rituals" feature is a face-washing meditation, available alongside others designed to help listeners meditate while cleaning, cooking, and running.
They've raised more than $8 million in venture capital (so far), so we wanted to know: How did they present themselves to investors in those big meetings?
Marah: What feels really authentic to us is finding a staple style that you don't feel you need to change based on other people. That's core to our mission. Like, what does it look like to live in our most authentic selves and not feel we need to look, in our case, like Silicon Valley tech bros?
When we first got started I was kind of surprised by how much I assumed that I was more professional when I had my hair blown out. We would go to investor meetings and I'd be like, I've got to get a blowout in the morning! Something I'm actively working on is just wearing my hair curly in its natural state more often in situations that are professional, like panels and investor meetings. Don't get me wrong, I love a good blowout. But if I get one it's because I'm consciously choosing to, not because I feel pressured to — and sometimes it's also just faster. One other small thing that I do as much as I can — I'm trying to go makeup-free at least one day a week on weekends, particularly Sundays. I'm giving myself and my skin a break and not losing touch with what I look like.
Naomi: When we're talking to investors about making an investment in our company, feeling professional really comes from feeling like myself, comfortable with how I'm presenting myself, and not trying to go too over-the-top. Otherwise, I'll feel a little awkward or just off. If my hair is a different style than I'm used to, if I'm wearing a lot more makeup than I'm used to, the reality is I will probably be thinking about that a little bit more. Whereas what I really want to focus on is speaking about my conviction for this incredible company, being able to stick confidently in that, which means: shoulders up, head straight, back straight, versus somewhat distracting inner dialogue, like: Is my lipstick too bright? Is the bronzer and blush too much? Which we all know! We all have those inner narratives.
Alison Chemla
Alison is the creative director of the cult-favorite fine jewelry brand Alison Lou. Her playful, cheeky designs include emoji rings, colorful jelly hoop earrings, bracelets, necklaces, and a more affordable line for J.Crew. Natural makeup is the key to her look, as she explains here — it lets her accessories stand out. She wears at least 15 pieces of her own jewelry every day, mostly for her ten ear piercings.
I feel like my most natural self when all of my beauty stuff stays natural. I Iove the no-makeup makeup look. If it's an important work meeting, I'll be sure to do my hair and at least put on some concealer, mascara, and maybe a little lip gloss and blush, but I really try and keep it as fresh as possible. Most days I'm in very comfortable clothing and not wearing any makeup to the office.
If I'm going out at night, I will go nuts: maybe watch tutorials online and do a fun eye, a smoky eye or a cat eye. I care very much about my skin, and skincare-wise, I do have a 10-step face routine. I do that every morning and night, and I'm very regimented. For jewelry, I like to play around with a bunch of colors. I'll choose my nail polish first before I decide what rings I'm going to put on, and I mostly go neutral with nails: black, red, or some neutral color. For me it's always about jeans and a t-shirt and accessorizing, even bags and scarves and jackets. It's all the stuff on top.
This is paid content produced for an advertiser by New York Stories. The editorial staff of The Cut did not play a role in its creation.