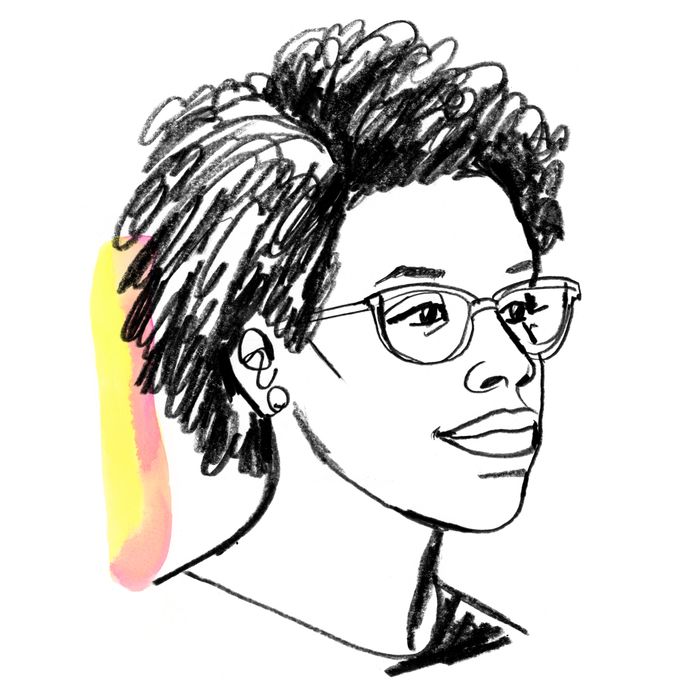 Congresswoman Lauren Underwood.
Photo: Lauren Underwood
When Lauren Underwood unseated the Republican incumbent in her Illinois district this November, the 32 year-old joined became the youngest black representative in history. How do you survive being a freshman in Washington? First, you get a roommate; second, you figure out where to find the best lunch food.
On her morning routine:
Since I've been here, I typically wake up around 7 a.m. I live about a five-minute drive from the office, so I quickly get up, take a shower, put on some makeup, and head to work. I have a roommate, Katie Hill, who's a congresswoman from Los Angeles, and she wakes up a little bit earlier than I do because her routine is a little bit longer.
On living with a roommate:
Katie and I moved in together the week of swearing-in. This is a pretty nutty experience, and it's great to have support and someone to bounce ideas off of at the end of long days. We just got the internet. We built a table and some chairs over the weekend. When we're in D.C., we generally don't get back until after 9 p.m., and then we quickly catch up on emails and then go to bed, because the next day is long, too.
On the importance of getting enough sleep:
I can't have caffeine because I have a heart condition, supraventricular tachycardia, which means my heart sometimes has trouble maintaining normal rhythm, so I have to sleep. Some people can do four hours and be highly functional. I am not like that. I will get sick, I will be grumpy. In an ideal world, I'd get more than eight, though seven and a half is not bad but I'll still wake up feeling kind of like: Ugh.
On travel:
I spend a lot of time on planes, traveling between D.C. and Illinois. This is new for me; I'm a nurse and I have not had this type of position before. I've been trying to be disciplined about my seat selection, as plane time is often the only quiet time that I have. If you get that tight middle seat, it's hard to be productive.
On her new office:
I'm on the first floor of the Longworth building. It's a beautiful suite. It has built-in wood-paneled cabinets, and I have room for ten staffers. Right now, my office is pretty bare; my desk is just a couple stacks of papers and a telephone. I just brought in hand cream and some small perfume bottles to keep at my desk. Over the holidays, I went to one of those cosmetic-store outlets in my district, and they had a little two-pack of these small Tory Burch perfumes for $5. So that's my office perfume now, apparently. Generally, I wear Chanel Beige.
On finding time to eat:
I'm a member of the Congressional Black Caucus, and we have a meeting once a week where the lunch is very good. They generally have some kind of soul food, including vegetables, which is critical because I've learned that you have to be intentional about what you eat around here. I don't usually have extended time to sit and eat. Usually, I'll have trail mix or a Luna Bar and be nibbling on that as I walk. So at least I know that at the caucus meeting, I'll get to have a vegetable. My mother is going to read this and be horrified.
On the attention she's been getting:
I've been a little bit surprised by the amount of press interest. I've never worked an environment like this where like your movements are sort of tracked. People sometimes respond as if we're celebrities. I am not a celebrity. I'm a regular person who happens to have this awesome opportunity and job, but being recognized is weird.
On making allies in Congress:
I've just been excited to talk with and get to know so many of the other women. So many of us come from communities that are very, very different. I really like Lucy McBath from Georgia. Her son was shot and killed in 2012, and she has such a dedicated focus on gun violence. And then Elissa Slotkin; she's from Michigan. She and I have sort of similar communities in that we're from swing districts with this sense of "midwestern pragmatism," as she calls it. We help each other stay grounded and focused on our communities.
On not having time for TV:
I was trying to wrap up all my shows at the end of 2018 because I wasn't really sure that I would have time to watch anything this year. So I did all that over Christmas. I was watching Survivor. I'm like the last millennial person who watches Survivor. I was also watching this dating show on OWN called Ready to Love and Madam Secretary.
On how she stays motivated:
I'm motivated by the people at home who really need to feel an impact for having elected me. Where I'm from, it's half-suburban, half-rural, and there are a lot of moms who are busy taking care of their families and are not sitting around watching the cable shows all day. They're not caught in the minutia, but they know that D.C. is a chaotic place with a lot of dysfunction, and they are looking for someone to break through that noise and get something done.
On what she does to unwind:
Exercising is so important. I love spin class and Pilates Reformer. I have a ClassPass subscription, and I'm so anxious to figure out my routine so I can carve out time to do these things, because I know that's what helps me to be successful. I love cooking and baking, and right now there's not a lot of space for that stuff in this really fast-paced life.