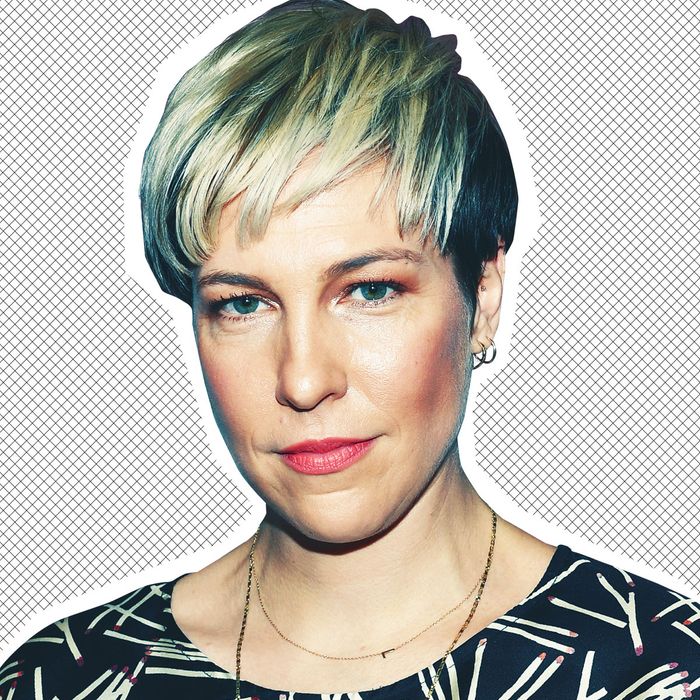 Rebecca Henderson.
Photo: Mike Coppola/WireImage
In the runaway Netflix hit Russian Doll, Rebecca Henderson plays Lizzie, the quirky and endearing overall-clad lesbian best friend. She's in the midst of a mid-life crisis, and dating a 22-year-old who she's always making out with. She overshares about her period. She really, really regrets not adopting two Neapolitan Mastiff puppies. But as Nadia (Natasha Lyonne) is forced to relive one night of her life over and over, Lizzie is also always there to provide a grounding and supportive presence. For Henderson, that was an easy role to fill.
"I'm a real caretaker with my wife and my friends. That's probably the biggest overlap between me and Lizzie," she told me one February afternoon at a tapas bar near the Bed-Stuy home she shares with her wife Leslye Headland, the shows co-creator. "I really love to clean the house. Love to do laundry, love to cook a dinner. I love to, like, control Leslye."
Here, she talks about working with her wife ("It's so sexy"), playing lesbian characters, the night of her life she most wants to relive, and how she wants to learn how to trap feral cats.
Was the part of Lizzie written for you?
I do think that as it went along and it became as they were leaning toward casting me in it, I think Leslye probably was writing a little bit in the back of her mind for me. It wasn't a given that I was going to play the part when the whole project came about.
But you knew you were going to be involved in it somehow?
I didn't actually, but I was pretty intense with Leslye about it. I was like, "if there is a lesbian character who is not a person of color, it has to be me." One day Natasha came in and was like "when are we gonna offer Rebecca the part?" So then they did, and I was like, "great."
What was it like working with your wife?
It was awesome. This was our first time working together and I don't know if you've ever worked with somebody you're dating, but it's so sexy. Seeing them be excellent at what they do is amazing. I loved working with her, it was a really happy surprise. We were really snuggly together, I was always going over and hugging her on set and kissing her. She's so awesome on set, she's so brilliant and focused and energetic. Every time she came around the corner, I really felt like we just started dating or something. I was like "who's that? Oh it's my wife!"
Did you relate to your character at all?
Well, Lizzie is based on a real person who I know because Natasha is also a friend of mine. I was also trying to execute the TV version of that person and fulfill who that person is for Natasha in real life on the show.
I love the outfit too. It was such a good cartoon character look, you know, one person wearing the same thing over and over.
Every time I went in the trailer and put that on I was like "here I am!"
And Greta Lee's is amazing too.
The first time I saw her I was like, "what the fuck are you wearing?" The costume designer is amazing, Jenn Rogien, she brought in so many options but I think she really wanted to nail Lizzie's that she's androgynous, sometimes feminine, sometimes masculine. So I'm wearing heels actually with the overalls. I think you can't really see it, but it made me feel kind of feminine even though I had super short hair.
And it's purple now … it looks great.
I don't know what I'm doing. I had a brown bob wig made so I could audition to play, like, Mom on Playground. And now I just do whatever I want with my hair. I spent so long worrying about how my hair should be as an actor and now I don't care.
Did you think Lizzie was going to become a fan-favorite in the way that she did?
No. Everybody who asked me about it, like "you're on a show!" I was like "I'm barely, barely there. I have four lines." That's how I felt. I think because I'm always with Greta and Natasha she feels more present.
What's the feedback you've gotten about the character?
Just a lot of energy and love. People find her very grounding and specific and dry and all the things that I think that I was naturally sort of doing with the energy that Greta was bringing and Natasha — who are really different actors. Natasha's been doing it forever, Greta's actually kind of new to it. So a lot of it was just like, in the room responding to what everyone was doing. That really affected my performance. Like Greta is such a funny improviser, I was constantly like, I can't go on.
Was a lot of the dialogue improvised?
We had a lot of improv between us, at the top of scenes and at the end of scenes. Leslye would be like "just talk about something!" and we'd talk about colonics or podcasts. It wasn't like Groundhog Day, where we couldn't change. We could change and we had our own will.
The show made me think about this a lot, in general, but what night of your life would you most like to live over?
I have so many wonderful nights but probably the night that Leslye proposed to me was one of the most amazing. We had been dating for a just over a year and I had just moved in with her. And she was so hard to date, it was trying to hold a pigeon or something, it was just impossible. Finally things were going really well and blah blah blah. And she planned a dinner party for me at The Smile and she invited all my friends and we were down in this private room and it was just the best day. She sent me to Great Jones Spa and my friends had come and she was like "get a manicure" and I got a manicure. I had no idea. And then we were down in the private room and the end of the dinner came and she was like "I'm gonna make a speech" and I was like "Booooo, nooooo, don't make a speech." And she was like "I love you" and I was like "bleh, so embarrassed."
I wanted this pair of sunglasses, so she had the sunglass box on her lap and she was like "I wanted all your friends to be here to witness this because you told all of them that we were going to be together before we were together" — which is true — "and I just want to say you were right, and you will always be right." And she lifted off the top of the sunglass box and inside was a ring box. I've never been speechless in my entire life and I was totally speechless. Some of my friends knew and some didn't and they were screaming, everyone was screaming. And I just like totally blacked out, and I couldn't believe it. I just went around showing people the ring, which is something I never dreamed of or anything.
How'd you two meet?
I was at karaoke with my best friend Katherine Waterston, who was in the play version of Bachelorette [Headland's 2012 movie], and she'd invited Leslye to come to karaoke. I was singing "Because the Night" by Patti Smith and Leslye walked in the room and the first thing I thought was "that's the most beautiful lesbian I've ever seen." And then the second thing I thought was "she's going to be my wife." I had goosebumps over my entire body. Then her boyfriend came in and I also had a boyfriend at the time — I'd always dated women, at the time I happened to have a boyfriend. It was just a crazy thought that went through my head. I actually don't know if we met-met that night but I remember being like "what the fuck?" A year or so later, my boyfriend and I broke up and I told Natasha, "can you tell Leslye I have a crush on her because I just want to go on a date with her." And they were like "she's straight, she's straight." And I was like "no she's not, I'll take care of it." And anyway finally we went on a date.
Even when dating her was so difficult at first, she was just like, not communicative. We were really really different and it was really frustrating, but I just kept showing up and had this real belief that we should be together. I have to say we're like a perfect, perfect match. I love her. I love her so much, my God.
Not to bring the mood down, but would be the night you'd least like to relive?
I mean, these stories are all about Leslye but I remember when we were first dating, when she writes she keeps really weird hours. We finally had to have a big conversation about like "if you're going to disappear for seven hours, I need to know." But she fell asleep in the afternoon one day at like 2 or something. And I thought she was dead. I was living in Gowanus at the time and she was on the Upper West Side and at midnight I was in bed trying to force myself to go to sleep and I was like "I'm going to her apartment." I called my friend and she was like "do not go to her apartment" and I was like "I'm in the cab! I'm going to her apartment!" And it took forever. I was around the corner from her place in the cab and she texted like "oh, I fell asleep!" And I was like "okay, I'm outside basically because I thought you were dead. So that was a horrible night and then I went there and was exhausted and went to sleep and she'd slept for 12 hours so she just like played video games.
Gowanus to the Upper West Side is like a long-distance relationship.
And I have two cats and she has a dog. So that was a lot of negotiating.
Are you all under the same roof now?
We are, but the cats and the dog have to be on separate floors. The cats are incredible. They're two ginger siblings. They're incredible and all they do is sleep and play and clean each other.
Speaking of cats, who played Oatmeal?
Being on set with Oatmeal was the worst. And I don't have any scenes with Oatmeal but I was visiting Leslye and Natasha and this woman just had this cat who did movies sometimes. And she would be on the Lower East Side, in Tompkins Square Park, she would be like [mimes putting down a cat] and just walk away. As an animal lover I was like "what is going to happen if a loud sound comes?" But the cat was fine, the cat was incredible. Natasha would come over and pick it up and it would start purring immediately.
Something I love about Russian Doll is that it's such a New York show. And so much of it is based in a deli, and New Yorkers can have a real allegiance for theirs. So what's your favorite deli in New York?
In Fort Greene, Elly's Market is amazing, it has absolutely everything and a deli cat. Now here, there's one on the corner of my street that I really like. Delis are amazing, and they all have cats and usually kittens, which I'm always trying to adopt.
Yeah, I know a couple people who've gotten their kittens from delis.
I'm really on a mission in this neighborhood to become a part of the trap and release program, so I'm taking a class in February.
So what was your favorite death of Nadia's on the show?
I think they're all really funny. I really love the one where she falls down the same grate twice. Probably my favorite, even though it's the most upsetting, is when she gets shot by Ruth. I found that very disturbing. I also love when she's falling down the stairs.
Are there plans for another season?
When they originally talked to Netflix, I think they did pitch a three season arc. But I have no idea. Leslye and Natasha, their brains are pretty amazing together. So they could do it, but I wonder if they're like "this went so well, maybe we should just leave it." The outpouring of love for this show … I had no idea people were going to respond like this.
Was this your first time playing a supportive best friend character?
No. [Laughs] I'm constantly the supportive best friend lesbian. That's why, when they were talking about this character, I was like "how about me?!" I often play the funny friend role.
Do you want to only play lesbian roles?
I'm open to everything. In theater, I have played a lesbian role, but I do a lot of plays and I think only one time have I played a lesbian. It happens more on film because I have short hair and Hollywood's like "Well you must be gay, obviously. You're a confident woman with a deep voice. You're clearly a lesbian." This is a new thing I've been trying on lately but, until all of the queer people are also allowed to play the straight people, I think we also have to be playing the queer people. So I would so much rather be me playing a lesbian than some straight woman playing a lesbian. Just until the playing field is equalized, which I think is probably not going to happen.
What are you working on next?
I'm going to South by Southwest to promote a film called Mickey and the Bear. And then I'm doing a play all summer long called Moscow Moscow Moscow Moscow Moscow Moscow. It's a modern adaptation of Chekov's Three Sisters and it's totally insane and so funny. I'm the oldest sister and then Cristin Milioti is the middle sister and Tavi Gevinson is the little one.
Finally, I want to know: Lizzie's recurring regret in the show is that she didn't adopt a pair of Neapolitan Mastiff puppies. What's yours?
The first thing that came to mind was that I was cast in two plays at the same time and I feel like I chose the wrong one. And I'm still really good friends with the people from the other production, this company called The Debate Society. I don't really have a lot of regret in my life, but I had this weird feeling that I was meant to be with those people for a while. And they're still really in my orbit, which is good, but I weirdly feel like I just made the wrong decision. I made the wrong decision based on the fact that my boyfriend was in the other play and his friend had written it. It was a great play, it went really well. But nothing as big as being a mom to some puppies.