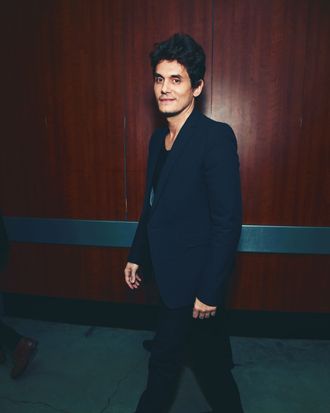 John Mayer.
Photo: Frazer Harrison/Getty Images
What do you do when you feel the need to socialize but don't want to leave the house for a huge event? Bring the party to you, like John Mayer did.
In lieu of attending the famed Vanity Fair Oscars after-party, Mayer hosted his own re-creation of the party, or as he called it, "How to be Seen at The @vanityfair Party Without Ever Having to Leave the House and Risking Emotional Vulnerability."
In an Instagram Live video, he explained that he wasn't sure if he even got an invitation ("People don't even pass invites to me because I don't go most places)
"Everyone deals with this, wanting to go to a party but also wanting to stay home, so I thought maybe I could kill two birds with one party," he said.
Honestly, he has the right idea. Why go out when you can dress up at home?It's not like his homemade party was lacking in star power (Halsey, Diplo, and Bob Saget were in attendance!) or glamorous photos (he had a photographer, Bobby Quillard).
Plus, you have to admit that the re-creation of the party's carpet is spot-on, and the Vanity Fair paper plates were a nice, on-the-nose touch. He even got Shake Shack to cater the party, according to his Instagram Stories.
Still, don't cross Mayer off the party list just yet.
"If you work at the Vanity Fair magazine party, please don't be mad at me because I really want to go next year," he said during his Instagram Live. "That's why I dressed up."