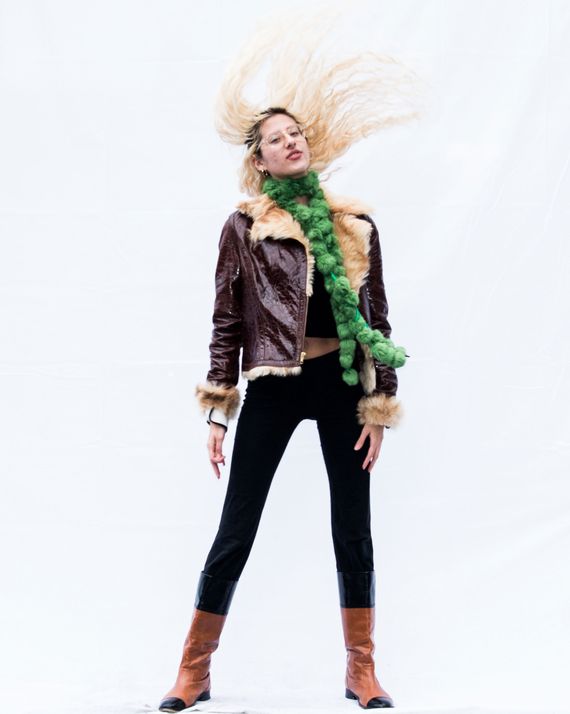 Every day, each of us puts a version of how we want to be seen out into the world — and, of course, we're always misunderstood. Each week, for our "Judgments" photo project, we're asking strangers on the streets of New York City to size each other up.
GUESSES
"She works in customer service at Best Buy. She's helping people figure out what they're interested in, like, in computers — Apple, Samsung, or whatever." —Jon, 24
"From her clothes, maybe an Instagrammer. Cheerful because the colors are light. On the weekends, she goes partying in fancy places, getting expensive drinks and so on." —Carlos, 26
"She's a blogger. Extroverted. On weekends, she's smoking weed." —Omar, 36
"She's a writer or something in a creative industry. Extroverted, fun. Going up to some big parties, more upscale places." —Sami, 32
REALITY
Pace University nursing student, 21. "I'm a native New Yorker. I'm an Aquarius. I'm really into art — I majored in visual arts at LaGuardia. One day I can dress up like a gothic person from the '80s, and then the next day, I can dress like Jackie O.
"I don't have a boyfriend right now … which kind of sucks, because my birthday's on Valentine's Day, so I'm always reminded. No, I don't care. I care more about having my best friends than [about] having a boyfriend.
"I don't [smoke weed], and I'm not just saying that in case my mom might see. I never felt like I needed it for anything. I just get high off of life. Sometimes I like going out to parties with my friends. It could be one of the best-known clubs in New York City, or it could be, like, some person's basement in Brooklyn. The blogger thing some person mentioned — I do write a lot, in my journal, and actually my psychic told me that he sees a lot of writing, and that maybe I should do something with it. Someone said [I look like] 'an Instagrammer' but I don't know what that means. They're just pretty people who have a lot of followers? Okay, I'll take it."
Jessica Boddy, Emma Grillo, and Sarah Nechamkin contributed reporting. On-set production by Jean Jarvis.