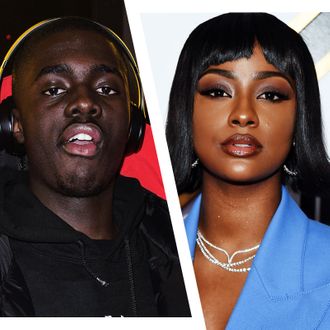 Sheck Wes and Justine Skye.
Photo: Getty Images
Singer Justine Skye has named rapper Sheck Wes as her alleged abuser months after first revealing that she experienced domestic abuse in a previous relationship. Skye tweeted Monday night that Wes and his friends had allegedly stalked her while she was with her current boyfriend, rapper Goldlink, and some friends and claims that they attacked her friends. "You're pathetic sheck and you beat women. You hit your girl before me and you'll do it again," she wrote on Twitter. "Moral of the story is, if you never put your hands on me, you wouldn't be in this situation and you just keep making it worse." Wes then addressed the allegations for the first time in a tweet denying any wrongdoing. "I've chosen to remain silent until now out of respect for actual victims of abuse. But I cannot stand by while lies are repeatedly told about me," he wrote. "I never hit or beat any women and I did not beat up or jump anybody."
Last October, Skye shared an Instagram post opening up about how she'd recently got out of a relationship where she'd been the victim of domestic abuse. "I felt stupid, angry, depressed, blamed myself. Trying to figure out how someone who claimed they loved me so much could find such evil within themselves to hurt me mentally and physically," she wrote. Though Skye did not name her abuser at the time, she liked multiple tweets that claimed she was talking about Wes, whose song "Mo Bamba" was going viral. She later tweeted, "I never said who it was because I knew it wouldn't matter to a lot of you … it's just something for you to talk about today. That's just the reality of it." Prior to her latest tweets, Goldlink released a song called "Justine's Interlude" that appeared to address the abuse allegations against Wes while also not naming him.
Update, 11:20 a.m ET.: Skye has responded to Wes's denial by sharing security camera footage she says is of Wes allegedly jumping over a fence to enter her home to attack her. She also shared texts from last July that appear to be Skye reaching out to Wes's friends alerting them of the alleged attack and requesting their help.