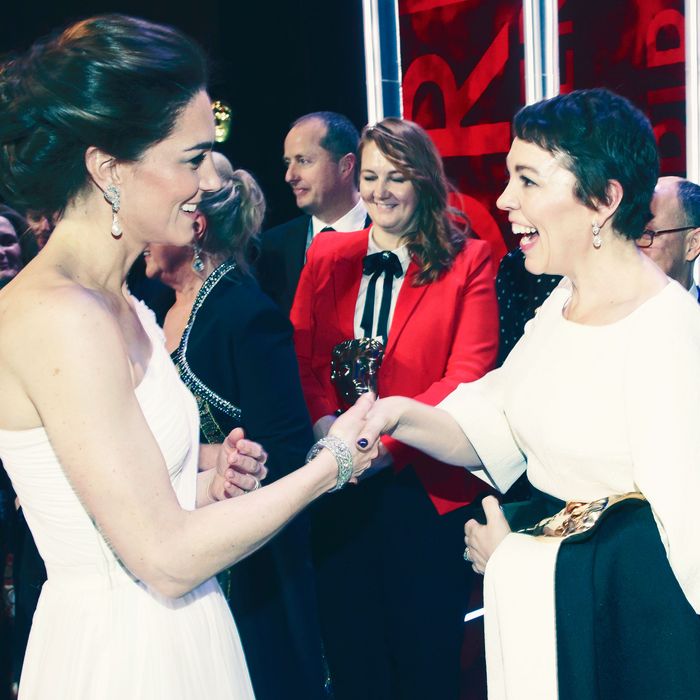 Kate Middleton and Olivia Colman.
Photo: Tim Ireland/Getty Images
On Sunday night, Kate Middleton (alongside her husband, Prince William) showed up at the BAFTAs in an exquisite white one-shoulder Alexander McQueen gown that only royalty (or a bride) could wear. And while there, the duchess was lucky enough to meet a queen — or rather, actress Olivia Colman, who plays Queen Anne in The Favourite and Kate's grandmother-in-law Queen Elizabeth II on The Crown.
Colman won the award for Best Actress at the BAFTAs on Sunday in London for her work in The Favourite, in which she plays the gout-ridden Queen Anne. Her co-star (or rather, one of her "bitches") Rachel Weisz also took home the award for Best Supporting Actress for her role as the Duchess of Marlborough, and the film snagged the Outstanding British Film award.
During the ceremony, Kate met with both Colman and Weisz to congratulate them. Kate's tuxedo-clad husband, Prince William, also got in on the action and was seen chatting with the actresses. (Prince William has been the president of the British Academy of Film and Television Arts since 2010).
Colman and Weisz weren't the only two celebrities the royal couple met with that night. Kate and Prince William were also seen chatting with Spike Lee, director of BlacKkKlansman and winner of the Best Adapted Screenplay award, the cast of Roma (which won the Best Film award), Black Panther actress Letitia Wright (who took home the Rising Star award), Rami Malek, who won Best Actor for Bohemian Rhapsody, and A Star Is Born's Bradley Cooper, who was nominated for multiple awards that evening. It's unclear whether royals get starstruck, though.