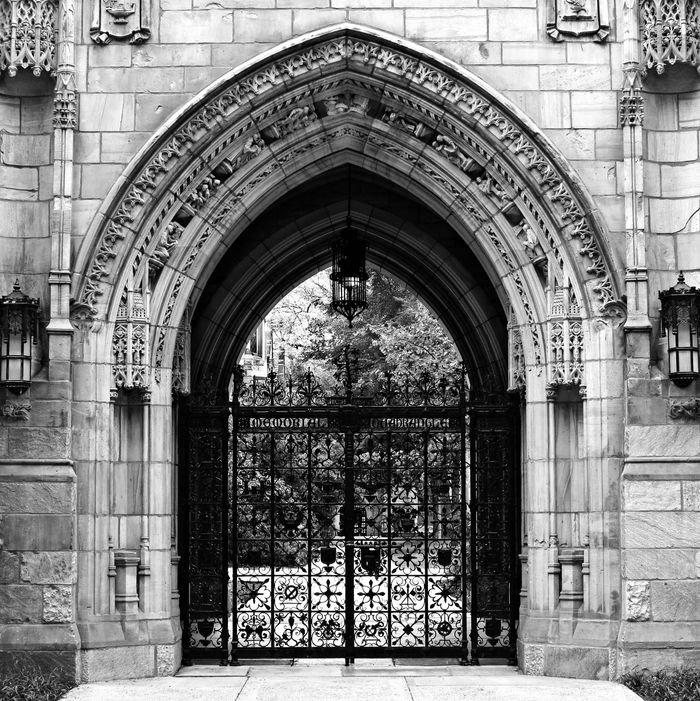 Yale University.
Photo: Sandra Leidholdt/Getty Images
Yale University's fraternities may soon be required to allow women to join — at least, that's what a newly filed class-action lawsuit against the Ivy League college and its all-male frats is seeking to achieve.
Three female Yale undergrad students have filed a class-action lawsuit against Yale and its frats, claiming these all-male frats dominate the school's culture — which, in turn, has led to an environment in which sexual misconduct runs rampant. Furthermore, the lawsuit alleges that Yale and the frats discriminate against women by not integrating them into these groups; the women are asking that the frats start admitting female members as a means of making the campus safer.
"Yale promises female students an educational environment free of gender discrimination, but the reality of campus life does not deliver on that promise," one of the plaintiff's attorneys, David Sanford, said in a statement. "Women on campus must navigate a hostile, all-male fraternity scene that plays a significant role in campus social life. Male members of the fraternities control and create dangerous party environments in which sexual misconduct thrives."
The three plaintiffs — undergrads Anna McNeil, Ellie Singer, and Ry Walker — spoke with CBS News about their experience with sexual harassment at Yale frats. All three said they have been sexually assaulted at frat parties — one of them said she were groped and another said someone lifted up her skirt at a party. They also stated that, because of this behavior, attending a frat party isn't always social event of choice — but these tend to be the dominant social events on campus, the women allege.
"Right now, students are forced to make a choice between having a social life and not feeling safe at parties or feeling safe but barely being able to go out at all. We want Yale to take decisive action to make that change so people no longer are forced to make that choice," Singer told CBS News.
The women further said that frats offer "a vast network of privileges" to its members, including connections and networking. They also denied that sororities have the same offerings to their members. "Sororities don't tend to have nearly the same connections as fraternities. Fraternities often have people, I think, in higher positions of power. And certainly on campus, they occupy a much higher social space," Singer told CBS News.
The lawsuit seeks class-action status, damages, and a change in policy to force Yale's frats to fully integrate women. Yale told CBS News in a statement that they have no comment on the lawsuit, and that all students face discipline if they are accused of sexual misconduct. An attorney for all the frats called the claims "baseless and unfounded" and said they "look forward to vigorously defending this action in court."