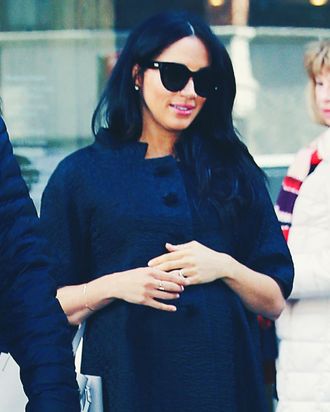 Meghan Markle in New York City.
Photo: Jo Robins/ACE Pictures/REX/Shutterstock
Meghan Markle was in New York City for much of the past week, though news of her surprise trip didn't break until Monday. During her visit, however, we were treated to images of the Duchess of Sussex out in Manhattan with friends (including Serena Williams, actress Abigail Spencer, and stylist Jessica Mulroney), as well as glimpses into her star-studded baby shower at The Mark Hotel on Wednesday afternoon.
Meghan and Prince Harry's first royal baby is due to arrive in late April, so the timing was right for her friends — some of whom recently (anonymously) came to her defense in People magazine — to throw her what sounds to be an utterly lovely baby shower. The event occurred on the last day of Meghan's trip to New York, which also included a stop at Ladurée in Soho for macarons and tea, baby clothes shopping, and newsboy cap-wearing.
This baby shower is reportedly one of two that will be held for the duchess — the other one will, fittingly, be held in the U.K. Here's everything we know about the event.
• The baby shower was hosted by Serena Williams and Meghan's longtime friend (and sorority sister) Genevieve Hillis, Harper's Bazaar reports.
• Williams reportedly booked the Mark's $75,000 penthouse suite for the event. The suite is apparently the largest penthouse in the U.S., spans two floors, has five bedrooms, six bathrooms, and four fireplaces. Serena shared a pic of herself in a bathroom at the Mark on Instagram:
• The event's guest list included about 20 of Meghan's closest friends — some of whom you might remember from her May royal wedding to Prince Harry. Photographers spotted Amal Clooney, Gayle King, actress Abigail Spencer, stylist Jessica Mulroney, makeup artist Daniel Martin, designer Misha Nonoo and others showing up at The Mark for the event on Wednesday.
• The event reportedly included a flower-arranging lesson and desserts from acclaimed chef Jean-Georges Vongerichten. Harpist Erin Hill is also believed to have performed at the event, as she was spotted arriving on Wednesday afternoon at the hotel.
• Speaking on CBS This Morning on Thursday, Gayle King revealed that the flower arrangements from the event were donated to charity, and that Meghan didn't open any of the gifts, as she wanted to wait for Prince Harry to open them with her. "It was very, very small, private affair, and just a special time for her," King said of Meghan.
• A number of items were spotted being delivered at the Mark on Tuesday and Wednesday, seemingly for the shower: a crib, lots of flowers, an orange tree, a cotton candy machine, about a dozen Away suitcases (possibly party favors), an outfit in a garment bag (thought to be Meghan's), and NYPD barricades (obviously for security purposes).
• Daniel Martin, a close friend of Meghan who also did her makeup for her royal wedding, posted what appeared to be cookies from the baby shower on Instagram.
• While this trip may have surprised many of us, it's apparently been in the works for quite some time, according to royal reporter Omid Scobie. "The trip was planned some months ago and, with [an official trip to] Morocco this weekend, is the last available time Meghan can travel before the Baby Sussex is born," he told Good Morning America.
• On Wednesday night, Meghan was photographed leaving the hotel. The Daily Mail reports George and Amal Clooney may have paid for her private plane back to London that night.
This post has been updated.