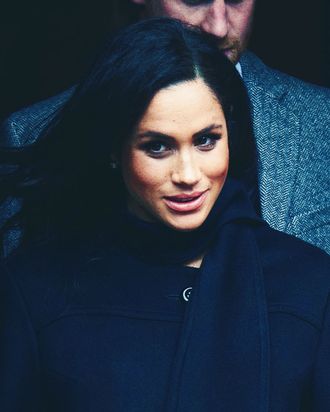 Meghan Markle.
Photo: Tim Rooke/REX/Shutterstock
Last week, after nonstop rumors and relentless negative reports about her in the press, Meghan Markle's closest friends defended her in anonymous interviews with People. One of the many subjects the friends touched on was Meghan's messy father Thomas Markle Sr., who continually harasses his daughter in the press. He, in turn, fired back with what could be his grossest play for attention yet.
Speaking with People, one of Meghan's friends disputed Thomas's claims that Meghan ghosted him after he was caught staging paparazzi photos ahead of her royal wedding to Prince Harry. Instead, the friend said, Meghan texted and called her dad before the wedding, and afterward, she wrote a heartfelt letter to him. In the letter, Meghan pleaded with her father to stop victimizing her in the press. Thomas responded by asking for a photo op, the friend explained. "I think she will always feel genuinely devastated by what he's done," the friend said.
Over the weekend, the friend's claims were essentially confirmed. First, a "close friend" of Thomas also reached out to TMZ, his preferred outlet, to call the People article "bullshit" and "complete nonsense." But then, the Daily Mail published not only Thomas's response to his daughter's letter, but also Meghan's original letter — showing that she did, in fact, plead for him to stop, and that he did, in fact, ask for a photo op.
This marks Thomas's latest attempt to use the media to his advantage while violating his daughter's privacy. After his staged paparazzi photo scandal was unearthed, he proceeded to go back and forth with TMZ over whether he'd attend Meghan's royal wedding or not. (He ultimately skipped.) Since then, he has repeatedly sold his daughter out in interviews on TV and with the tabloids (and even tried to pick a fight with Queen Elizabeth). And now, he's gone even further by providing a tabloid with these letters.
After the People article was published, there were some complaints that Meghan's friends went to a U.S. outlet rather than the British press, and that they also went around the royal press office to get her side of the story out there. (As LaineyGossip points out, that's a very Princess Diana move). Royal "insiders" last week complained that the article went against the royal family's usual "never complain, never explain" rule and worried that it would only aggravate her father further.
And so, it's not entirely surprising that Thomas would retaliate; he always tends to hit back at anything he views as an attack. But given that hardly anything has been done publicly to protect the pregnant Meghan, it makes sense that her friends would take matters into their own hands to People. Beyond that, if Thomas's goal in releasing the letters was to make Meghan look bad, he surely backfired. If anything, her heartfelt plea, and the sheer scale of his betrayal, makes the Duchess of Sussex all the more sympathetic.