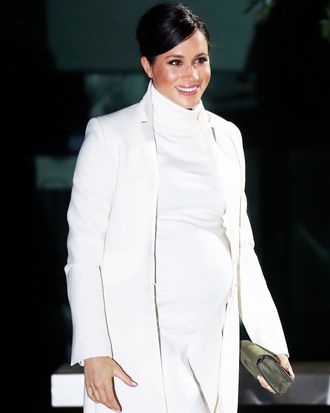 Meghan Markle.
Photo: Chris Jackson/Getty Images
Ah, winter. A time for warm tea, avoiding outdoors, and most importantly, wearing our favorite things: turtlenecks. So imagine our joy when we saw pictures of Meghan Markle, Duchess of Sussex, in a truly chic Calvin Klein turtleneck dress at an event on Tuesday. Except, the turt in question happened to be white — and we couldn't help but wonder: how the heck did she not spill anything on it?
It is a truth universally acknowledged that if you wear something white, you will most certainly spill literally everything you come in contact with on it. Your drink? Spill. That aforementioned tea? Spill spill. Any form of liquid or even solid (namely food) that isn't clear? Spill spill spill. And yet, at the gala performance of "The Wider Earth" at the Natural History Museum in London on Tuesday evening, Meghan's outfit — paired with an also-white Amanda Wakely coat — looked absolutely impeccable. (Perhaps there was no food or drink at the event, or maybe she's just graceful, who knows.)
Meghan, of course, isn't the only duchess to have worn a sophisticated white outfit this week; her sister-in-law, Kate Middleton, wore a white one-shoulder Alexander McQueen gown to the BAFTAs on Sunday night. We were also impressed that Kate didn't spill anything, but we cannot relate to wearing a gown, so we're not as impressed as Meghan being completely stain-free in an outfit that can more easily be imagined in everyday life.
Kudos to the Duchess on this achievement (we're not being sarcastic) that we will surely never attain. And of course, we're also glad to see the pregnant Meghan looking so happy and well at an event with her husband Prince Harry in light of the emotional distress presumably caused by her messy father, Thomas Markle Sr. this week. Dare we say she's actually … glowing? Anyway, back to using Tide pens on our own turtlenecks now.