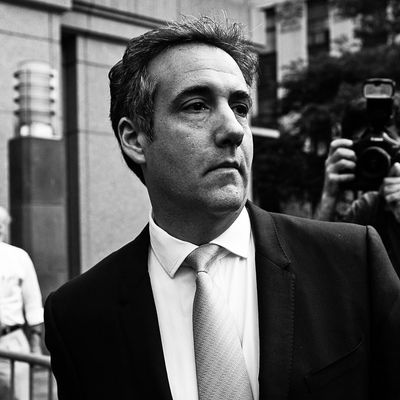 Michael Cohen.
Photo: Mark Kauzlarich/Bloomberg via Getty Images
Michael Cohen testified on Wednesday before the House Oversight and Reform Committee that, among other things, Donald Trump is a "con man" and a "cheat," that the president has said his son Don Jr. has the "worst judgment in the world," and that Trump once used charitable funds to pay for a portrait of himself. These are merely a few of the claims from Cohen's prepared statement, an advanced copy of which was obtained by news outlets on Tuesday night.
The testimony of Trump's former lawyer and fixer Cohen — who will soon start serving a three-year prison term for lying to Congress, financial crimes, and campaign finance violations — was a wild ride, and paints a portrait of an administration just as messy as has been reported. Here are some of the wildest moments from Cohen's testimony.
Trump allegedly arranged for someone to bid $60,000 on a portrait of himself — then reimbursed them with funds from his nonprofit foundation.
Cohen provided the committee with an article about the auction of a portrait of Trump, with the now-president's handwriting on it. Cohen claims Trump had arranged for someone to bid $60,000 for the portrait, and then paid the person back with charitable funds. The portrait now allegedly hangs in one of Trump's country clubs.
Cohen threatened Trump's former schools and the College Board to ensure his grades and SAT scores never got out.
In his testimony, Cohen called Trump a "con man" — then elaborated, "I'm talking about a man who declares himself brilliant but directed me to threaten his high school, his colleges, and the College Board to never release his grades or SAT scores." Cohen gave the committee copies of a letter threatening them with civil action if those details ever got out.
Trump allegedly told Cohen and others that his eldest son, Don Jr., had terrible judgment.
Cohen states that he thinks Don Jr. would not have set up a meeting involving Russians and the campaign without his father's approval. "Mr. Trump had frequently told me and others that his son Don Jr. had the worst judgment of anyone in the world. And also, that Don Jr. would never set up any meeting of any significance alone — and certainly not without checking with his father," he states.
Trump personally allegedly signed a check reimbursing Cohen for the Stormy Daniels hush payment.
Cohen testifies that Trump directed him to pay Stormy Daniels $130,000 in hush money to stay quiet about their alleged affair. Cohen also included a copy of a $35,000 check Trump personally signed as part of an installment plan to reimburse Cohen for paying off Daniels.
Trump allegedly asked Cohen at least six times between the Iowa Caucus and June 2016, "How's it going in Russia?"
Cohen says that he previously testified that negotiations for a Trump project in Moscow stopped in January 2016, when they really stopped months into the presidential campaign. However, he said that Trump "did not directly" tell him to lie to Congress — "He would look me in the eye and tell me there's no business in Russia and then go out and lie to the American people by saying the same thing. In his way, he was telling me to lie," Cohen said. But nonetheless, Trump allegedly kept asking him "How's it going in Russia?" (referring to the Moscow Tower project) until June 2016.
Trump allegedly viewed his campaign as an infomercial.
Cohen claims Trump never thought he would win the presidential election, nor did he have any desire to "make our country great." Instead, according to Cohen, Trump viewed the campaign as a "marketing opportunity." Cohen states, "He had no desire or intention to lead this nation — only to market himself and to build his wealth and power. Mr. Trump would often say, this campaign was going to be the "greatest infomercial in political history."
Cohen says Trump provided no evidence of bone spurs for his "medical deferment" from Vietnam.
Trump allegedly didn't think Senator John McCain was a "hero" because the Vietnam veteran is a former prisoner of war. Trump also had Cohen handle the negative press around him getting a medical deferment from Vietnam, but allegedly didn't give Cohen any records of a "bone spur" and said there was no surgery. "You think I'm stupid, I wasn't going to Vietnam," Trump allegedly told Cohen.
Former adviser Roger Stone allegedly told Trump on speakerphone that WikiLeaks was about to dump emails to damage Hillary Clinton's campaign.
Cohen contradicted statements that Trump was unaware that his longtime adviser Roger Stone was talking to WikiLeaks about a DNC email dump. Per the testimony:
In July 2016, days before the Democratic convention, I was in Mr. Trump's office when his secretary announced that Roger Stone was on the phone. Mr. Trump put Mr. Stone on the speakerphone. Mr. Stone told Mr. Trump that he had just gotten off the phone with Julian Assange and that Mr. Assange told Mr. Stone that, within a couple of days, there would be a massive dump of emails that would damage Hillary Clinton's campaign. Mr. Trump responded by stating to the effect of "wouldn't that be great."
Trump is a racist who has referred to poorer countries as "shitholes."
Cohen says Trump is "racist," courts "white supremacists and bigots," and once asked Cohen to name a country run by a black person that wasn't a "shithole," even though the U.S. was being led by President Barack Obama at the time.
The president would allegedly inflate his assets so that Forbes would rank him among the wealthiest people in the world, then deflate his assets for tax purposes.
"It was my experience that Mr. Trump inflated his total assets when it served his purposes, such as trying to be listed among the wealthiest people in Forbes, and deflated his assets to reduce his real-estate taxes," Cohen states.
While taking questions from committee members, Cohen was asked about the @WomenForCohen Twitter account (that he paid for).
It was reported back in January that Cohen had paid an IT firm to, among other things, run a fake Twitter account called WomenForCohen, which posted thirsty tweets about him. Cohen was asked about this account by Representative Jim Jordan. Cohen stated, "It was done by a young lady that works for the firm and, again, sir, we were having fun during a stressful time."
Cohen was asked if he was aware of any "video tapes" that may have been used for "extortion or blackmail."
Representative Jamie Raskin, a Democrat from Maryland, asked Cohen, "Are you aware of any video tapes that may be the subject of extortion or blackmail?" (Raskin did not specify what tapes he might be referring to). Cohen replied, "I've heard about these tapes for a long time. I've had many people contact me over the years. I have no reason to believe that that tape exists."
Cohen said he threatened people on Trump's behalf "probably" 500 times.
Representative Jackie Speier, a Democrat from California, asked Cohen how many times Trump had asked him to threaten an individual or entity on his behalf. What followed was a back and forth between the lawmaker and Cohen, where she asked a number and he replied "More," until finally she asked, "500 times?" Cohen then replied, "Probably, over the ten years." He then clarified, "And when you say threaten, I'm talking with litigation, or an argument … with a nasty reporter that is writing an article." (While he was speaking, Speier also said, "Intimidation.")
Cohen addressed a rumor of a video tape that went up for auction in 2016, allegedly showing Trump physically harming Melania Trump in an elevator. He said he does not believe the tape exists.
Speier also used her time to ask Cohen about a rumored video tape that allegedly went up for auction in 2016, saying the "elevator tape" has been referenced as a "catch and kill" product. (Cohen said Trump and National Enquirer publisher David Pecker would use "catch and kill" tactics — buying the rights to a story and then never running it — to keep stories quiet.)
Speaking of what he referred to as the "Trump Tower elevator tape," Cohen said, "The story goes that he struck Melania while in that elevator because there's camera inside which I'm not so sure … actually, I'm certain it's not true." Cohen said he heard about a tape over the years, and he does not believe the auction was real and that "I don't believe Mr. Trump would ever strike Mrs. Trump, ever." He added, "I know several people who went to go try to purchase it for 'catch and kill' purposes. It doesn't exist."
Representative Rashida Tlaib called out "someone" on the committee for using a black person as a prop earlier in the hearing to prove Trump isn't racist. Representative Meadows assumed she meant him and took great offense.
Earlier in the hearing, Representative Mark Meadows, a Republican from North Carolina, pointed to Department of Housing and Urban Development staffer Lynne Patton and stated, "Lynne Patton says she would not work for a man who is racist," an an apparent attempt to refute Cohen's claim that Trump is racist. Later, Representative Rashida Tlaib, a Democrat from Michigan, appeared to harken back to the moment during her line of questioning.
"Just because someone has a person of color, a black person working for them, does not mean they aren't racist … The fact that someone would actually use a prop, a black woman, in this chamber, in this committee, is alone racist in itself," Tlaib said. Meadows immediately interrupted her, saying, "Mr. Chairman, I ask that her words be taken down," and repeatedly demanded that her comments be taken off the record.
"I am not calling the gentleman, Mr. Meadows, a racist for doing so. I'm saying that in itself, it is a racist act," Tlaib further explained. Chairman Elijah Cummings asked Tlaib to clarify her statement, which led to a back-and-forth between Cummings and Meadows in which Meadows stated that his nieces and nephews are people of color, and Cummings eventually called Meadows one of his "best friends."
This post has been updated.