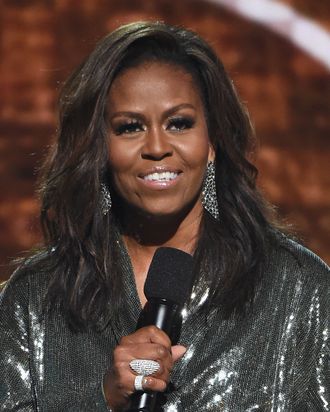 Michelle Obama.
Photo: Kevin Mazur/Getty Images
While the rest of the nation was losing their minds over Michelle Obama gracing everyone with her presence at the Grammys, her mother, Marian Robinson, was decidedly a little less impressed. Mostly, she just wanted to know if her daughter met any "real" celebrities.
The former First Lady shared screenshots on her Instagram of a text exchange with her mother, writing, "When your mom doesn't think you're a 'real' celebrity."
"Did you meet any of the real stars or did you run right after you were done?" her mother asked.
"I am a real star … by the way," Obama replied — to which her unfazed mom responded, "Yeah."
On Sunday night, Obama made a surprise appearance onstage at the Grammys alongside Jennifer Lopez, Lady Gaga, and Jada Pinkett Smith to speak to the night's theme, the power of music (and make a reference to Beyoncé).
"From the Motown records I wore out on the Southside to the 'Who Run the World' songs that fueled me through this last decade, music has always helped me tell my story, and I know that's true for everybody here," she said during her speech.
She first shared the text messages with fans during a stop in Phoenix for her Becoming book tour, but as she wrote in her Instagram caption, they were too good not to share with the rest of the world.
It just goes to show that you can be a lawyer, First Lady of the United States, and a best-selling author, but none of that gives you immunity from being humbled by your mother.