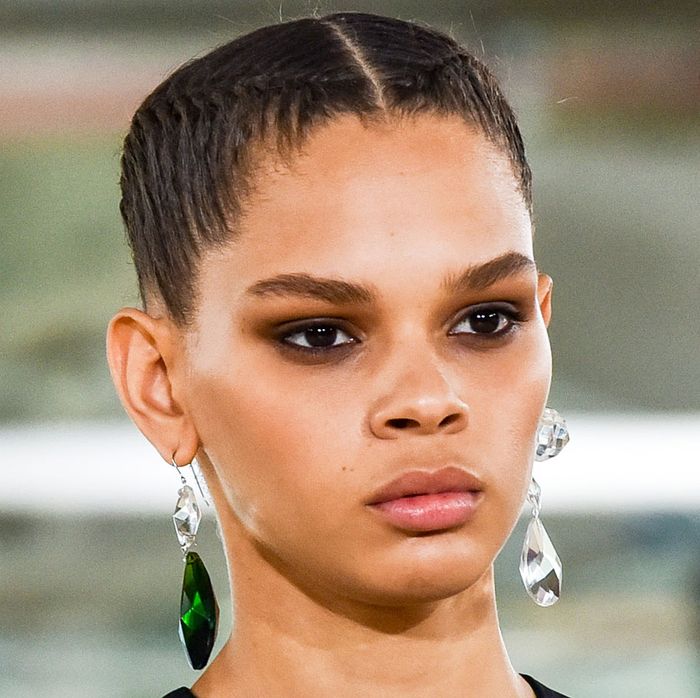 Photo: Sean Zanni/Patrick McMullan via Getty Image
If you've never mastered the art of eye shadow, take heart. The pretty eye look at yesterday's Tory Burch fall 2019 show is proof that you can create a great beauty look with just eyeliner.
Maybe you already wear eyeliner everyday, but this looks takes it a step further. Makeup artist Diane Kendal instructed her team to rim each model's eyes with the stuff, but then give them a slow "bohemian-inspired" gradation that faded out to just beyond the crease — think ombre for the eyes.
Models with darker skin tones got black eyeliner, while those with lighter skin tones got a dark coffee-ish shade. (The makeup artists used M.A.C Pro Longwear Eyeliner in Definedly Black or Rich Experience). The color was diffused out, so that it went from more intense on the lid to lighter at the outer edge of the eye. And that was it. I kept an eagle eye on the activity backstage and no eye shadow was sneakily used.
To try the look at home, first look at your eyelid and mentally divide it into thirds, horizontally. You're going to prep and set your eyeliner across each third individually.
Start with the third that's closest to the eye. Take a tapered brush like M.A.C's Concealer brush ("It feathers out and helps you with the shape," Kendal says), and using circular motions, blend your eyeliner across the lash line.
Don't blend up! I always thought that if you wanted to ombre-out an eye, you blend up, but this is a rookie mistake. Instead, you want to blend across, dragging your brush horizontally rather than vertically. Kendal says it's much easier to keep the fade-out even when you do it that way.
Next, do the second third. Take a new brush, or wash the one you just used, and repeat the same move above (but not on top of) the layer you just did. Don't add more eyeliner — just blend the existing liner across your lid.
Do this a third time, distributing the liner up to the crease. Then mix — Kendal recommends taking a fluffier brush and running it a few times over the eyelid entirely, as well as underneath the eye. If you mess up or don't get it on the first try, don't worry. You don't have to throw out the whole project (it's not Bin Gate from The Great British Baking Competition). There were dozens of Q-tips with Bioderma makeup remover littered backstage at Tory Burch.
About 15 minutes later, test out your look by blinking a few times (good news, eyeliner is more durable than eye shadow and doesn't crease) and viola, your eye look is ready and fully baked.