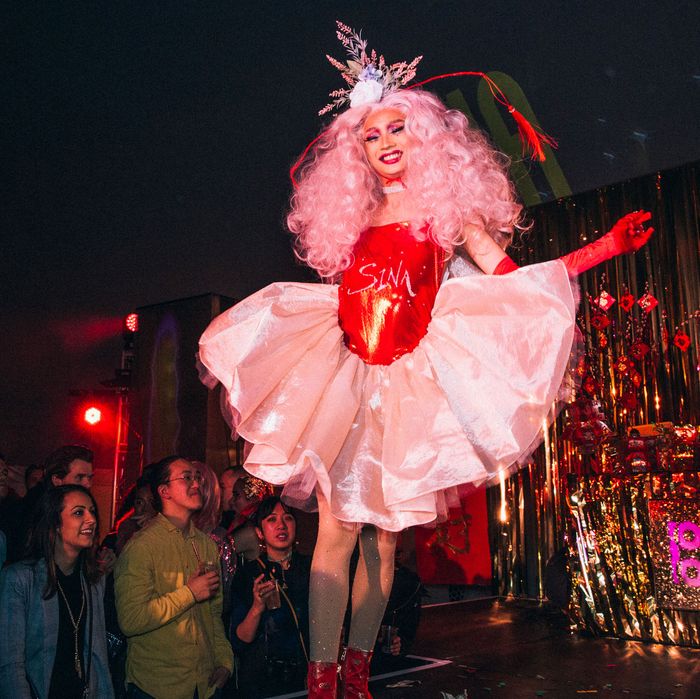 Sina at Bubble_T at MoMA PS1.
Photo: Courtesy of Bubble_T
Alexander Wang isn't having a show this Fashion Week — he moved away from the traditional fashion calendar last year — but he did host an event Tuesday night to mark the first day of the Year of the Pig. He's not alone: as Fashion Week kicks into gear, at least six parties will revolve around the Lunar New Year.
The holiday, which is observed in multiple East and Southeast Asian countries, welcomes the New Year and traditionally lasts for 15 days. Thanks to the lunar calendar, it often falls during New York Fashion Week in February, where it's usually acknowledged via a smattering of intimate friends-and-family gatherings. But with more designers of Asian descent in the lineup, not to mention a growing industry-wide interest in diversity and identity (see the success of Crazy Rich Asians), there's been a shift this year. Suddenly, the biggest Fashion Week bashes are all-out glorious cultural celebrations.
"Any opportunity to celebrate friends, love, and Asian culture is one I want to support and stand in solidarity with," says Prabal Gurung, who hosted a dinner party with Tina Leung, Laura Kim, and Ezra J. William at Wayan last Friday. Technically it took place before the holiday, but the décor was on-theme, with lanterns dotting the tables and guests eager to kick off two weeks of festivities.
For Wang, throwing a "Straight Outta China(town)" party at his flagship store felt like a continuation of the project he'd started with his spring 2019 collection. Wang's shows usually reference pop culture and nightlife, but that one explored his family's roots in Taiwan. "Coming from an immigrant family, it was really important to celebrate," says the designer, who even had Pepcid AC as a party favor with a sign that said, "If you know you know. Only take one." (If you don't know: the medicine helps mitigate infamous red-cheeked "Asian glow.")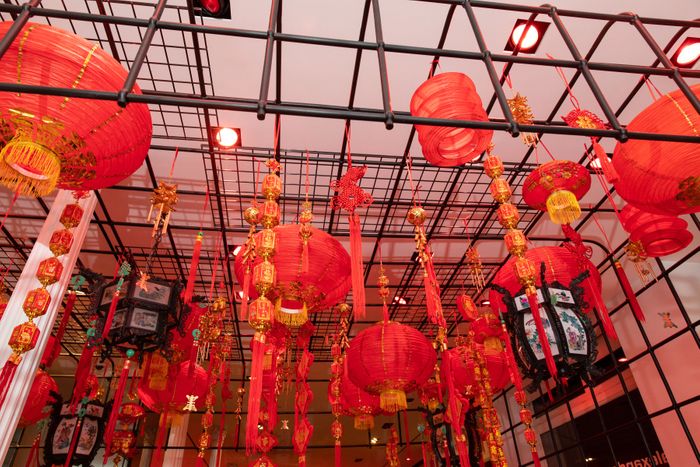 Opening Ceremony is also interested in the idea of Chinatown — as a place of origin and a disappearing tradition. On Sunday, February 10, the brand is throwing a fundraising event called "Pig Out" at 50 Bowery to raise money for the Museum of Chinese in America and APEX for Youth, a charity benefiting underserved immigrant youths in New York City. "I was born and raised in a Chinatown with a mom who worked in a garment factory. But with the rate in which [these enclaves] are shrinking, it's more important than ever to bring awareness and to celebrate their history," said Humberto Leon, co-founder of Opening Ceremony and creative director of Kenzo.
Designer Sandy Liang, whose family has deep ties in Chinatown as well, will be hosting a dinner at the popular Mission Chinese Food. "We have a big dinner the night before where we all wear red and eat tons of traditional food," she recalls. "We eat a lot of dessert dough balls in birds nest — my favorite! We sleep and wake up to Chinese New Year music that my dad blasts. Then we get red envelopes and eat a vegetarian breakfast before burning incense."
Fashion Week has historically been whitewashed, so when an Asian-specific holiday takes over, it feels like a major cultural shift. A Lunar New Year Party at MOCA, with art installations by Juno Shen, is being hosted by the emerging genderless brand Private Policy this Saturday, February 9. "In this political environment, it's important to celebrate cultural differences and emphasize the diversity in this country," says Siying Qu, co-founder and creative director of the brand. But she also points to New York as a place where "not only are Asians flourishing, but everyone feels intrigued by modern Asian culture."
It's that contradiction — living in a diverse city in a fraught political moment — that makes this trend feel especially significant, particularly when it comes to LGBTQ Asians. The rolling party Bubble_T, which views itself as a community of creative minds dedicated to diversity, threw its second party at MoMA PS1 to celebrate the Lunar New Year. The queer artists who performed included drag artists and a calligrapher and a musician playing the guzheng (a traditional stringed instrument). "We're always trying to connect to tradition and bridge queerness to it," says co-founder Stevie Huynh.
Of course, because this is the fashion world, the bridge between tradition and the current moment has been playing out in the most festive of looks. Guests at any Fashion Week Lunar New Year event can expect a sea of red-and-gold outfits (the two colors are considered traditionally lucky), plus plenty of cheongsams and elaborate headdresses inspired by Tang Dynasty period dramas, Chinese gods, and Peking opera stars. It's campy fun — a moment when over-the-top chinoiserie isn't just acceptable but highly encouraged. Interpretations ranged from high fashion (Tina Leung in a strapless red Valentino gown) to traditional (Pearl River Mart is doing brisk business) to DIY (one stylish Bubble_T attendee wore a top made out of red envelopes.)
And yes, those red envelopes are probably the best part of the holiday. They're commonly filled with money and exchanged among loved ones. "I once received $200 from a wealthy uncle! I got Doc Martens that year — it was 1992," recalls Leon. Other fashion insiders agreed that spending Lunar New Year cash for new clothes was a common guilty pleasure of their youth — so really, fashion and tradition have come full circle.