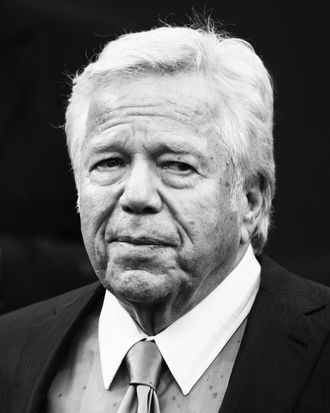 Robert Kraft, owner of the New England Patriots.
Photo: Brett Carlsen/Getty Images
On February 22, a group of Florida law-enforcement agencies charged Robert Kraft, owner of the New England Patriots, with two counts of soliciting prostitution. The 77-year-old football mogul has allegedly been caught on tape engaged in sex acts on two separate occasions at the Orchids of Asia Spa in Jupiter, Florida — one of ten massage parlors local law enforcement targeted in a six-month sex-trafficking investigation. According to the New York Times, almost 200 people have been charged, though at this juncture, relatively few have been arrested.
According to authorities, the couple that owns Orchids of Asia has been trafficking primarily immigrant women, with customers paying between $59 and $79 for services. And according to ESPN, video footage captured by police shows Kraft giving a woman a $100 bill after receiving "oral and manual sex" on January 20 at 11:15 a.m., seven hours before attending a football game. The entire exchange lasted about ten minutes, according to the Daily Beast. According to police reports, Kraft also visited the spa 24 hours beforehand, on January 19.
The New York Times reports that the investigation began after police noticed incriminating reviews that appeared to refer to sex acts on offer for male customers. Their subsequent surveillance indicated that only men patronized the strip-mall spa, and when a health-department official inspected the facilities, law enforcement learned that the employees appeared to be living there. According to the Times, police then began stopping drivers on their way out of the parlor, and many of those men admitted to paying for sexual services during their appointments. From there, officers obtained a warrant, and recorded 26 men receiving manual and oral sex over the course of five days.
According to TCPalm, the police identified eight "major players" who reportedly promised these women visas and paying jobs, but instead trapped them in "sexual servitude" at local spas upon their arrival in the country. Six of the ringleaders have been charged while two remain at large. Vero Beach Police Chief David Currey told reporters that many of the women at Orchids of Asia had been brought in by a married couple, owner Yongzhang Yan and Lanyun Ma. Most came to the U.S. from China, according to police.
The owner of a neighboring pizza parlor told the Times that he saw young women leave the spa every afternoon, walking around the mall without stopping to eat or talk to anyone. "They looked malnourished," he noted. TCPalm reports that the women were barred from leaving the parlor premises on their own and, already largely unable to speak English, were "intimidated" into silence.
"Some of them are trying to make a better life for themselves," Currey said, according to TCPalm. "These people truly are stuck."
In a statement to CNN, a Patriots representative said: "We categorically deny that Mr. Kraft engaged in any illegal activity. Because it is a judicial matter, we will not be commenting further." In a statement to the Times, the National Football League said that "the N.F.L. is aware of the ongoing law enforcement matter and will continue to monitor developments."
Kraft, as the Times pointed out, is a billionaire buddy and supporter of President Donald Trump. He owns property in Palm Beach, and is among the most powerful names in U.S. sports. He is due in court on April 24, and faces one year in jail, a $5,000 fine, or 100 hours of community service if he is convicted.
This post has been updated throughout.