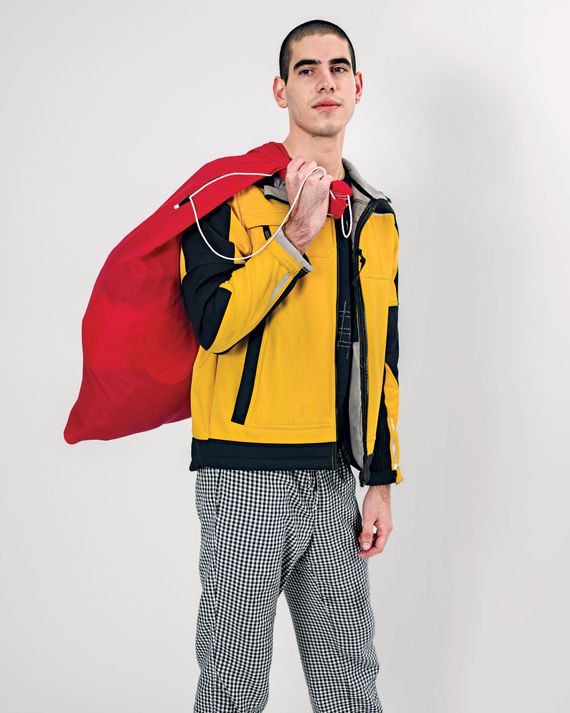 Graphic Designer
Who designed this shirt?
David Rudnick, an English graphic designer. I get crazy looks when I wear it because people just don't know what the hell it means and the rhetoric is kind of based on "Make America Great Again" but it's really alluding to the acid-house music genre.
And tell me a little bit about what you're wearing right now.
I'm wearing pajama pants. Well, my house pants, I guess I'll call them. And my dad actually used to be a jeweler and he molded my necklace himself. It has his handwriting on the back. He wrote the karat — 14 karat. It's a Jesus piece.
Is your family religious?
I was baptized Maronite, and I go to church every once in a while. I went to church today. It's cathartic. Kinda like doing laundry. The gospel was about Joseph, Jesus' dad. Mary's husband. And then, like, Mary got impregnated by an angel and Joseph — I didn't know this — but he was actually going to divorce her and then he had a dream while he was sleeping, an angel came to him and was like, "You're gonna have a son named Jesus," and then he woke up, so actually all the depictions of Joseph as a statue are of him sleeping. Kinda nice.
Documentary Film Editor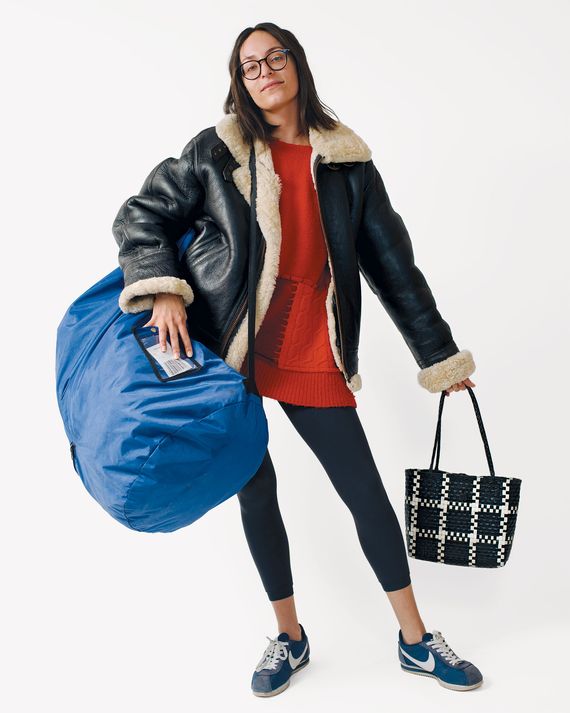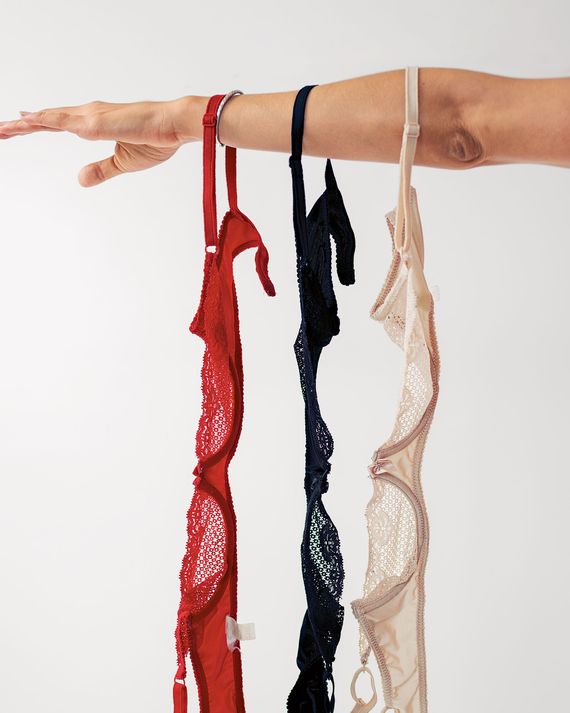 Is this your go-to laundry outfit?
I wear this Zara sweater every time I do laundry, yeah. It's comfy. It's easy to throw on. I don't look like a total zhlub in it. It's still sort of cool but easy at the same time, and it covers all manners of sin. Like, you can't see the big hamburger I had last night or, yeah, it covers up my wobbly bits.
What's the story behind the bras?
I've always had a hard time finding bras that fit correctly. I'm in between sizes. I'm not a 34, I'm not a 36. I'm a 35, and I also have torpedolike boobs. They're not like the Victoria's Secret teardrop shape, and it took me a really long time to find bras that make my boobs feel fun and perky, so when I found these, I bought them in every color.
And where are you headed after this?
I'm going to a friend's going-away party and then I'm headed to the Bronx, where I'm from, to my childhood friend's. We have like a Christmas party all together.
That sounds fun. Are you bringing gifts?
I am. I got — it's a grab bag, because there are about 20 of us so, yes. I bought a calendar of — it's just a bunch of penises dressed up for different occasions for every month. One's in a tuxedo. There's one dressed like a bunny for Easter, like all that.
Product Manager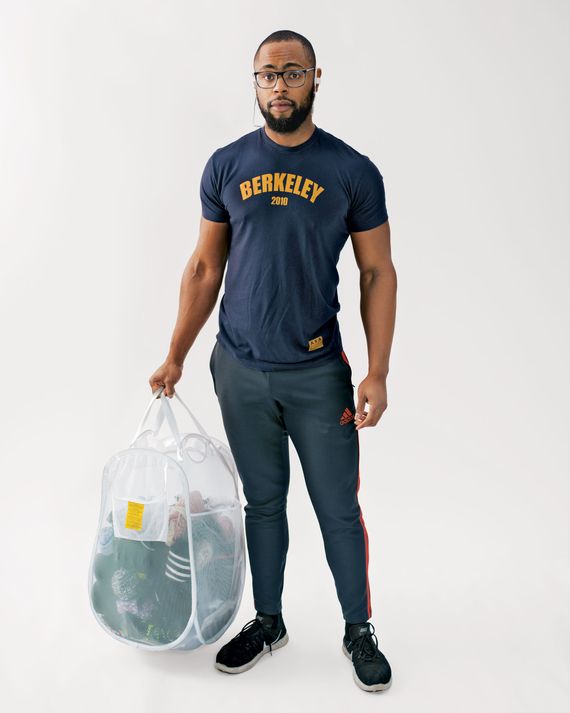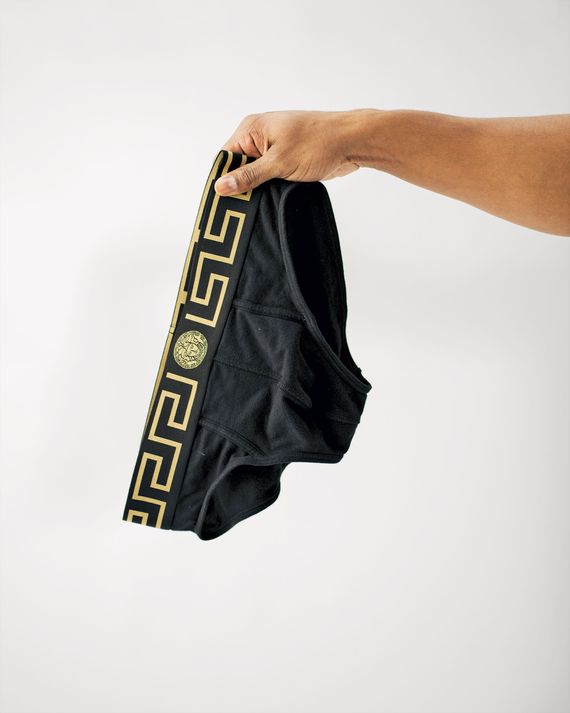 What do you typically do like while you wait for your laundry to be finished?
Today, I listened to a podcast.
What podcast?
I listened to Food 4 Thot and also Modern Love. I was unsure if I was ready for a heartfelt-like warm, touching emotional story on a Saturday morning, but it turned out to be okay.
And what's the backstory of these Versace underwear?
Me and my boyfriend love the song "Versace on the Floor," by Bruno Mars. We also love Miami. Those things are kind of synonymous for us, so last time we were in Miami that song was popular, and we bought my first pair, and then for my birthday this year, he surprised me with another pair.
Insurance Investigator and Musician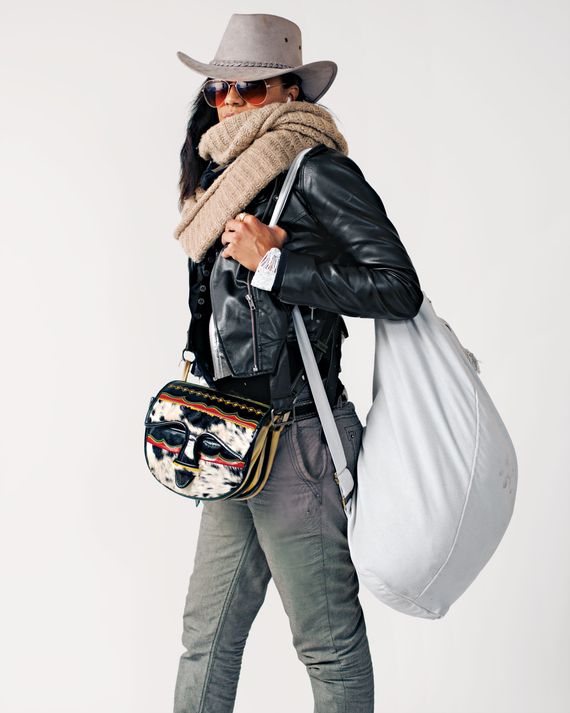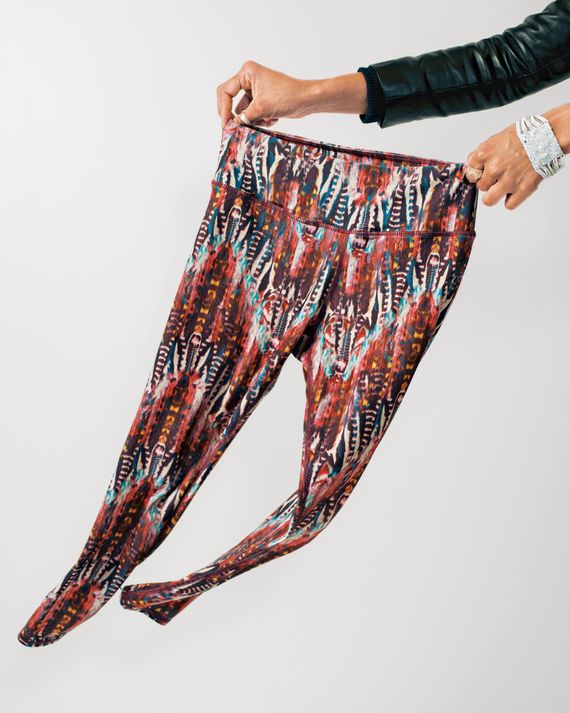 What's the story behind your bag?
This bag has the towels of a place in the neighborhood: It's called Abl hair studios, and they do hair healing.
Oh, cool, and what does that mean?
Spiritual haircuts.
What is a spiritual haircut?
It's a very spiritual haircut. It's very special because you can have a treatment and also sound therapy, but also special oils, organic.
Do you run Abl?
My girlfriend owns the place, and she's the idea behind it and the creator, and I play music.
What kind of music do you play?
I call myself an elemental percussionist. The song I just wrote is about fire 'cause I feel that that is what people are igniting around the world. The flames. The flames that speak to us that are the future. There's something that wants to be expressed and wants to be shared.
Street Photographer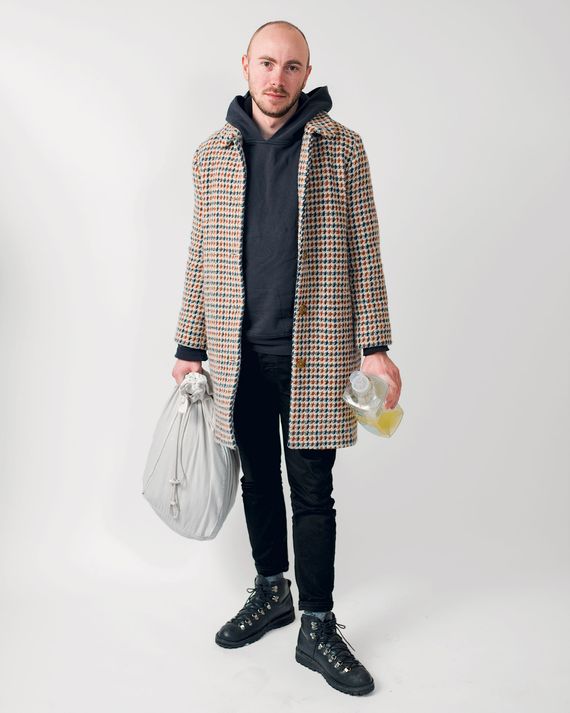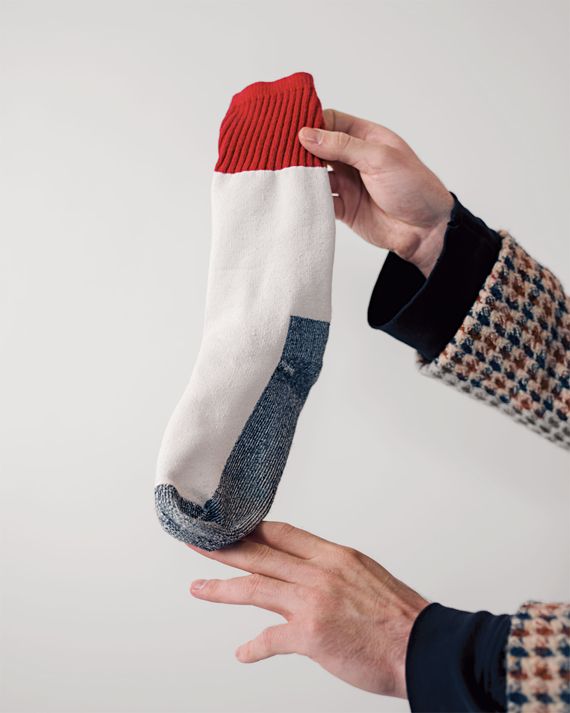 What do you do for work?
I did a street-portrait series for a couple years, and now I kind of just do freelance with prints and stuff.
Cool. What is it that compels you to take someone's photo?
Style, but it's more character-driven. Someone who looks like they chose everything about themselves. Someone who, out of all the choices they made today, made everything themselves.
Do you have an example of someone who caught your eye recently?
I photographed a dominatrix a while ago. She was laughing at her flip phone, and I was trying to hop on those emotions.
Have you ever met anyone cool in the laundromat?
I always think about this: Is the laundromat a place where you want to be social? Or is it a chore that nobody likes?
Textile Designer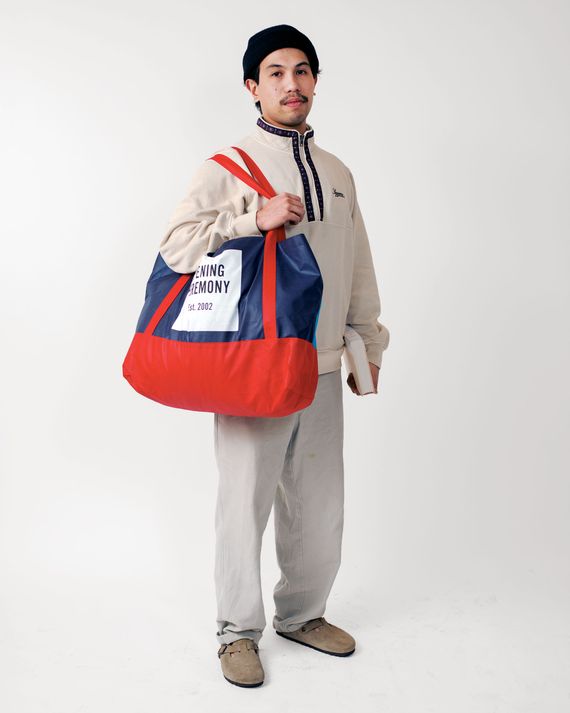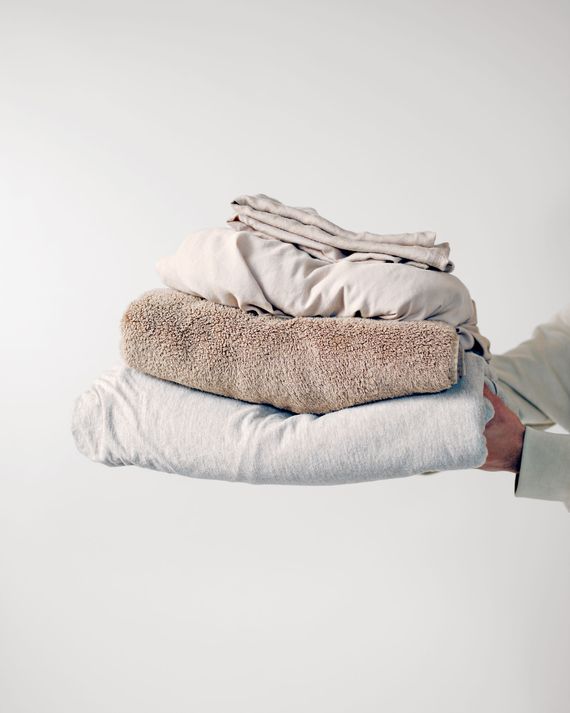 Can you tell me about this all-beige situation you have going on?
I bought this jumper recently—I call a jumper a sweater—I'm Australian. Yeah. And I put it on and thought, Well, if I'm gonna wear beige on top, then I might as well wear my daggy Patagonias to go to the laundry, and then I was like, It's nice outside so I'll wear my Birkenstocks. I don't even need to wear shoes. These are just my towels and bedding. You know what's hilarious though? Look at the color of them.
And what's the book?
12 Rules for Life, by Jordan Peterson. Yeah, do you know about him?
Yeah, I've heard about him.
I think his angle is like very easy to dismiss, but I think he actually is coming from a good place. From the YouTube videos I've watched, it kind of resonated with me, at least in how I approach problems and difficulties. Hence, I felt like I was defending him a lot 'cause I just got onto it, but then now I'm like, Well, I better read it and understand what his angle is before I blindly defend somebody.
Graphic Designer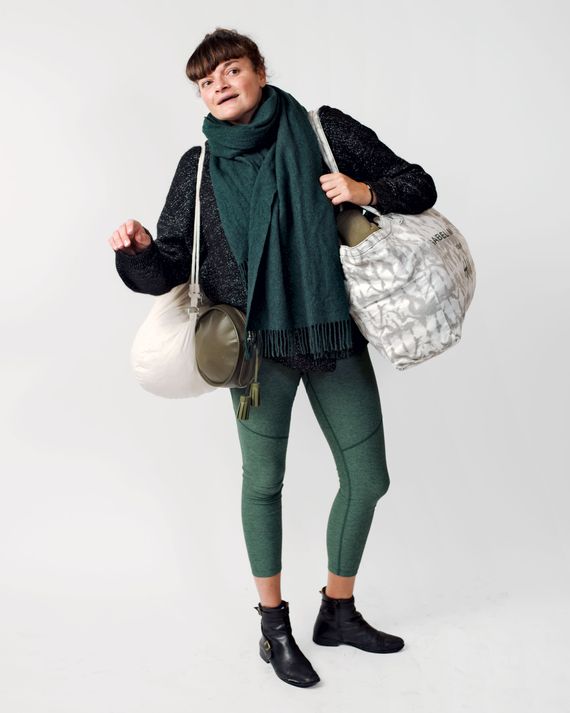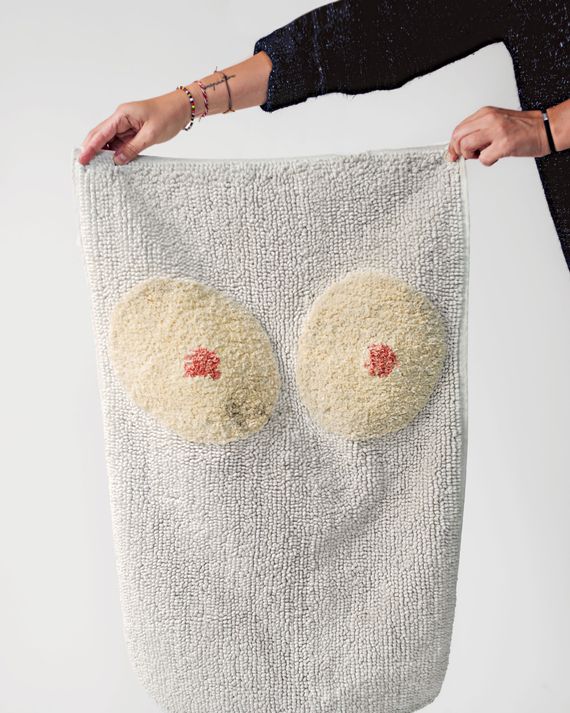 You're wearing a lot of green. Is that your favorite color?
No, it's just I feel, like, random today.
In a green mood?
Yeah, probably. Wintry. Tree. You know, Christmas-tree mood.
What are you doing after this?
I'm heading home because I need to cook for a party I'm throwing tomorrow. I'm making crêpes because I'm a good French person. I put in some caramels, probably sugar.
What are you going to wear to your party?
Good question. I don't know. Probably some green.
And what made you want to buy this rug?
The boobs. I'm very attracted to boobs, personally. It's right next to my bed, so I walk on my boobs every morning.
Music Distributor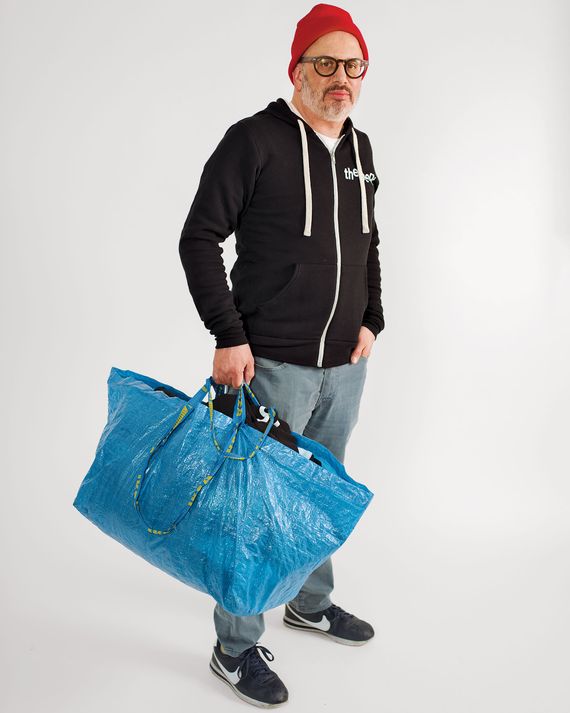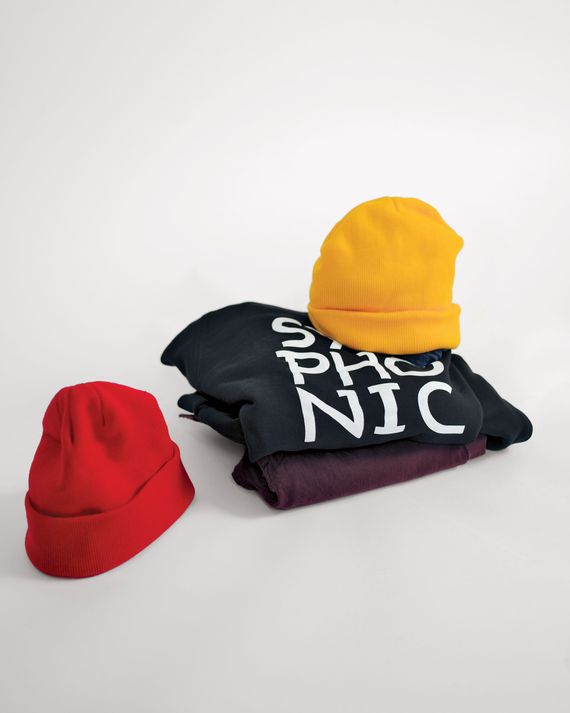 Do you always wear a red beanie?
No, I adopt different colors. I rotate beanies.
How many colors do you have?
Four or five, probably.
Do you have a favorite?
It's all about my mood.
What does a red mood signify?
I think it's seasonal. Cold weather. It snaps a little bit.
Were you into beanies before they were in?
Have beanies not been in at some point? I'm from the Midwest, and I'm bald. There's never not a beanie season, you know?
Spa Owner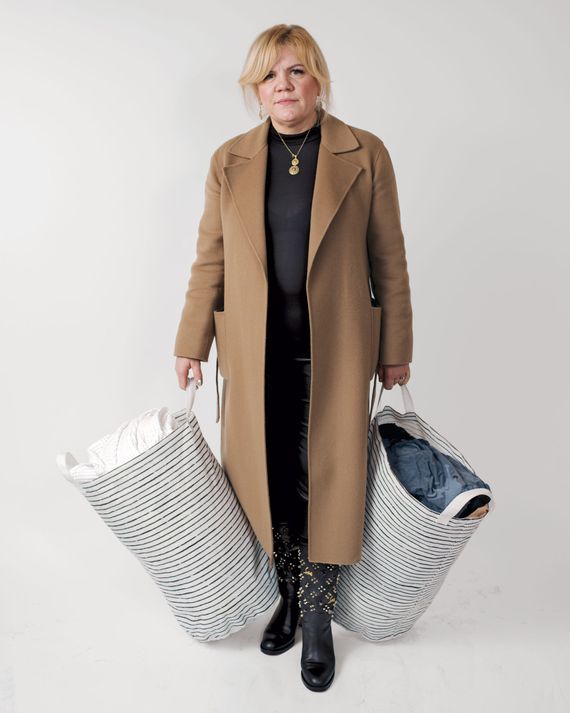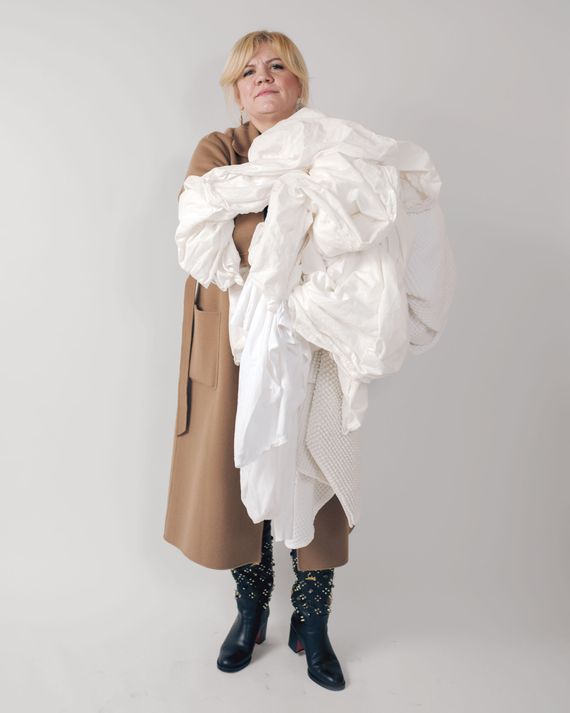 Where are you headed after this?
I'm actually at work right now. Because it's around the corner, I come every day. I love it here so much. It's clean, and it's an amazing place.
What kinds of services does your spa offer?
We do from nails to waxing. We do facials. We use skin care. You know, like except massages, we do everything.
You have a nice outfit on. Is this what you'd typically wear to work?
I work with people, you know? I have to look good.
Art Director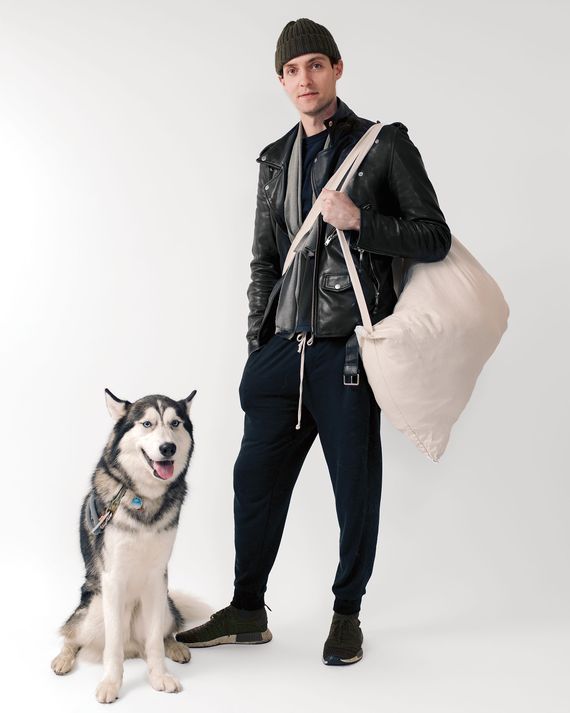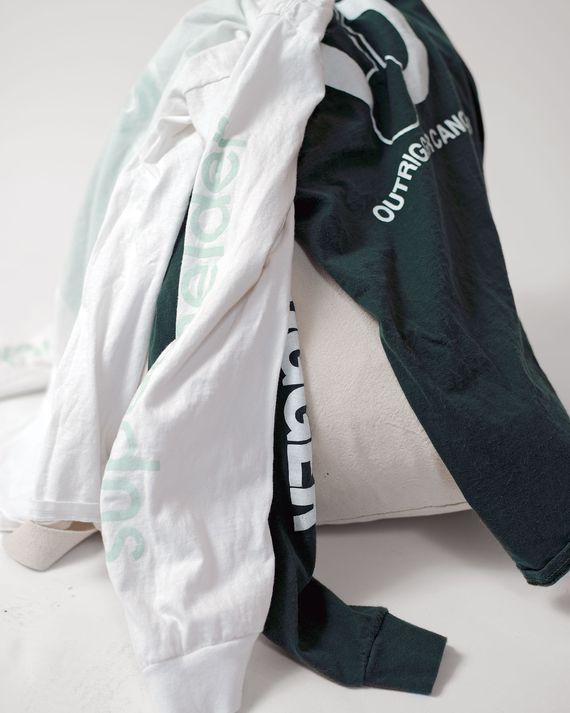 When do you usually do your laundry?
Once a week. Every Saturday. I go to the farmers' market after and get my veggies for the week and sometimes a few meat options. I like meal prep.
What's your dog's name?
Keanu. I have a friend who's obsessed with Keanu Reeves, but I'm obsessed with Hawaii. So I was looking for Hawaiian names, and a few friends who are from Hawaii were like, "Yeah, Keanu's great."  It means "cool summer breeze."
And tell me about these long-sleeves.
One of my friends, Eloise, runs an Instagram account called Superhelder, and these are the shirts she's starting to produce. I love it 'cause it's just really subtle and my favorite color's green. And Outrigger is one of my favorite places to go in Oahu.
Showroom Manager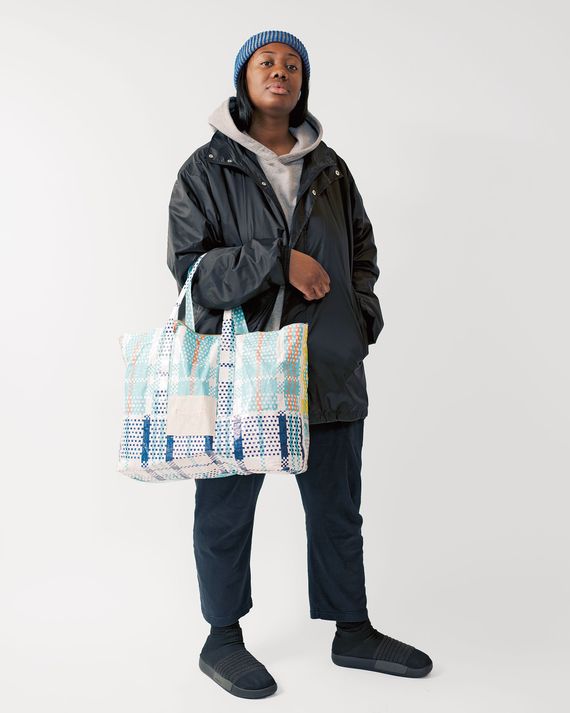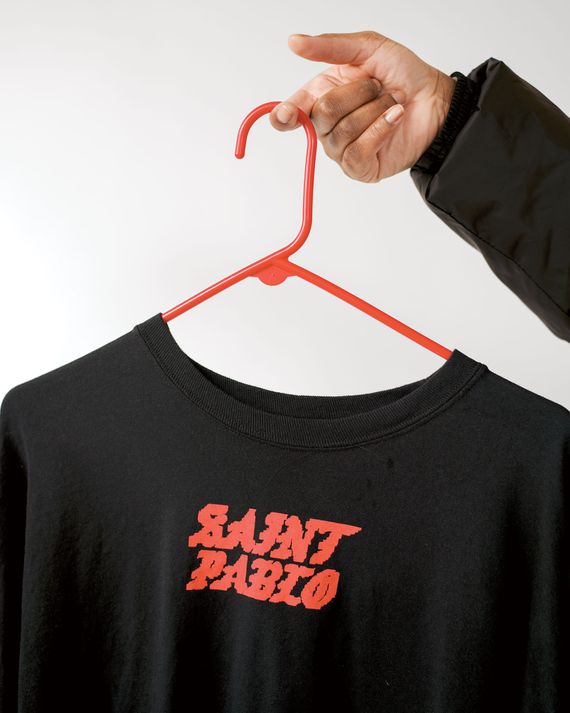 What do you do while you're waiting for your laundry to be done?
I listen to music, Kanye. I defend him, but not when it comes to things that are really extreme. He's still a genius — I really will defend him on that side.
Have you seen him in concert?
I went to the St. Pablo tour here in New York. I tried to get the shirt at the concert, but they were sold out. It was the one with Kim Kardashian on the back. The popular one that everyone bought. I bought one on resale from eBay for like $175 right after. They were only $30 or $50 at the concert.
Who did you go with?
I went with my best friend.
Is your friend a Kanye fan too?
No, she's not. She thinks he's crazy.
Lia,
Stefan,
and
Tommy
Jeremiah
Reporter and Photographer for the New York Post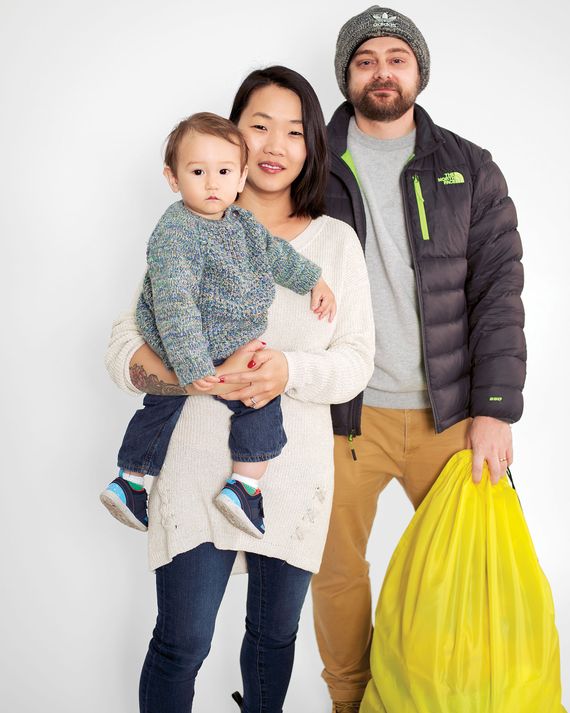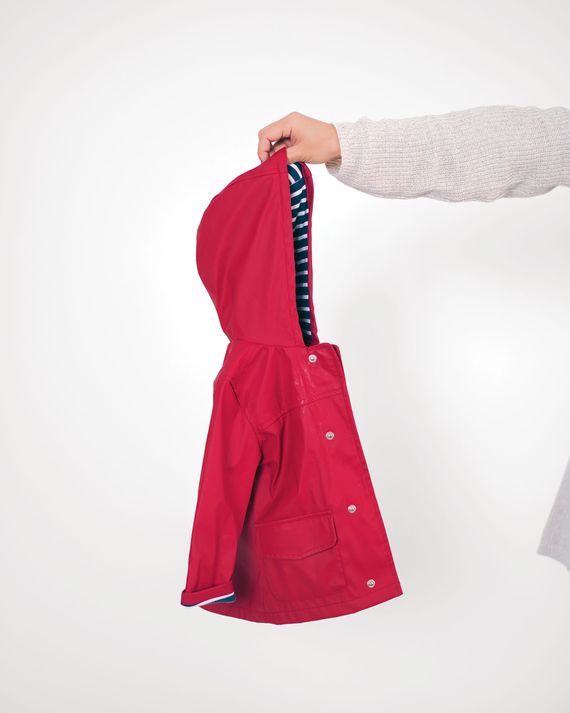 This raincoat is adorable!
Stefan: It was a gift from his granddad in England.
Lia: His grandfather and his granny June spoil the crap out of him. We just came back from England, so this has sentimental meaning. Obviously because it's very rainy in England also.
And how did you two meet?
Lia: We met the day Ed Koch died. On the job.
Stefan: Same assignment, yeah.
Lia: We were supposed to cover the opening of his documentary at the Angelika, and we sat in this cream-colored Mitsubishi Eclipse all day in between the screenings.
Stefan: We were hiding in my car to keep warm and like getting food —
Lia: Oh, we ate Five Guys.
Stefan: Just chattin' and gettin' to know each other.
Lia: Yeah, and I tried to bait you into asking me out on a date and you didn't.
Stefan: It didn't take.
Lia: I was like, "Oh, I have to go back to Jersey. There's gonna be such bad traffic." And he was like, "Oh yeah."
Stefan: I was like, "All right. Well, bye, then!"
That's so funny. Lia, what did you think at that point?
Lia: I was like, All right, I guess I'll go back home to Jersey now. Sit in traffic for two hours … but then he added me on Facebook, which, of course, is modern-day dating.
Stefan: And then in a really roundabout way, I asked her to come snowboarding with me.
And how'd the story turn out?
Stefan: I don't think it even ran.
Tax Strategist and Adviser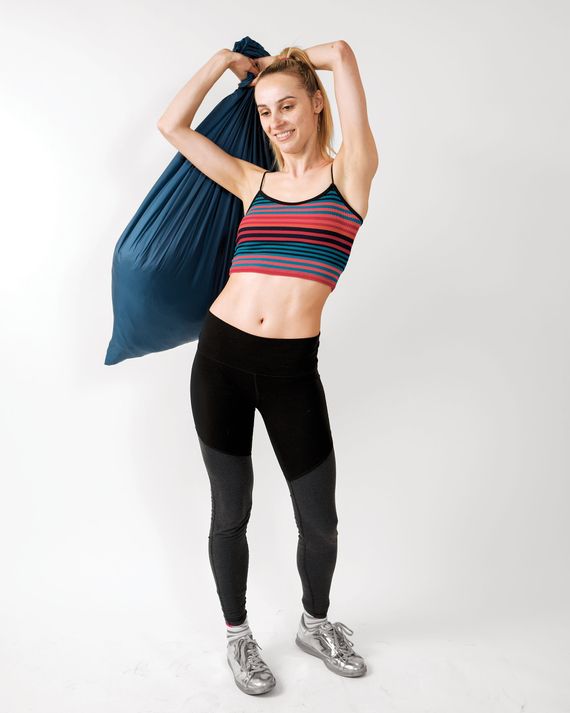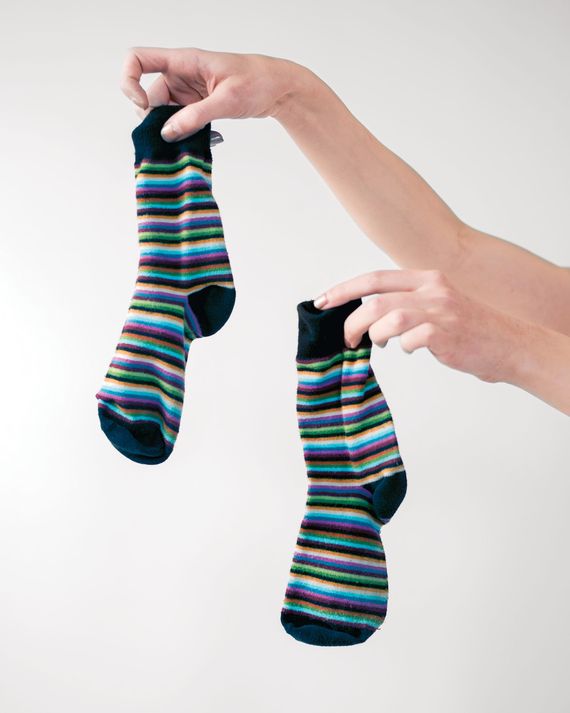 How long have you lived in New York?
For nine years. I'm from Siberia. Winter here is actually worse, I think.
Where are you headed after this?
I have a workout. I have a personal trainer with my friend. It sucks. I don't like it.
What's your least favorite thing that your personal trainer makes you do?
Bicycle crunches. I don't know. There is something about it. It just doesn't feel right for my body.
Music Producer and Receptionist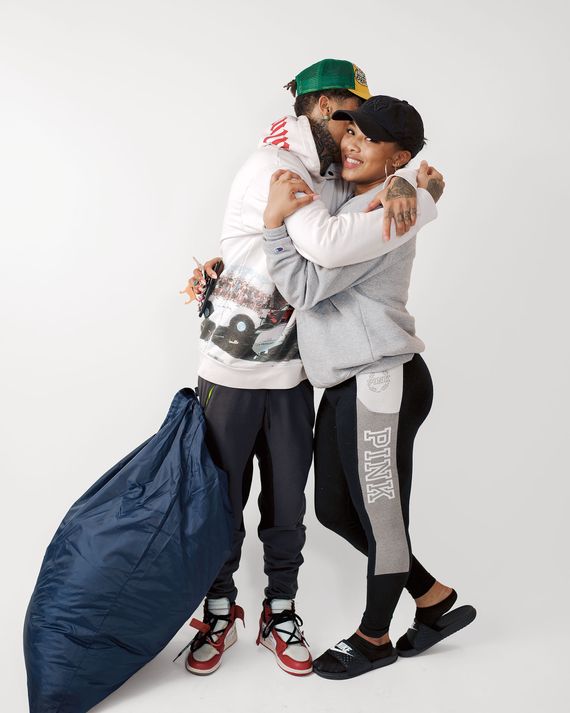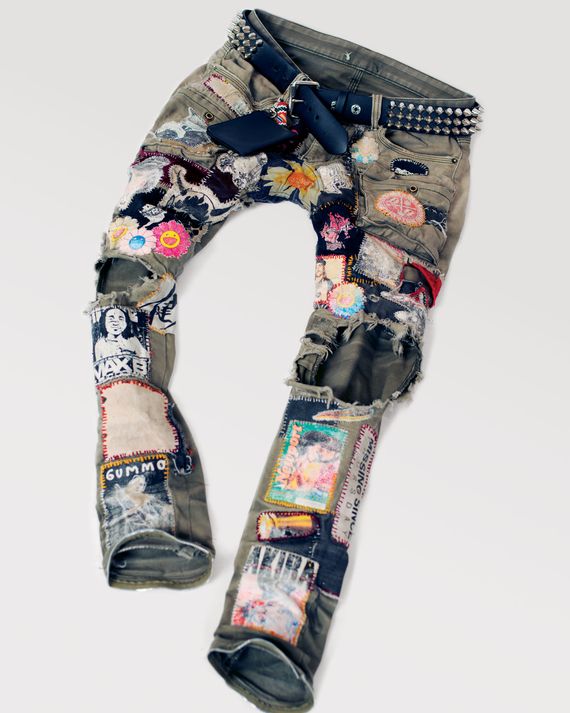 Where did you get these pants?
P: I made 'em myself and wear them every single day. Basically, all the patches are everything that I liked that doesn't really exist anymore, except, like, Murakami's back. Murakami flowers I actually collect. Lauryn Hill? My mom always used to play her when I was growin' up, so it's nostalgic. I add a patch whenever I have free time.
Stesja: His apartment is also really cool. Like, the walls are covered in GoodFellas posters and stuff. You literally can't see the walls in there.
And how did you two meet?
P: We met at a Modell's in Long Island on Black Friday like six years ago.
Who approached who?
P: She was on me. She was chasing me around the store. I had to get security.
Stesja: Shut up! No I was not!
P: I was trying to get a Yankee hat or a jersey, and I seen her at the register. I was like, Oh, she's cute, so I was like, "I want your number, but I don't want to get in trouble from your boss."
Stesja: I was working, and my manager was standing right next to me. I slipped him my number anyway.
Math Teacher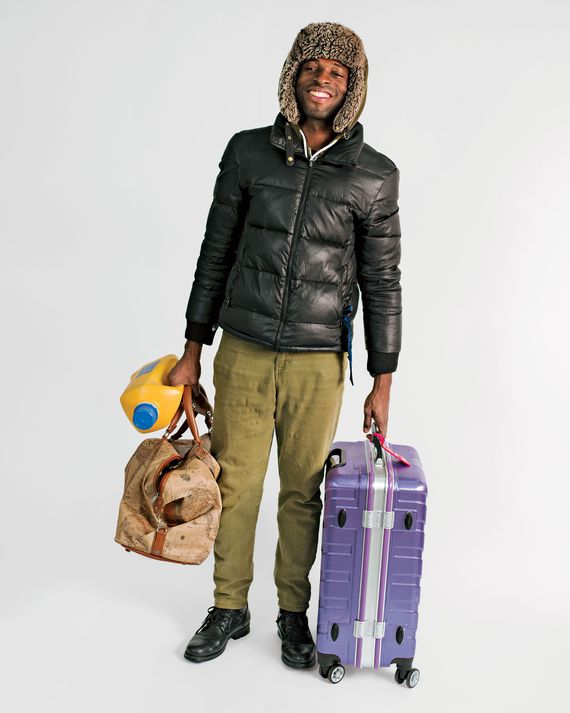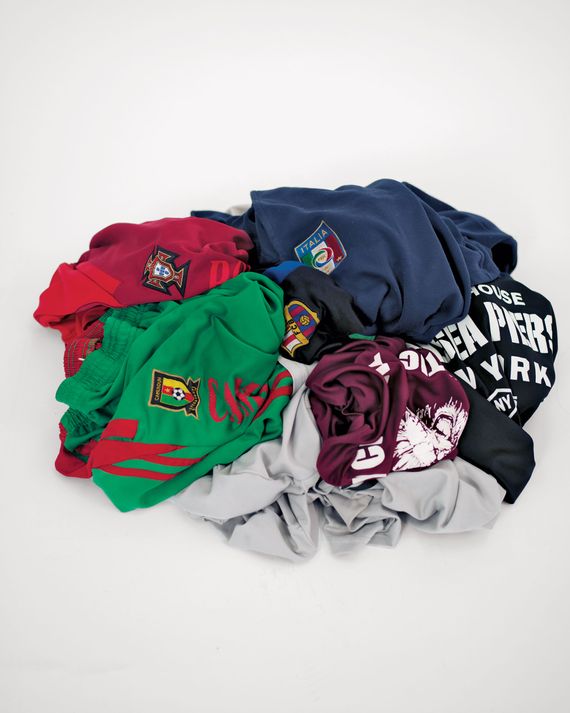 Do you always put your laundry in a suitcase?
Yes, because I hardly ever do laundry. Maybe once a month. I don't have to do laundry often because I, like, repeat outfits a lot.
Interesting. And what are you up to today besides laundry?
I'm writing a lit review on misconceptions students have about negative numbers. Nothing of interest to the general public.
What are the misconceptions?
Lotta misconceptions about where negative numbers are on the number line and how you operate with negatives. Do you remember struggling with negative numbers as a child?
I struggled with everything math-related as a child.
That's what I'm trying to understand.
This story has been updated to show the correct spelling of the podcast Food 4 Thot, and to show that Zack McKnight is a product manager. The Cut sincerely regrets this error.
*A version of this article appears in the February 4, 2019, issue of New York Magazine. Subscribe Now!
More From The Spring 2019 Fashion Issue
See All