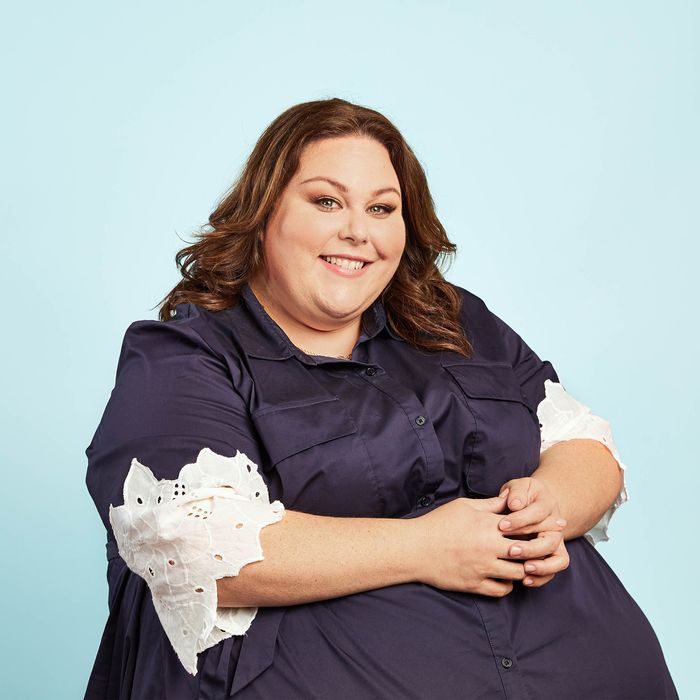 Photo: Courtesy of Intuit Turbo
From asking for a raise to perfecting your credit score, we're always thinking about money (or trying not to and knowing we should). But it's rare and often hard to talk about it with friends. To help break down this taboo, This Is Us star Chrissy Metz partnered up with Turbo, a free financial health app from the makers of Mint and TurboTax, for the launch of their #RealMoneyTalk campaign. The initiative empowers people to break down the taboos, vulnerabilities, and insecurities we all feel about money.
Metz has openly shared her past financial struggles and journey to stability for awhile now, with refreshing honesty. She had 81 cents in her bank account when she landed her breakout role and first steady paycheck on This Is Us. Before that, when she first moved to L.A., she lived with six women in a two-bedroom apartment and borrowed money for gas to get to auditions. Now that she's so successful (and helpfully vocal about how exactly she paid off $12,000 in debt), we wanted to know: How has her relationship with money changed since her humble beginnings in Florida?
The key, for her, was talking about it. "When you're embarrassed to share your financial situation with your friends and family, it's hard to set boundaries," she told us. "And when you're afraid of what people will think, it's hard to set goals. I truly believe that the more we talk about it, the less alone and vulnerable we're all going to feel." Below, Metz shares how she overcame her own fear and shame about money through open, honest conversations with friends, in relationships, and at work.
Why do you think it's so difficult for people to talk about money, and what makes you want to talk so freely about it?
I don't find my identity in money, and I didn't grow up with it, so I know that my value is not based on the number on my scale or my bank account. It's not something I'm trying to pretend that I have, and if I don't have it, I don't feel like I'm less of a person or less intriguing or interesting. That's why I've always been real and honest with my friends, like, Listen, I know I don't have money, or Sorry guys, I can't go to dinner with you tonight. It is difficult, though, and even now that I have more financial stability, there's still difficulty because it's so personal. Talking about money is like that final frontier that we're afraid to cross, like: Is this something I shouldn't ask? Is this something that I'm not willing to talk about? We're taught never to ask a woman their age or how much money they make. But I do think that when you're honest with yourself, you can be honest with each other.
What is the best way to have real money talk with friends, especially if you're struggling?
When you're talking to friends, especially good friends who you've been close to for a really long time, it might be easier to start off with a joke. I know for me, sometimes if I don't laugh, I'll cry. I might ask something like, Do you have a savings account? That's something my friends and I have asked each other. And as a follow up: Do you actually have money in it?
Or it can be just as easy as, Are you planning a vacation this year? For me, planning has always been a way to open up a conversation about money. Or just say "I don't know what the heck I'm doing!" When you finally drop your weapons and put yourself out there, it doesn't feel as invasive — maybe your friend will admit that they've been in the same situation, and are willing to talk about it too. That's why I think Turbo's #RealMoneyTalk campaign is so powerful — talking about money can be scary but asking a simple question can help you feel less alone when it comes to your money struggles. Even after being on the show, I still have real money talk with my friends.
What have you learned about money and gender roles in the workplace?If someone is capable of the same job, they should make the same amount of money — that's always been top of mind for me, even when I was 15 years old and working at a fast-food restaurant. Today, I still have a hard time negotiating for myself, but I like helping negotiate for [other] people. It's important to have support in any situation and it's not always easy but once you do it, it's like you're putting a little deposit in your confidence bank and you're like, Oh! I survived. I can do this again.
What have you learned about managing finances in a partnership, whether while dating or married?
Communication. Communication. Communication. When I was married, I made the choice to work full-time and was the one working 70 hours a week, while he was working part-time and pursuing screenwriting. As awkward as it was, we really had to sit down and say Okay, what can you afford to pay, and what can I afford? And then, will we have extra? Maybe I want to take an acting class, or maybe he wants to go and take a photography or writing class. It's important to be vocal and check in with your partner every month or every 3 months, to evaluate how things are working and make sure it feels balanced. I know some people will disagree, but I don't feel like the man has to pay for every single thing. I believe a true partnership should be 50/50, and that needs to be established early on in the relationship. Depending on what you want, you can figure out if it will be a good fit for you.
Do you have any advice on going through the finances of divorce?
I think it's just really important to have those conversations while you are married, and to always have something for yourself that you don't give to the relationship financially. I know that's difficult to do if you're living paycheck to paycheck and just getting by, as my ex-husband and I were. But I wish I had spoken to someone about having a savings account or my short-term and long-term goals. [Even just] saving $25 a month or $50 a month for yourself will help you be prepared for a rainy day. Luckily, we didn't have children or assets, and literally the conversation was, "Do you want the TV or the couch?" But when you're moving into your own place and don't have enough money for the deposit — that's where I wished I would have spoken up more.
How did you pay off your credit card debt?
For me, I never wanted a credit card — having debt was always something I was a) afraid of and b) didn't know to get out of. But it had to be around $12,000 that I owed back to friends, two credit card companies, and I think I was two months behind on my car payments. When we booked the show and I got my first paycheck, I was able to make payments of $100 a month because I had a steady income. Establishing credit was a whole new world to me, and it didn't happen overnight. It definitely took time and at first, it was really important putting a plan in place. Knowing that I didn't have to pay everything off at once helped me figure out how much I could consistently pay back. Even if it is $10 or $20 a month, you're still chipping away at it, you know? You're of course paying back a loan of credit, but you're also putting a little deposit in your own confidence bank. I always say esteemable acts can create self-esteem. If you're honest with yourself and put a plan into place, chances are you'll feel like I did when I started tackling my debt, okay, it's not hard as I thought — I can totally do this.
How do you manage your finances day to day now? What does that look like for you?
I'm definitely on top of my finances in a way that I hadn't been before and looking at everything regularly to know where I stand. I'm hypervigilant about what I'm spending and how I'm spending it. Like what I'm putting on my debit card vs. my credit card, which is something I never thought I'd have. Every month, when I look at my account activity, I feel like covering my eyes like, oh no, because I'm still figuring it out. All of these feelings stem from how we're afraid to see the truth — but when we open our eyes, we see what's possible. A lot of people think of success happening overnight but for me, it took a lot longer. And it's only been 3 years, but when you think of this in the grand scheme of life, it's really not a long time.
This interview has been edited and condensed.
This is paid content produced for an advertiser by New York Stories. The editorial staff of The Cut did not play a role in its creation.