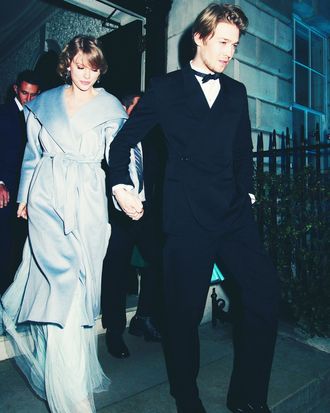 Taylor Swift and Joe Alwyn.
Photo: Blitz Pictures/REX/Shutterstock
Taylor Swift skipped the Grammys on Sunday night; instead, she opted to attend the BAFTA celebrations in London to support her boyfriend Joe Alwyn, who appears in The Favourite. And the typically elusive couple marked the special occasion by making the rare move of not only stepping out in public together, but also by (gasp) holding hands in front of the paparazzi.
Unlike some of her previous relationships (ahem, Hiddleswift), the Reputation singer has kept things with Alwyn pretty much under wraps since they started dating almost two years ago. At first, there were a few sightings here and there, and stories about them hiding out in London together. (He's British). Slowly but surely, as things began to progress between the two of them, we started to have more and more sightings of the couple out together. But generally speaking, we've really just seen creeper shots at industry parties they both attended or pictures of them strolling down the street together. Images of any semblance of PDA have been few and far between.
But on Sunday night, we finally got images of the Swift (in a Stella McCartney gown and Max Mara coat) and Alwyn leaving Annabel's Club in London together after a BAFTA party. The pair didn't walk the red carpet of the awards ceremony together, but they didn't appear to have any issue with being seen together (and holding hands) after the fact — especially as tons of paparazzi were all around them. Hmmm. Does this mean we can expect another sighting of the pair together at the Oscars?