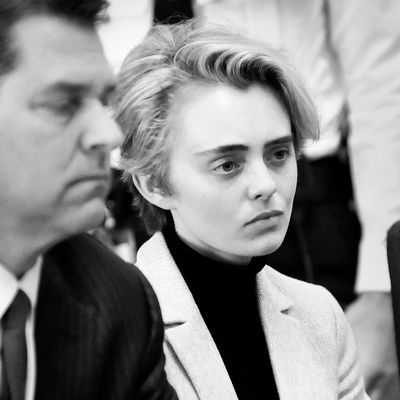 Michelle Carter.
Photo: MARK STOCKWELL/AP
Michelle Carter, who was convicted of manslaughter over a year ago after sending text messages encouraging her 18-year-old boyfriend Conrad Roy to kill himself, was sent to jail on Monday. A Massachusetts judge sentenced Carter to 15 months in August 2017, but Carter was not required to serve her sentence until she finished filing appeals, BuzzFeed News reports.
The Supreme Judicial Court overruled Roy's appeal, citing that "by her wanton or reckless conduct she caused the victim's death by suicide." Roy died by suicide on July 12, 2014, after exchanging hundreds of text messages with Carter (who was 17 at the time), who repeatedly encouraged Roy to go through with the act.
"You can't think about it. You just have to do it. You said you were gonna do it. Like I don't get why you aren't," one message from Carter read; it was sent on the morning of Roy's suicide.
During Carter's trial, many people questioned whether or not her actions made her a killer, but the Supreme Judicial Court ruled that her texts did not qualify as protected speech under the First Amendment. Carter's lawyers argued against that, citing a recent Minnesota Supreme Court case that ruled that "speech in support of suicide, however distasteful, is an expression of a viewpoint on a matter of public concern," marking it protected speech.
"This case, legally, is not over," Carter's defense lawyer Joseph Cataldo told the judge after Monday's ruling, according to NBC News. "We fully intend to file an appeal to the United States Supreme Court within the next 90 days."
Carter will serve out her sentence in the Bristol County House of Corrections.