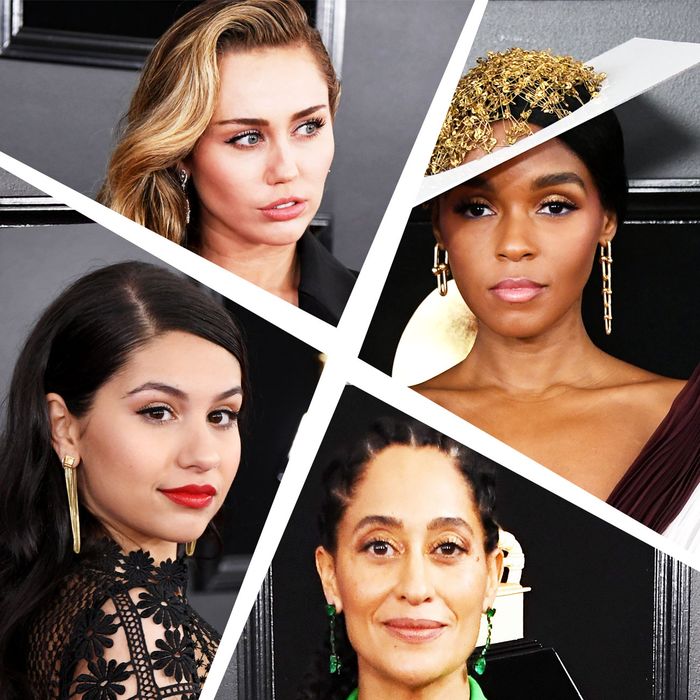 While models were walking down runways in New York, the musically inclined were walking down a red carpet in Los Angeles for the 61st Grammy Awards. New aspirational ponytails, a few boy bands, and bangs of all shapes and sizes were in attendance for music's biggest night, but some were a little better than others. Here, 11 of the more memorable beauty looks from the 2019 Grammy Awards.
Best No Makeup and/or No-Makeup Makeup
It's hard to tell if Alicia Keys is wearing no makeup as in zero makeup, or no-makeup-makeup. Either way, this is a great look.
Best Rapunzel Hair
Tracee Ellis Ross proving that hair down to your butt continues to be a very good look.
Best Edges
Halle Bailey proving that the shorter baby hairs that frame your face can be a very good accessory, too.
Best Hair Flip
Miley Cyrus's side-swept, comb-marked, eye-level swoop recalls the Cindy Crawford supermodel covers of yore. A welcome stylized throwback in an era of "effortless" hair.
Best Bright Lipstick
St. Vincent brings us a color among a sea of many, many nudes.
Best Non-Curly Bangs
Camila Cabello prompts a "yes" to the eternal question, "Should I get bangs?" It's also nice to see she hasn't given up on ponytails entirely following Headache-Gate.
Best Endorsement for a Solid Skincare Routine
We know that not everyone in Korea has a ten-step skincare routine. But the poreless, baby skin of the boys of BTS does make us want to start adding a few to several steps to our routine.
Best Hat Hair
Hat hair has a bad rep, but we have a feeling Janelle Monae's safety-pin- crown and hat-frame contraption will shift the narrative.
Best Heartthrob Hair
Shawn Mendes's hair is still dark, still wavy, still potentially damp.
Best Reminder That If It Ain't Broke, Maybe Don't Fix It
Alessia Cara was an annual PSA that you can't go wrong with winged liner, a red lip, and a black dress.
Most Memorable
Enough said.