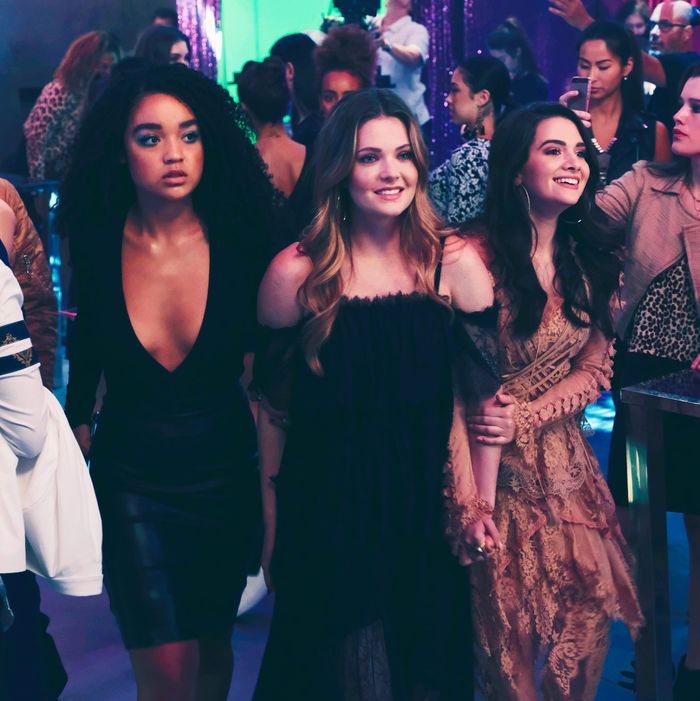 Kat, Sutton, and Jane on
The Bold Type
.
Photo: Phillippe Bosse/Freeform
It's been a long few months, but finally, some respite is on the way in the form of the ultimate escapism — the most ridiculously amazing, soapy show on television, The Bold Type. The Freeform program's season-three trailer just dropped, giving another brief glimpse into the truly deranged lives of Kat, Sutton, Jane, and the rest of the gang at Scarlet (a Cosmopolitan-esque magazine). In the past, the show has tackled a dizzying array of subjects, including confusing accents, lessons about gun control (and making guns into vases), not getting in trouble for expensing cocaine, and so much more. We love it!
So what does this season have in store? We're so glad you asked. According to the absolutely batshit trailer, we can expect the following when the Bold Type returns on April 9:
• More private hangouts during work hours in a spacious fashion closet that looks more like something you'd see in a billionaire's home than at a media company presumably going through some internal changes.
• Also, sex between a lower-level employee and the company's in-house attorney on furniture in that very closet. Adds up.
• A MAN of all people being brought in to run digital at a women's website. The gall!
• The women angrily breaking things because of the presence of a MAN.
• Kat, the social-media maven, arriving at a campaign event for "Linda Zephyr" (we get it!) in New York City, only to leave the dang thing as a candidate herself! Which means there will be a story line about a woman in her 20s who's good at social media running for political office.
• Another career change for Sutton, who just spent all of last season fighting to work on the fashion team of Scarlet. Now, she wants to be a designer.
• The ladies dooring a bicyclist! The bicyclist going flying! Why do I feel like the bicyclist might be the MAN boss?
• FaceTime being used on a computer and not a phone. Do people do that??
Perfect. We can't wait to pretend that all of life's problems can be neatly wrapped up at the end of each hour-long (including commercial breaks) episode.