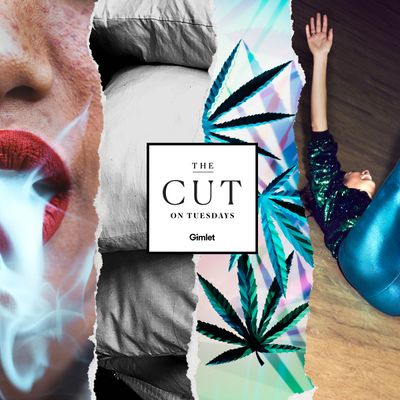 Photo-Illustration: by Stevie Remsberg; Photos Getty
Right now, weed exists in an in-between state. It's not quite legal, but it's not quite illegal either. It's accepted, but not totally normalized. It's not quite medicine and it's not quite a beer and it's not quite green juice, either. Whether the police treat it as a big deal or not depends on who you are and where you live.
It's all in flux, so it's tricky to know the right way to talk about it — but that's also why, on this week's show, we wanted to try. We started with a very basic question. What do you do when you get high?
Molly: Do you like to go out into the world high or do you primarily like to be at home?

Allison: Be at home. Surrounded by all my comforts.

Molly: Are there comforts that are particularly beloved to you while you are high?

Allison: Yeah, I like my pillows. Sometimes I'll just bring all the pillows from my bed and lie on them in the living room.

Molly: Like a little nest.

Allison: Like a little nest. I can't eat like crunchy stuff when I'm high, because I might get dry mouth. So it's like ice cream — or, honestly, Swiss Miss pudding is the best thing to eat while high.

Molly: A nice wet sweet.
We heard from Jia Tolentino, Aminatou Sow, Ben Sinclair, and Katja Blichfeld of High Maintenance — and a lot of our listeners. A few of the things they like to do:
Watch romantic comedies

Do some personal finance work

Go to the grocery store

Go to hot yoga

Go running

Marie Kondo the house

Line up all my bottles and do my skin-care routine

Get deep and dirty with ingrown pubic hairs

Masturbate

Make art projects

Hang out with my 2-year-old

Go to the zoo

Do gymnastics
Click above to listen to this week's episode, and subscribe wherever you listen.