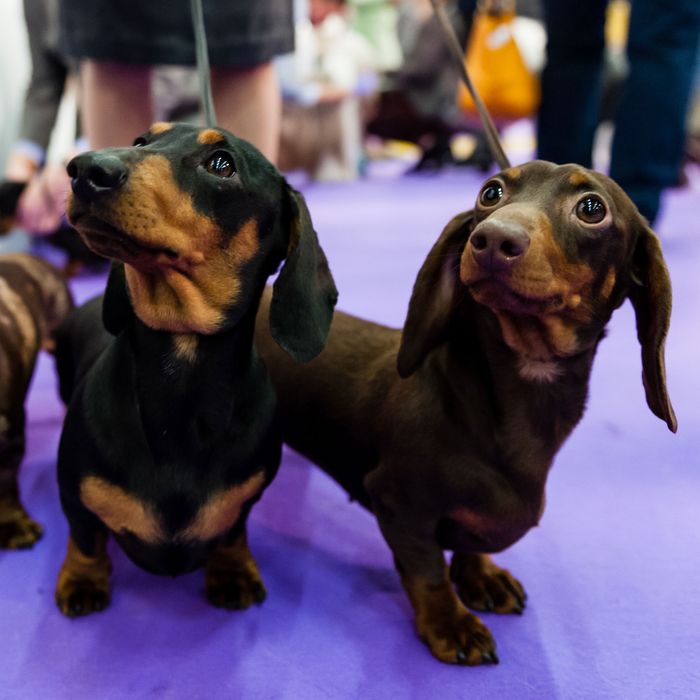 Some beautiful dachshunds.
Photo: Barcroft Media/Barcroft Media via Getty Images
It was obvious from the moment we locked eyes at 7 a.m. on February 11 in the freight elevator to Pier 92 that Toskydox Marika Suertuda, a black-and-tan smooth-coat Dachshund, would be crowned Best in Show. Her big almond eyes, itty-bitty leggies, and energizing presence demanded it. The title was hers; it was as simple as that.
Until it wasn't.
It was the day of breed and group judging across the hound, toy, non-sporting, and herding groups at the 143rd Annual Westminster Kennel Club Dog Show in New York City. Hundreds of dogs filled Piers 92 and 94, eager to be chosen best in their breed, and then best in their group, and then, finally, best in show. Though I suppose it's likely fairer to describe their owners and breeders and handlers as eager — the dogs probably did not know or care about the particulars of the situation either way.
Patches of fake green grass, where different breeds were judged simultaneously throughout the day, stretched across the length of the piers. Breed fans wearing Irish setter T-shirts and American Staffordshire terrier pins filled the risers, chairs, and standing-room sections around the patches. Dogs were everywhere, packed beside ticket-holders, available for staring and meeting and touching. While awaiting judgment, they rested and were groomed in stalls situated by breed type, where you could walk up to one of the many near-identical beagles, for instance, and hold his perfect little face in your hand. You could look into the eye of a Chihuahua. You could say to a Shetland sheepdog, "Hi, honey."
"He's never met a stranger," the owner of a particularly sweet Dalmatian told me, as the Dalmatian approached me and offered his large head for petting. We stared into each other's eyes and I felt his gentle soul. His spots were beautiful, he'd just turned four, and his name was Topper. I loved him.
Every so often a male voice droned over the loudspeaker reminding everyone, and in particular children, not to attempt to interact with the dogs while they were competing (they are easily distracted, said the voice) and to ask for consent before petting them. I never saw consent go ungranted. The owners were open with their beautiful dogs, eager to tell you about the awards they'd won and their family line. Being around the pedigreed dogs — bred from winners and winners themselves — felt like being in the writers room of a late-night talk show. His father won his group four years ago, he won best in his breed last year, and did you know he wrote for the Lampoon?
That I happened to ride the elevator with a few dachshunds that morning did not feel like fate at the time. Rushing to get my press pass even though I was a foolish and full hour early, I'd power-walked past a group of the breed only to find myself waiting for the elevator with them. Embarrassing. Inside, their tiny little wiggle butts enchanted me. The quick pace of their short legs enraptured me. Their long bodies were so funny that I could not stand it. I had to watch their competition.
With a new sense of urgency, I found a seat in the stands in front of the Astroturfed area where the dachshunds were slated to compete. "So for the next three hours it's basically dachshunds," the man behind me explained to his companion before the first bout. Each specific breed judging took about an hour; the smooth-coat dachshunds were up first, then the wire-haired, then the long-haired. "So you're going to be glued to that seat for three hours," the companion said. "Yes," he laughed. In front of me, a woman unpacked a literal suitcase full of snacks.
The hard-core dachshunds fans were in it for the long haul, it was clear. Fortunately for me, my soon-to-be favorite was up first.
When Toskydox Marika Suertuda took to the green, I immediately recognized her from the elevator. This is both because I was able to sense her energy (we had a bond) and because her handler had her arm in a sling, and there was only one handler with an arm in a sling. When she trotted out, proud and nimble, she instantly made her spirit known by driving her little wiggle body face-first into the Astroturf, propelling herself forward with half of her body on the ground. Her handler "walked" her along, smiling at her insouciance. She slid along the turf for a long while, as the other dachshund drones simply walked with their heads up ahead of and behind her. Not Toskydox Marika Suertuda, though — no, no. She wanted to feel the Astroturf's satisfying, scratchy falseness along her dog body, and she did. The crowd cooed. Here she is, I thought, the best in show.
Toskydox Marika Suertuda is the daughter of Toskydox Karate Do and Toskydox Wiccan's Chemise, who are both Grand Champions Silver. (A Grand Champion Silver is, according to the American Kennel Club, "any Grand Champion which shall have won 200 Grand Championship points.") Her black hair is highlighted with tan around her face and legs and, apparently, she has a great body. "She has what they call reach and drive," her owner and breeder Sharon Lutosky told me. "If you watch her move, the top line is perfectly smooth."
Lutosky and her dachshunds are from California where, she told me, Toskydox Marika Suertuda had a difficult start. Suertuda means "lucky" in Spanish, she said. "We were in an auto accident and she survived; her auntie did not. So she got the addendum 'lucky.'" That's not the only reason she's considered fortunate: "As a puppy, she was really homely. And Loreene [her handler] told me that I should maybe find a home for her. But I'm not really good at finding homes, so she stayed around. And one day I looked at her, at four months, and said, whoa. You're really pretty!"
Ah, we should all be so suertuda.
Lutosky told me Toskydox Marika Suertuda, now about four years old, won best in her breed type (smooth coat) at Westminster in 2017 and 2018. In yesterday's competition she made it past the first round of cuts, decided almost imperceptibly by the silent judge. (I suppose he must have been pointing or make some other slight movement to alert the handlers as to whether their dogs had advanced; from where I was positioned he seemed to be communicating with them telepathically.) Throughout the judging she would sniff the ground, wriggle around, slide her body along, and along, and along, rolling her way forward while her handler held her leash. She allowed herself to indulge in her curiosity. She refused to hide her wild spirit. She was an inspiration.
"She's the number-one smooth dachshund," Lutosky told me. "She just didn't have a good day."
She was cut, unfortunately, in the second of three rounds. I'm not sure if it was due to the sliding, the sniffing, or something my untrained eye didn't catch, but I was sorry to see her go. Though she didn't make best in her breed this year, I think her spirit won the day.
"We're really proud of her," Lutosky said. Yes, we are.
All around us, dogs competed and walked and stood and sat; they were groomed and petted and admired. The energy was charged and happy. Everything, everywhere smelled like a dog.