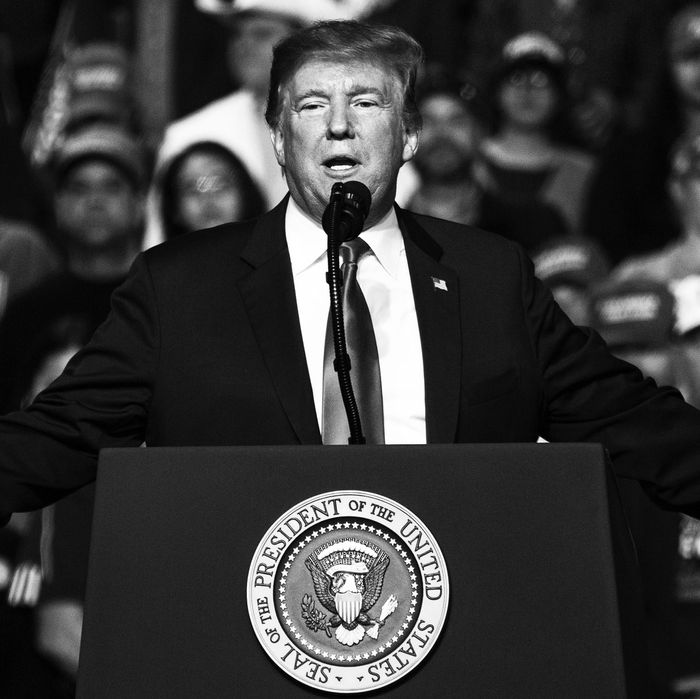 President Donald Trump.
Photo: Adria Malcolm/Bloomberg via Getty Images
It is patently obvious just how little President Donald Trump likes dogs. For starters, he often calls people dogs as an insult — he's used it against everyone from former White House adviser Omarosa Manigault Newman to Kristen Stewart to Mitt Romney, regardless of the facts that (1) dogs are very good boys and girls, and (2) it's just not a very imaginative thing to say about someone. There is also no record of the Trumps owning dogs in New York City, though there are a lot of photos of the now-president awkwardly holding the Westminster Kennel Club Dog Show winners.
However, at a Monday night rally in favor of a wall at the United States' southern border in El Paso, Texas, Trump feebly attempted to establish himself as someone who is at least amenable to man's best friend. As the Washington Post reports, he used the opportunity to riff on dogs at large after determining that the crowd was full of dog people. Yet his sensors failed him, and he couldn't even deliver a convincing appraisal of dogs, noting in particular that he is not getting a dog because he would not like to do something that might be perceived as "good politically."
You do love your dogs, don't you? I wouldn't mind having one, honestly, but I don't have any time, I don't have any … How would I look walking a dog on the White House lawn? Would that … right ? Sort of … not … I don't know, it doesn't … It feels a little phony, phony to me. A lot of people say, 'Oh, you should get a dog.' Why? 'It's good politically.' I said, that's not the relationship I have with my people.
When someone pointed out that President Obama had two dogs, Sunny and Bo, he added what he perceived to be a jab: "Yeah, Obama had a dog."
He then turned the conversation back to the U.S.–Mexico border, and how effective German shepherds are at passing drug-identification drills. Across town, the AP notes, Beto O'Rourke gave a speech at a counter-rally, at which he said El Paso is "one of the safest cities in America — safe not because of walls but in spite of walls." I feel compelled to add that the former Williamsburg bro and his family also have two dogs and a cat, if for no other reason than to embed this tweet of some very good boys.