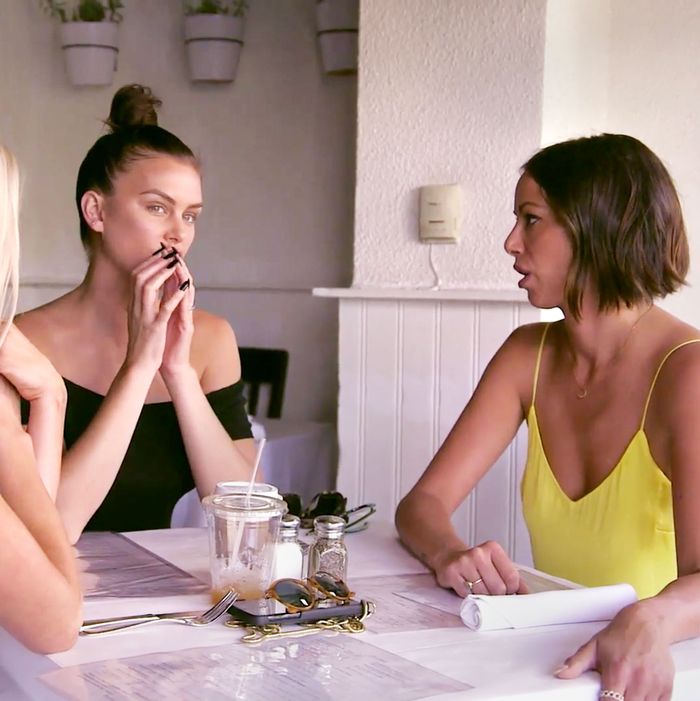 Uh-oh, we hate Carter now.
The seed for hating Carter, Kristen's bearded boyfriend, had already been planted — he did not help the rest of the cast set up Stassi and Ariana's birthday, if you remember from earlier in the season. (He was instead shown playing with a VR headset.) What a jerk! Now the hate seed has bloomed into a horrific hate plant. Kristen and Carter are fighting because … I think Carter is mean? Either Carter is mean or Kristen is mean, or they're both mean, but regardless, we hate him now. We're shown a flashback scene of Carter and Kristen fighting about … either walking the dogs … or doing the dishes? It's unclear, but it is shown in the context of Kristen complaining about him to the other girls, and now we hate him.
We also hate Kristen. Lala takes the girls on a trip to Solvang, California, the Danish village from Sideways, as a thank-you for being there for her when her dad passed away. They arranged a private jet for the 25-minute trip, and everyone was very excited about it. Who wouldn't be? Kristen was 40 minutes late, however, and then, once they arrived, she got too drunk — the classic Kristen behavior that everyone expressed dread of beforehand. Uh-oh. It seems we are supposed to hate both Kristen and Carter. Will they live to see the next season of Vanderpump Rules, or the first season of, I assume, Tom Tom Follows? We can only wait and see.
The girls trip seems nice otherwise. The hotel rooms are cute, and presumably paid for by whichever hotel they're staying in, which must also be nice. Everyone is excited and happy, except for Scheana who has to room alone, save for a plush turtle she brought with her. Sorry, Scheana. You should probably just be grateful you're included at all, no offense. I wish I could take a girls trip to Solvang!
The boys planned a simultaneous boys staycation, of course. This means both the boys and girls wonder aloud at various points throughout the episode: Will they get fucked up and cheat on all of their girlfriends like they always do? Hm. "Can you imagine me FaceTiming Brittany and there's hookers in our room?" Jax asks Sandoval. "She would kill me." Indeed! Alas, the boys trip is saved for next week's episode, so we'll have to wait and see.
This week, everyone is in therapy. Brittany and Jax pop in to see the therapist Jax has seen maybe twice throughout the Vanderpump Rules series. Nice to see you again, therapist. Jax tries to explain both to the therapist and to Brittany that he'd rather not discuss the fact that he cheated on Brittany ever again, thank you, because they've talked about it so much already, and what else is there to talk about, and can't they just move on?
The therapist explains to him that this is something they'll need to deal with before they get married, and that when the issue is brought up and Jax shuts down, he is essentially telling Brittany to shut up. Brittany is a people-pleaser, so if someone tells her to do something, she will do it, and this leaves the issue unresolved.
Brittany wants to continue seeing the therapist. Jax does not. We'll see if they see the therapist again, which is something they desperately need to do.
Speaking of desperately needing to see a therapist, James also saw a therapist. His visit is somehow even more dismal. He talks about how when he was a kid both his mother and father worked, but now he, at 26, is the one financially supporting his family. He doesn't exactly know how to deal with this, and he's tired of being in the middle of the fights his (divorced) parents have about money.
Later, at his apartment — after he shows Ariana a track he just finished that has on it guest vocals from … Ariana, who is not a singer? — his mom comes for a visit, to talk everything over. (Raquel, James's girlfriend, is also there.) Their tense discussion ends with James's mom agreeing to let him know where the money he sends her is going, and to keep him out of the fights she has with his father. I really hope James is okay!
James's mom also pays a visit to Lisa at SUR. In a scene too on-the-nose-reminiscent of the Godfather, she asks if Lisa might give James's younger brother (who just graduated from college) a job as a busboy, so the family has another source of income. The younger brother is going to try his hand at bussing for a few weeks. We'll see how it goes.
I guess that's it. I'll see you next week, after we find out whether or not all the guys cheated on their girlfriends, fiancées, and wives again!