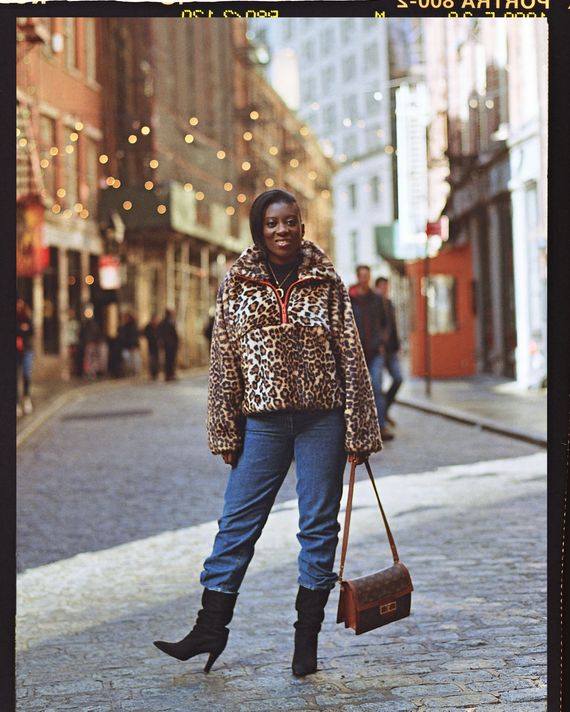 Street style may feel repetitive these days, but that doesn't mean fashion people have gotten boring. In a new series, we're highlighting the insiders whose personal style always inspires us.
There are fashion-world people who use style as a code intended to exclude outsiders. They're so chic, they make you despair of your own ability to ever put together a good look. And then there are fashion-world people who make everything they wear look fun and easy. Their personal style is an invitation: Do try this at home. Elle.com's style director Nikki Ogunnaike is among the latter.
Ogunnaike's job takes her from New York to Milan to Paris for fashion weeks, but no matter what city she's in, her look remains constant (and always involves her half-shaved haircut). She loves preppy classics like a well-tailored jacket and a striped shirt, but she's not afraid to try any trend: "I think you can make anything work for you if you wanted to. I've kind of worn it all, actually." That means she'll throw you a curveball in the form of a status fleece, a wild animal print, or a voluminously sleeved top. But she's also careful not to overdo it, and her sense of balance is what makes her looks feel so accessible.
Read on to learn more about Ogunnaike.
Celebrity style DNA: Rihanna meets casual Princess Diana.
If she was a food, she'd be: French fries.
The one thing you'll never see her wear: She'll never say no to trying anything at least once.
Key accessories: Stacked earrings in her nine piercings, cool sneakers (preferably Nike), and a vintage Chanel watch.
Brands she loves: Old Céline, Polo Ralph Lauren, Nike, J.Crew, 3.1 Phillip Lim.
Favorite fashion week look: A blend of her two favorite prints, leopard and stripes.
Real Housewife tagline: "I don't make the rules, but I don't play by them either."