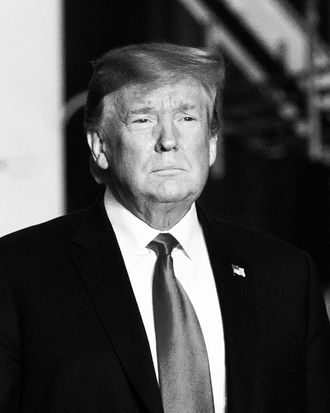 Donald Trump.
Photo: SAUL LOEB/AFP/Getty Images
Senator John McCain of Arizona passed away at the age of 81 last August, and days later, he was honored during a funeral at the Washington National Cathedral. And now, President Donald Trump — who previously mocked McCain for, of all things, being a former prisoner of war — has made it clear that he would like to be thanked for the late senator's funeral service.
Trump made his surprising-but-then-again-when-you-think-of-it-not-surprising remark about McCain during a Wednesday event at a manufacturing facility in Ohio. Surrounded by tanks and American flags, Trump told the crowd about McCain: "I have to be honest, I've never liked him much. Hasn't been for me." He then brought up the Steele dossier (you know the one he's referring to), stating that the late senator received it and "he didn't call me. He turned it over to the FBI to put me in jeopardy."
By far the most bizarre part of his rant came later, when Trump expressed clear bitterness about the fact that no one had thanked him for McCain's funeral, which he wasn't even invited to.
"I gave him the kind of funeral that he wanted, which as president I had to approve," he said. "I don't care about this, I didn't get, 'Thank you,' but that's okay. We sent him on the way, but I wasn't a fan of John McCain."
And here we thought his Twitter feud with Kellyanne Conway's husband would be the most bizarre presidential squabble of the day.