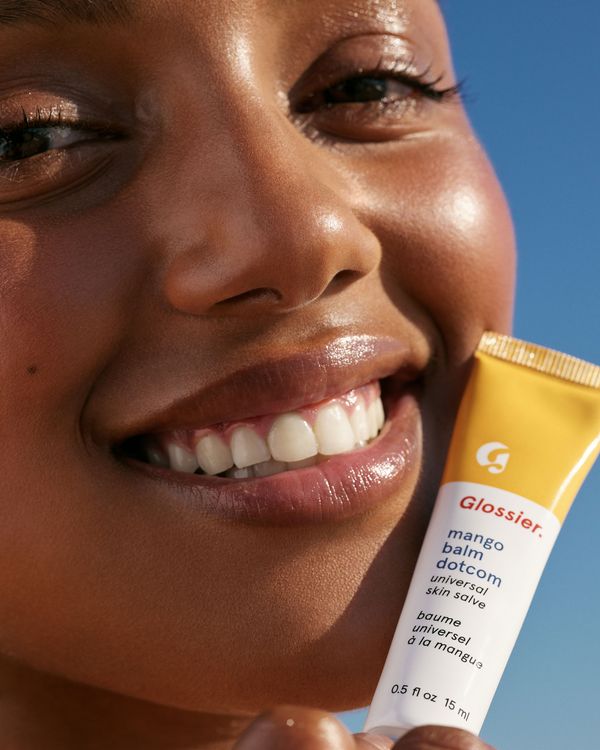 Cheers to balmy weather.
Photo: courtesy of Glossier
It seems like everyone is trying to lure summer out of hiding with a new crop of sunscreens and tropical products. Fresh off the debut of their Glossier Play brand, Glossier is adding another flavor to their Balm Dotcom lineup: Mango.
The Balm Dotcoms are billed as "universal skin salves" but are pretty much multi-purpose lip balms. Fans of Smith's Rosebud Salve know what's up: The Balm Dotcom is pretty similar in texture although it's available in a variety of different scents and colors. There's Birthday, a shimmering balm that also smells like Milk Bar's famous cake, red Cherry, pink Rose, Mint, Coconut, and Original.
The Mango version of the balm has a sheer, coral tint as well as well as a mango scent. Even if summer is still a distant dream, you can mix up your own cocktail-inspired lip balm situations here. Maybe Mint + Mango for a Mango Mojito vibe, or Cherry + Coconut for a little twist on a Piña Colada. Basically, Glossier's given you a lot of ways to get into a summer state of mind, even if the weather remains firmly (and somewhat rudely) in winter.
If you buy something through our links, New York may earn an affiliate commission.